Written by our Founder and CEO, our Celebrations Pulse Sunday Letters aim to engage with our community. From sharing stories to welcoming your ideas, we want to help you to express, connect, and celebrate the important people in your life.
At the end of April every year, offices across the land celebrate the people who hold the title of "administrative professional." From sea to shining sea, businesses will shower these employees with cards, chocolates, and other gifts like flowers. Lots of flowers, we hope!
But there's a problem: What exactly is an admin professional? Especially today, in the era of hybrid offices, all-hands-on-deck projects, and AI chatbots.
We don't deny being an interested party in the planning and marketing of the occasion, perhaps even twirling our mustaches and puffing big cigars decades ago as we plotted with the greeting card industry to figure out a way to boost business between Valentine's Day and Mother's Day. Those cards, candies, and flowers don't sell themselves, right?
In all seriousness, though, there are people who serve critical roles in offices, factories, and other workplaces, including our own, who are often unrecognized. They make work work. And they deserve to be celebrated.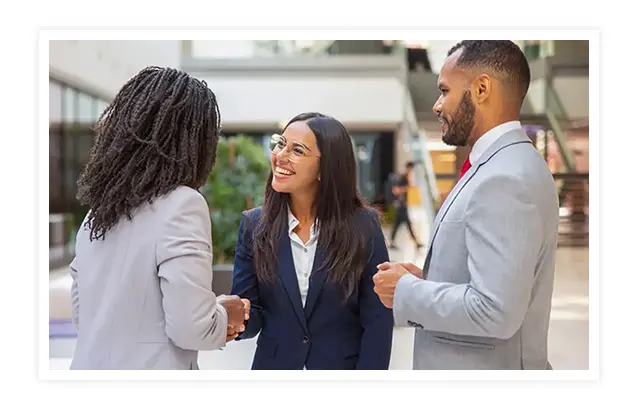 Seeking a new and modern definition
The occasion traces its roots to the mid-1950s when offices were struggling to attract secretarial talent. U.S. Secretary of Commerce Charles Sawyer proclaimed the week of June 1-7, 1952, to be the first National Secretaries Week.
In 1981, the name changed to "Professional Secretaries Week." We guess the powers that be – perhaps still in a smoke-filled room – thought it would sound more professional by sticking the word "professional" in front of "secretaries."
By the year 2000, the name changed yet again. This time, the gifting cartel – perhaps with less smoke and maybe with a woman or two – updated the moniker to "Administrative Professionals Week." It was meant to reflect the changing job titles and expanding responsibilities of the administrative workforce.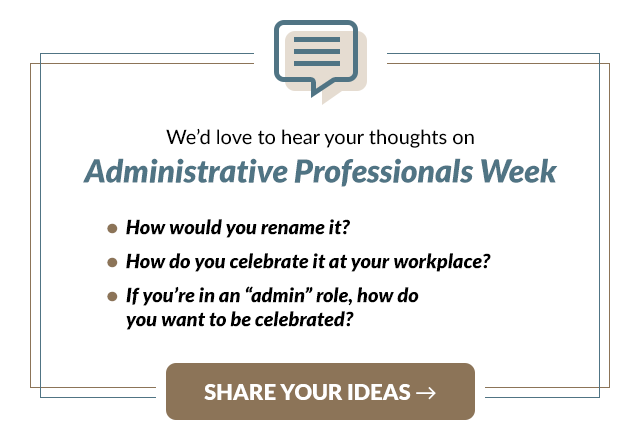 Honoring office superstars
It's time to rethink the name yet again. We don't mean to poke fun at what the day stands for – only the name. At its heart, the occasion serves a good agenda and a great purpose. In its description, however, it limits who should really be celebrated.
The purpose of the day, in our minds, is to recognize the people in all organizations, not just in office settings, but in farms, factories, warehouses, logistics and call centers, and anywhere else employees are helping their co-workers do their jobs more productively and efficiently. It's the food service people. It's the transportation people. It's the customer service reps. It's all those people we pass each day. Again, it is those coworkers who make work work.
Many of these workers are unrecognized superstars in the workplace. They're not in sales or marketing, and they don't have a title that starts with the word "chief." Without them, work would grind to a halt.
Ways to celebrate
This week is for all of us to acknowledge these colleagues, thank them, and celebrate them. You can do that in a variety of ways. You can send them a note, which can be digital or handwritten. You can send them a text, write an email, or make a phone call. If they work with you, you can do a shout-out at a team meeting. And you can send them a gift, even something small goes a long way.
While we're reflecting on all that's nice and green and blooming around us in spring, Administrative Professionals Week gives us the chance to see all the wonderful people flourishing in their professions. Use your power to change how someone else feels and let them know you're thinking about them.
All the best,
Chris & Jim