Written by our Founder and CEO, our Celebrations Pulse Sunday Letters aim to engage with our community. From sharing stories to welcoming your ideas, we want to help you to express, connect, and celebrate the important people in your life.
In September, the celebration calendar turns from summer festivities to fall fun, with Labor Day barbecues and visits to pumpkin patches, orchards, and corn mazes high on the list. The month also marks peak birthday season!
Research shows more people are born in September than in any other month of the year. Chances are, you know someone who will be celebrating another year of wisdom. And the season provides us with a number of fresh ways to celebrate.
Birthdays are the one day out of the year when the attention is singularly on you. Admit it or not, that can feel good. If you're on Facebook, for example, you know that when your special day comes, people write birthday wishes on your wall, and without fail, the next day, we all post a hearty thank you to all those who remembered your birthday because seeing all the well-wishes means so much.
If you've seen the exchange of well wishes and gratitude for a birthday, you've seen the power of connection in action. So, use your power to make someone's special day even more special. It can be as easy as picking up the phone, sending a text, writing an email, or dropping by for a visit. Or it can be as elaborate as organizing a party for the birthday boy or girl.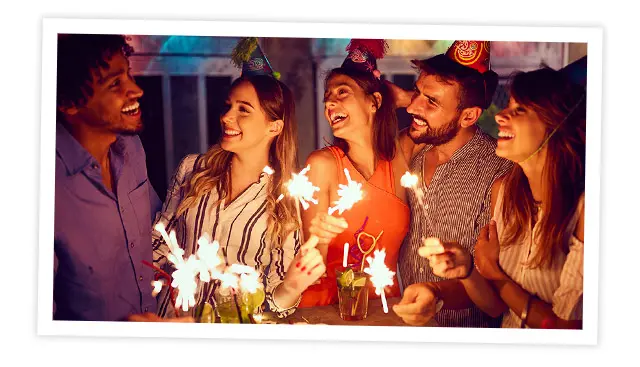 Our favorite birthday stories
We invited 1-800-Flowers.com customers to share their favorite birthday memories, and we received more than 3,000 responses. Here are a few of our favorites:
My favorite birthday memory was the surprise party my husband threw for me on my 40th birthday," writes Ramona K. "It brought me to tears as my entire family was there and they are my everything! And it was made even more special because my husband made me a Lego rose in a glass jar that was just like the rose from 'Beauty and the Beast!'
For some, the most enduring and comforting memories come from surprises that lift them from difficult times. Ashley F. recalls how a special surprise party helped her and her family adjust when they moved to another state.
We had just moved from Alabama to North Carolina, and I was really upset," Ashley recalls years later. "But my mom flew my best friend in for a surprise and made me feel so special and gave me the day I always dreamed of!"
And we all know that you don't have to be a child to have a special birthday. Carol Y. shared how her family created a special birthday memory.
"I was having a horrible day at work one year on my birthday," she remembers. "I was completely wiped and dreading making dinner when I got home. But when I opened the door — SURPRISE — my daughter and her family were there along with my husband. They had pizza and wings and a DELICIOUS birthday cake waiting for me!"
More birthday memories
Many community members shared stories that show how giving a gift is a gift unto itself as it benefits both the giver and the recipient.
Mary W. writes about a party she organized for her brother's 50th birthday. At the party, family and friends were given a list of items to find throughout the backyard. And each item included a thoughtful note about the guest of honor.
I'll never forget the joy that the party brought to me, the guests, and my brother. After the hunt, we talked for hours about the notes and the memories they brought up. It was the perfect way to celebrate his half-century mark!
We love this idea! Do you have a birthday gift memory that lifted your spirits as much as the recipient's? If so, please share for a future Celebrations Pulse.
For some, the ultimate gifts are those that become your closest companions. Amy J. shares that her happiest birthday came when she turned 12 and received a springer spaniel. "I'll never forget seeing that box in the middle of the living room with a puppy inside!"
Some memorable birthdays aren't for just for humans. Community members Stephanie and Luke shared that their dog Peaches turned 2 on Sept. 9 and they had a birthday celebration for her. It was also their first wedding anniversary, where it is tradition to eat the top tier of your wedding cake from the year prior. They repurposed their wedding cake for Peaches birthday cake to join in on the double celebration!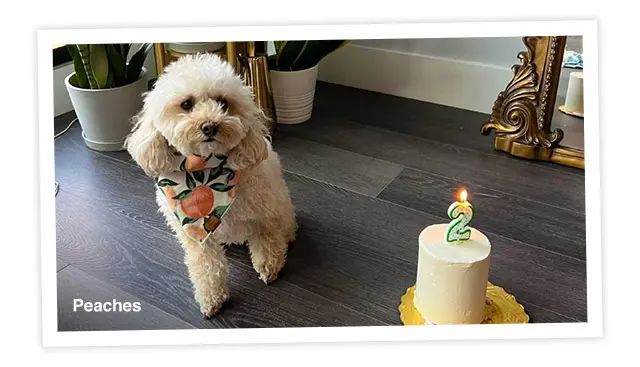 Canine Companions: Naming Our Service Pup
Speaking of the gift of dogs, we wanted to update the community on the puppy we're sponsoring with Canine Companions, which trains service dogs and provides them – at no cost – to veterans and people with disabilities so that they can lead more independent lives.
As we wrote last month, we'll be following a service dog's journey as a puppy, during its training, and once it's delivered to a person in need. But first things first: We needed a name!
Jim and his wife convened a family Zoom call to discuss with the grandkids their idea for the dog's name. Among the suggestions: Mittens, Sadie, Neatdog, Jack, Muffin, Sox, Stella, Max, Tater (as in Tots), Frosty, Hampton, and Kevin.
We also asked for some ideas from the community, and we were overwhelmed the some great suggestions. We liked Link from Megan, who says that the name "will be a link to a life of opportunity and protection for the deserving and lucky new owner."
Jerry provided a clever name that's near and dear to the McCann family: McCannine. And, finally, we heard from Coralie who suggested Riley, "because the pup will have the 'Life of Riley' when he finishes his training."
Thank you to everyone who shared ideas. We will let you know once we have settled on a name!
All the best,
Chris & Jim