Written by our Founder and CEO, our Celebrations Pulse Sunday Letters aim to engage with our community. By welcoming your ideas and sharing your stories, we want to help you strengthen your relationships with the most important people in your life.
With Father's Day just a week away, we've been thinking about all the dads in our lives and how their roles have changed over the years. When we were growing up, most fathers were the family's breadwinner and disciplinarians. Hugs and kisses usually fell into moms' domain.
Today, dads join birthing classes and are involved in nurturing their children from day one. The typical dad spends nearly three times as much time on household tasks and childcare today as his counterpart in 1965, according to the Pew Research Center. And the change has only accelerated since the pandemic thanks to hybrid work schedules.
One thing about fatherhood has remained constant through all this positive change: Dads have always been role models, giving the gift of life lessons as we move from childhood to adulthood. In this sense, modern dads are lucky to have more time and emotional connection with their families. Their children are even luckier.
Dad lessons in resilience
One of the most important lessons our dad taught us was about strength and resilience. Mom and Dad raised their five children on the money generated by his painting-contractor business in Queens, New York. Dad's business followed the ups and downs of the economy.
Despite the occasional uncertainty, we never felt unsafe or unprotected. Instead, we had a front-row seat as our dad worked harder and smarter to drum up business in tough times. In the end, the business – and our family – grew stronger thanks to Dad's handling of adversity.
Although we didn't realize it at the time, those life lessons were the greatest gift we received from our dad. We carry them with us today as we run our own family business and raise our own children and grandchildren.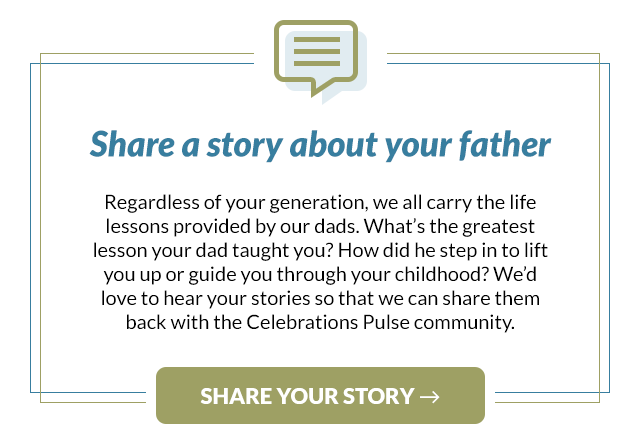 Another family's perspective
A recent conversation reminded Jim of how dads teach their children about resilience. It was with Anthony Scaramucci, a White House adviser who was very publicly fired during the last presidential administration. To Jim, Anthony is simply a longtime neighbor and friend.
Back in 2017, he was named communications director in the Trump administration. After a reporter published what Anthony thought was an off-the-record comment, he was fired by a Tweet. At the time, he also faced personal struggles.
When I took the job, I thought it would be good for my family, and me, but it wasn't. When I got fired suddenly, it was a bad time. My wife and I were having issues, and she was pregnant, and she filed for divorce. So, I said to myself, ' Okay, so all this is not good.'
But Anthony is a fighter. When he met up with his adult son shortly after his firing, he offered a lesson in resilience.
I was walking with my son in Santa Monica, where he was living, soon after I was let go, and he said, 'Hey, Dad. Are you going to be, okay?'

'What do you mean?' I said.

'Well, Dad, this is like a disaster,' he said.

And it was. I looked at him and said, 'AJ, not only am I going to be okay, watch what I do with this.'
Sure enough, Anthony did bounce back. Since then, he has patched up his marriage, written three books, and returned to his career as a successful financier. Scaramucci said that in hindsight, getting abruptly fired probably saved his career and marriage. "That's how things are," he says. "There's always a silver lining."
We couldn't agree more.
All the best,
Chris and Jim