Written by our Founder and CEO, our Celebrations Pulse Sunday Letters aim to engage with our community. From sharing stories to welcoming your ideas, we want to help you to express, connect, and celebrate the important people in your life.
Administrative Professionals Week and Administrative Professionals Day give us a chance to celebrate the office superstars who are the backbone of every company. They're the indispensable heroes who keep offices humming and team members on track.
We know that many give flowers, cards or small gifts to administrative folks in the office on this day. Some will take their colleagues out to lunch or for drinks. The greatest gift to the administrative professionals in your life is to show gratitude – in any form – for everything they do.
This special day dates to 1952, when it was called "Secretaries Day" and established partly as a way to attract more people to the field. Since then, the name has changed along with the ever-expanding responsibilities of the position. Today, more than 3.3 million people work as administrative professionals, and businesses would not be nearly as efficient without them!
While we do celebrate administrative professionals, to us, the day is an opportunity to honor anyone in the company – regardless of position – who goes above and beyond the call of duty to make things right and make things happen.
What admin professionals mean to us
We wanted to share a few stories about the wonderful administrative professionals in our lives: We could not do what we do without office superstars like Patty, Lisa, and Jo.
When Jo first started working with Chris, both had to call into a credit card company at the same time on different lines to confirm she could speak on Chris's behalf. When Jo gave the representative her date of birth, Chris came out of his office with a surprised look. She thought he was surprised by her age, but that wasn't it at all. Chris was surprised because they shared the same birthday! Ever since, Chris and Jo make it a little game to see who will say "Happy birthday!" first.
Jim and his assistant Patty have worked together for nearly 30 years. One Friday evening, Jim was returning from a business trip to Europe. Jim landed at midnight and, as he was taking the long walk to baggage claim, his phone rang. It was Patty! She was checking to see that his plane had landed and that the driver had contacted him. Only then she could go to sleep!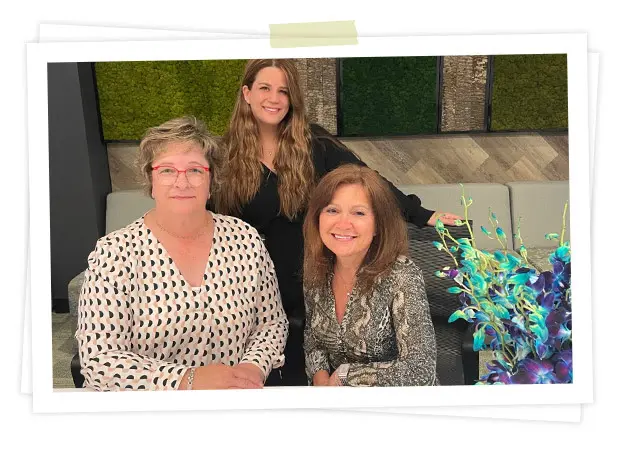 Lisa, who supports Jim and Patty, is an amazing team member and mom. When she's not helping us make sure the office is running smoothly, she's an all-star mom running her daughter and son's sports schedules. The brightest days in our office are when her daughter, Mia, stops by to visit.
Everyone who is reading this probably has someone special in mind. We invited our colleagues to share stories of office superstars across our company. Here are a few of the many submissions we received:
Shan Younker and Jennifer Estenson in our marketing organization nominated Kelly Taylor, an administrative professional and office superstar based at Harry & David's headquarters in Medford, Oregon.
"Kelly goes above and beyond to keep the food brand marketing teams in Medford as well as other enterprise locations running. We appreciate her great attitude and her ever-present willingness to help."
— Shan

"She is always supportive of the team and plans our fun smile surprise events. Just recently, Kelly helped coordinate a potluck brunch for the team and even had the Easter Bunny stop by which was super fun! I always know I can count on Kelly to make everyone feel included and help keep the team spirit alive."
— Jennifer
Ken Small of DesignPac Gifts shared a few stories about Barb Chranko, an office superstar at our office in Melrose Park, Illinois.
"Barb Chranko's official title is 'receptionist,' and that doesn't tell the story of who Barb is. She's the first one to raise her hand to volunteer when there is a job to get done. Barb handles all our special celebrations and makes sure the team's experience is a memorable one.

"Barb is also the leader of our 'Lottery' committee. Whenever the prize reaches a substantial amount, Barb organizes a team purchase and, on her own time, buys the tickets on our behalf. To date, we haven't won the grand prize, and Barb is always sad when she reports that we won $6 or $8 dollars. She feels that she let the group down that we didn't become multi-millionaires. We all hold out hope that we will hit it big one day!"
Rachel Siciliano of the Email Operations team called out Bonni Greenwald, an office superstar based in our New York offices.
"Bonni's a major asset to the digital marketing team. She liaises with many of our partners to optimize the copy and design of our ongoing campaigns. She keeps an organized timeline and a close attention to detail to maximize the performance of each of our promotions.

Upon becoming an assistant manager, she really grew into her own. But what makes her a star is that she remains a true team player. She brings a positive attitude and spirited smile to the NYC office each day. I couldn't let Administrative Professionals Week go by without recognizing Bonni's contributions!"
Is there an administrative professional or office superstar in your life? We'd love to hear and share their stories in a future newsletter.
Show how much you care
There are countless people in businesses and other organizations around the world. These quiet heroes who go about their job with dignity, professionalism, and occasionally a bit of diplomatic pushing.
This occasion should be a reminder to take a pause and say thank you to your office superheroes. Make sure you go out of your way to thank them this week and let them know what their work means to you. Here are some gift ideas to help mark the day.
One of the newest additions to the family, Alice's Table, has seen a lot of its corporate customers booking floral and charcuterie workshops in honor of Administrative Professionals Day. It's part of the bigger trend where people are enjoying gifting experiences.
Regardless of how you celebrate those around you, remember, you have a superpower to make someone feel special. Use your power. Go out of your way to thank them. Send a text. Make a phone call. Write a note. Make sure they know how indispensable they are to you and to the team.
All the best,
Chris & Jim