Written by our Founder and CEO, our Celebrations Pulse Sunday Letters aim to engage with our community. From sharing stories to welcoming your ideas, we want to help you to express, connect, and celebrate the important people in your life.
Last year, when we moved our headquarters to Jericho, New York, we noted that a quarter of the relocating team members had joined the company during the pandemic and hadn't ever stepped foot in our offices. Although the team has done an excellent job of adapting to remote work, the experience for new employees wasn't the same as joining the company in person. Some things just had to be picked up once everyone returned.
We were reminded of this when one of those new employees told us that he had heard of Smile Farms, the signature philanthropic endeavor of 1-800-Flowers.com, but admittedly knew very little about the organization that provides employment opportunities to individuals with disabilities.
We realized it was time to re-introduce Smile Farms to our team. Over the holidays, we held an event to introduce new team members to Smile Farms, give them a chance to talk to Diana, Rebecca, and Jessica who run Smile Farms, and learn about all the volunteer opportunities.
And we did it with turkey tacos.
`Turkey tacos? Never heard of such a thing.'
OK, we'll start with a bit of history on how this unorthodox taco came about.
In 2020, while everyone wrestled with COVID lockdowns, Jim set up Papa's "Turkey Tacos," a backyard food stand for his grandkids who were visiting for Thanksgiving at the height of the pandemic. Because of the virus, nobody could congregate inside the house. It seemed like everyone in his family was feeling down that Thanksgiving because it would be difficult to celebrate as they had in the past. Jim thought he could make some lemonade out of lemons.
So he and the family took the celebration outside!
Everyone had a role in setting up and serving from the taco stand. One set of grandchildren made a branded chef's hat for Jim, and the other set made a stand and all the grandchildren got involved and engaged. The adults cooked, carved, and served.
Jim knew this was a success when his then-6-year-old granddaughter said she thought this was "the best Thanksgiving ever." Looking around on that rainy-turned-beautiful day — with family physically distanced, but still together — it was hard to disagree.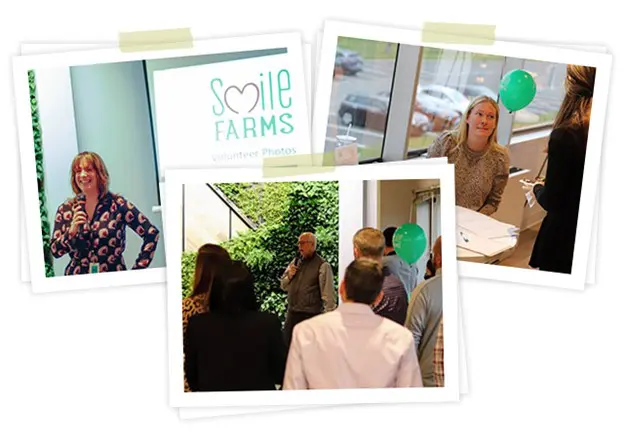 Social Connectivity + Smile Farms
In December, over 200 socially distanced 1-800-Flowers.com employees joined us to create their own versions of Papa's Turkey Tacos and learn about Smile Farms' important work. During the event, we talked about Smile Farms' impact on our family and our work culture and introduced the group to Diana, Rebecca, and Jessica, the terrific team behind Smile Farms. (They have done a great job of pivoting fundraising efforts during COVID, which had been highly dependent on in-person activities, by being resourceful. We are incredibly proud of their commitment to helping individuals with disabilities find employment opportunities.)
After hearing about our 10 campuses and our new hot sauce launching this winter, 1-800-Flowers.com employees lined up to volunteer and chat with the Smile Farms team.
After hearing about our 10 campuses and our new hot sauce launching this winter, 1-800-Flowers.com employees lined up to volunteer and chat with the Smile Farms team.
We felt this was a unique way to tap into the power of community. There's nothing better than connecting people that care with causes that matter and adding a little cranberry mayo-topped turkey on the side. Credit for the idea goes to our friend and caterer, Henry Barone. And it was a hit!
We were so pleased by how it all turned out and felt it was a great kick-off to the season of giving. It was also a great opportunity to give our thanks to Diana, Rebecca and Jessica for all their hard work over the last two trying years.
Raising awareness for Smile Farms
Smile Farms was founded in 2015 to help provide paid jobs for people with developmental disabilities. As it has evolved, Smile Farms now provides meaningful educational, vocational, and employment opportunities for both adults and children. Over 250 Smile Farmers work with and learn from our gardens, greenhouses, and farms. And we are so proud of this because we all know a job is a lot more than a paycheck: It's fun, it's social, and it helps build confidence.
Our brother, Kevin, who has developmental disabilities, was the inspiration for the organization. He has worked at its flagship campus since its inception and continues his employment there to this day. Kevin is so proud of his job. It gives him a sense of identity, community, and belonging.
Farmer of the Year
Last month, Jim highlighted our "Farmer of the Year," Christine Kunze, in a letter to the Smile Farms community. Christine is just simply amazing – as are so many others like her. She is a talented, passionate, and reliable individual, ready and eager to work.
Her father, Charles, told us that farming is an ideal fit for her – she loves working with other people, she gets great pleasure in growing food, and every day she comes home from the farm excited to share her activities with her family. Charles says Smile Farms makes his daughter proud and happy, and that makes him happy.

And that makes us happy.
If you would like to learn more or support Smile Farms, click here for information about various ways to help.
All the best,

Chris and Jim