Written by our Founder and CEO, our Celebrations Pulse Sunday Letters aim to engage with our community. From sharing stories to welcoming your ideas, we want to help you to express, connect, and celebrate the important people in your life.
Every year on March 17, all of us claim to be at least part Irish. We celebrate St. Patrick, the patron saint of Ireland, by wearing green, drinking green beer, admiring shamrocks, attending festive parades and parties, and sharing our favorite limericks and jokes.
The festivities center on the life of a fifth-century man in Roman Britain who, among other things, was kidnapped by Irish pirates as a teenager, escaped, and eventually returned to Ireland to spread Christianity and rid the country of snakes. By the time he died in 465 AD, he had established monasteries and churches throughout the country.
In modern times, St. Patrick's Day has taken on a life of its own. The parades and green-tinged citywide celebrations first became popular outside Ireland in the 1700s, led by a huge population of Irish immigrants who missed the traditions of their homeland. And now it's a worldwide celebration, from Chicago to Montreal to Sydney, Australia, and even the tiny Caribbean island of Montserrat.
But how did the holiday gain meaning for those who don't have any ties to the Emerald Isle? Simple: It's a reason to have some fun and celebrate with others.
Our love of St. Patrick's Day
Our passion for St. Patrick's Day stems from our Irish heritage. The McCann family traces its roots to Ireland – as you've might have guessed from our surname. According to genealogists, "McCann" is an anglicized form of the Gaelic Mac Cana, which translates to "wolf cub."
There's another reason for our celebrations, and it helps to explain why others partake in the festivities. St. Patrick's Day is a celebration of spring, which arrives just three days later this year. It's an opportunity for the entire community to cheer nature's upcoming renewal and the return of warmer days.
Many of us have had a rough winter, particularly those on the West Coast of late. As spring and the promise of warmer and drier days near, St. Patrick's Day represents a time for our communities to reconnect outside of our homes. Just as Labor Day is a last chance before we bundle up for the winter, St. Patrick's Day is our first chance to re-emerge.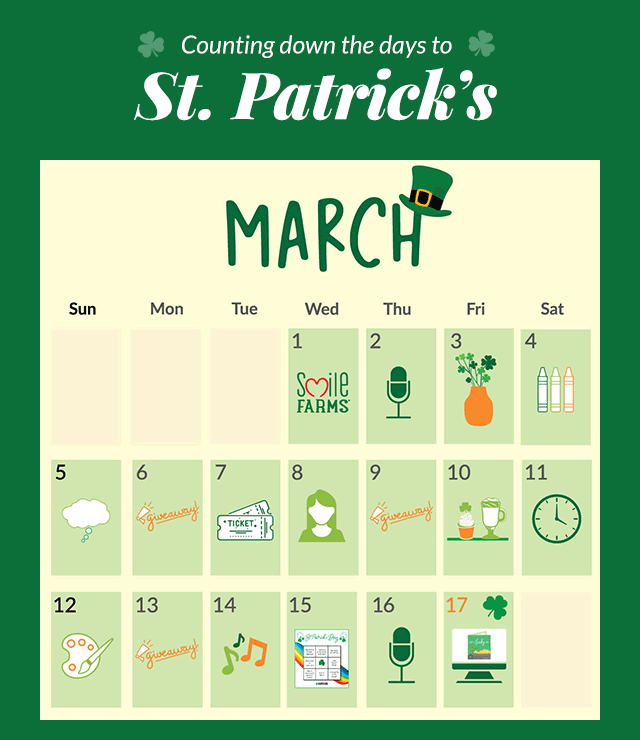 This year, the brands of 1-800-Flowers.com have been counting down the days to St. Patrick's Day since March 1. In addition to giveaways and fun family activities, you can also attend a very special Alice's Table demo and enjoy our very own playlist of Irish music that'll get you in the spirit for all your St. Patrick's Day festivities.
There are still five days of festivities ahead! Be sure to watch our emails, social posts, and websites every day for new activities to enjoy with friends, families, and all your favorite leprechauns.
As part of the countdown, we invited Celebrations Pulse readers to submit original limericks to enter our random drawing for a pair of tickets to the popular Irish band Dropkick Murphys. As usual, we were astounded by the community's creativity. Here are a few of our favorites:
As St. Patrick's Day draws ever near,
We're counting down with lots of cheer.
With leprechauns and shamrocks,
And pots of gold that truly rock,
The celebrations's already here!
There once were two bros named McCann,
Whose flowers were truly in demand
They'd sell them all day,
In a colorful array,
Their bouquets were simply grand!
And we should add that our pears, gourmet food, cookies, and seafood are pretty grand, too!
If you live in the Boston area, there's still time to submit a limerick for a chance to win tickets to see Dropkick Murphys on March 16 at the MGM Music Hall at Fenway. If you're not in Boston, we're also giving away tickets to the livestream of their St. Patrick's Day show for you to enjoy. Please submit your entries no later than noon ET on Monday, March 13.
Need help with writing a limerick? Check out this article from the poets at 1-800-Flowers.com!
Our St. Patrick's Day traditions
The McCann family has several St. Patrick's Day traditions. For Jim, the day always starts with a friend who sends out a text message at the crack of dawn on March 17. "Top O' the mornin' to ye!" it reads.
"Some of my friends still don't know that St. Patrick's Day is like Christmas; it's always on the same day every year, March 17, so it's my way of reminding them," Jim's friend says. "I've been doing this for years, and by now they know that I expect them to respond the same way, 'And the balance of the day to you.'"
Jim's wife Marylou also gets into the act with her famous Irish soda bread. It's her own special recipe that leaves out some key ingredients of traditional soda bread. (She realized her mistake the first time, but the result was surprisingly so good that Jim and the rest of the family encouraged her to change nothing in future years.)
Marylou also makes one of Jim's favorite meals: traditional corned beef and cabbage. It's a steadfast family tradition. We were surprised to learn that it's an American innovation. In Ireland, people more generally center the holiday meal on bacon or ham. Regardless, both the soda bread and the meal test Jim's willpower. He says that all the food and drink is like the Irish Thanksgiving – minus the football games, but with parades!
We love a parade
One of Chris's favorite traditions is marching with his alma mater, Marist College, in New York City's annual St. Patrick's Day Parade. Last year, Jim was afforded a perfect view from the steps of St. Patrick's Cathedral as a guest of Cardinal Timothy Dolan. It's a memory he'll never forget!
The New York parade is one of the oldest in the country (the oldest reportedly took place in 1601 in St. Augustine, Florida), with the first one being held way back in 1762.
The event, which marches up Fifth Avenue, typically has nearly 150,000 participants, and it has drawn as many as three million spectators – many of whom find plenty of post-parade activities all around the Big Apple.
Even if you're not in New York, there's likely a parade in a city near you. Check out this list to find one near you.
Lá Fhéile Pádraig sona duit! Or, as we Americans might say, Happy St. Patrick's Day!
All the best,
Chris & Jim