Written by our Founder and CEO, our Celebrations Pulse Sunday Letters aim to engage with our community. From sharing stories to welcoming your ideas, we want to help you to express, connect, and celebrate the important people in your life.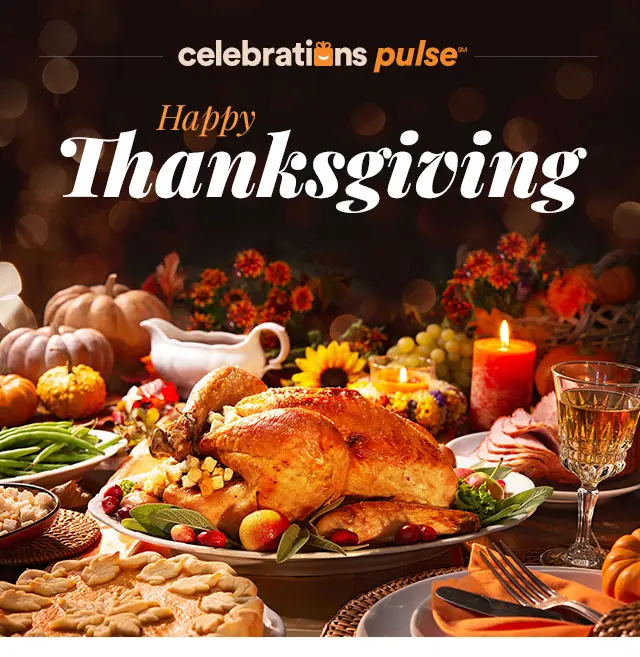 Thanksgiving is a wonderful celebration. Amid the crisp autumn weather, copious amounts of turkey and stuffing, and family members huddled up to cheer on their favorite football teams, Thanksgiving offers a necessary pause from the chaos of everyday life and a chance for us to reflect on the moments big and small that make life special.
Thanksgiving traditions can be fun too. Last year, Jim set up Papa's Turkey Tacos, a backyard food stand for his grandkids who were visiting during the height of the pandemic. They all embraced the opportunity to visit even if they could not go inside the house. Jim's then-5-year-old granddaughter said it was her favorite Thanksgiving ever. Nothing like turning lemons into lemonade! Despite last year's challenges, we were thankful we were able to use creative solutions to stay connected with our loved ones. Turkey tacos are on the menu again this year!
One of the best ways we can show gratitude is through our own generosity. With Giving Tuesday on Nov. 30, it's a good time to tap into the power of community. As for us, we're planning a Turkey Taco Tuesday event at our headquarters in Jericho, New York, to benefit Smile Farms, our non-profit that provides individuals with disabilities employment opportunities. There's nothing better than combining leftover Thanksgiving food, community, and causes that matter.
We'd love to hear from you: What are some of your favorite Thanksgiving traditions? Are there any charities you are looking to support on Giving Tuesday? Please email us at celebrationspulse@1800flowers.com.
Year of service community reflections
As we reflect on gratitude, it would be remiss of us to not thank you, our community, for continuing to share your stories. Before Veterans Day, we discussed what service means to people and how the experience of serving can be transformative for young people.
We also explored the question: Should there be a 'Year of Service' for everyone?
The responses we received from you were overwhelming. We loved hearing you share your personal stories of service and where your time in the service took you.
We were surprised to learn that most of you felt a 2-year minimum would be preferable to one year of service. Many of you also shared that service can take on capacities greater than traditional military roles, such as service in nonprofit organizations or the Peace Corps.
You also pointed out some of the challenges of mandatory military service. Some Veterans return from combat with mental and/or physical disabilities that make reintegration into domestic civilian life difficult.
We wanted to share some of our community stories with you:

Celebrations Bits
We recently enjoyed reading a piece in the New York Times, Covid Thanksgiving, Round 2. Tara Parker-Pope, the writer, pointed out that those who are fully vaccinated will likely be gathering with family again for the holidays. We will use our best judgment moving forward on how much risk we are willing to take on a daily basis: much like we do post-injury or as in winter driving. Tara dubbed this Thanksgiving, "Vax-Giving." – – very clever, Tara.
Recently a customer reached out because she believed her account had been hacked and used for an unauthorized purchase. Our Chief Information Officer, Arnie Leap, reached out to the customer to further understand what may have happened. Turns out our customer's information was on the dark web. The lesson that Arnie is always teaching us, and now our customer, is that: leveraging the same password for several accounts with your common email is a recipe for the bad actors. One tip is to use many different passwords, a password safe, and/or the combination of multi-factor authentication capabilities wherever possible.
Celebrations Happenings:
Jim enjoyed speaking to @posh and @patricktanahan on The Founder Hour about our journey to help you express and connect to the important people in your lives and the intersection of business and serving the community. Listen to the conversation here.

All the best,
Chris and Jim