Written by our Founder and CEO, our Celebrations Pulse Sunday Letters aim to engage with our community. From sharing stories to welcoming your ideas, we want to help you to express, connect, and celebrate the important people in your life.
If you check out TV shows and movies this time of year, you'll find plenty designed to send shivers up your spine. A quick glance at what's available on the streaming channels reveals a smorgasbord of horror flicks. Many theaters are also serving up big-screen tricks and treats. But spooky shows are just one part of this annual celebration.
Those of us of a certain age have vivid memories of creating our Halloween costumes, collecting bags of delicious treats from our neighbors, and dressing up and parading around school. We visited haunted houses and played tricks on neighbors by ringing doorbells and, on a few occasions, hiding in the bushes instead of seeking treats!
Today, the traditional Halloween traditions persist, but it's become – at least in our eyes – even more of a community-wide occasion that starts weeks before Oct. 31. It's one last opportunity before fall turns into winter to connect with neighbors and fellow citizens in the spirit of spookiness and fun.
Neighborhoods as focal points
Halloween's impending approach got us thinking about how important neighborhoods are to this annual tradition, and how, unlike any other holiday, they are the focal point. It starts when neighbors start decorating their porches and lawns at the beginning of the month and ends on the night costumed kids go door-to-door in search of tricks or treats.
This year, community celebrations are extra special. For the first time in years, most of us will be comfortable celebrating a full-on Halloween, both outdoors and indoors. This means that most people are excitedly doing all they can to welcome back this special time of year when giving treats to kids, from festooned homes, is also a treat for adults.
Returning to the suburbs and taking in the sites
Ron, one of our associates who grew up in the suburbs but lived in New York City for over 20 years, moved back to the suburbs over the summer. He's a runner, and he's already feeling the joy of Halloween. He noticed that once the calendar turned to October, many homes on his running route got festive for the holiday.
I was floored by how many houses had turned their trees into ghosts or had carved pumpkins in the front yard. Suddenly, it seemed that each house was creating its own Halloween environment. And the funny thing is, as I run, I pass each of the houses, and sort of grade them on a scale of 1 to 10. Let's just say that I haven't given any scores below seven since they all look so great! I can't believe how many creative ways you can use a coat hanger, a sheet, or variations of carved pumpkins. I saw a pumpkin that was whittled to like a basketball, and it looked so real, I almost went over to dribble it.
Ron said it has been a memorable experience taking runs this fall and taking in all the decorations.
For the first time in a long while, I am excited for Halloween. I think that just goes to show how important it is to be in a welcoming environment where all the neighbors go all out. It's almost like Christmas and the holidays. And despite all our differences, you get that sense that we're all doing this together.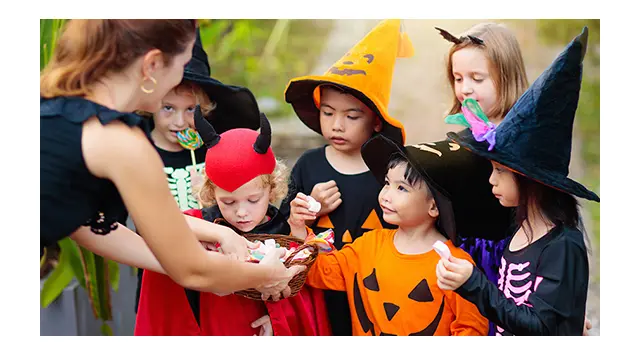 The many ways to celebrate Halloween
Celebrating Halloween with your neighbors can take on many forms outside the traditional decorating and trick-or-treating. We've read about neighbors getting together with their furry friends for a best-costumed dog or cat contest. And some even have a contest for parents who don the best get-ups. And, of course, we can't forget the house parties!
For those of you who think Halloween is just for kids, give it a try and "roll with it"! Join in on the fun by wearing a pirate hat or another costume to work. Or deck out your cubicle with cobwebs and jack-o-lanterns. Others around you will have fun – and we promise you will enjoy it, too!
We hope that the days leading up to Oct. 31 are full of fun and festivities for you and everyone around you. And that your Halloween is safe and productive – particularly when it comes to trick or treating!