Written by our Founder and CEO, our Celebrations Pulse Sunday Letters aim to engage with our community. From sharing stories to welcoming your ideas, we want to help you to express, connect, and celebrate the important people in your life.
Happy Valentine's Day! There's a lot of love in the air as couples celebrate their affection for each other, friends fete their relationships, and parents and grandparents shower even more love on their children and grandchildren.
Last week, we wrote about the many ways in which people celebrate love on Valentine's Day, and we asked you for stories on how you make the occasion special for all the people in your life. As usual, we were not disappointed by the response; in fact, it was especially hard to choose the ones to share.
The community's stories weren't limited to just romance, confirming our belief that Valentine's Day is an occasion to celebrate love in all its forms. We hope that you find the following stories memorable and inspiring.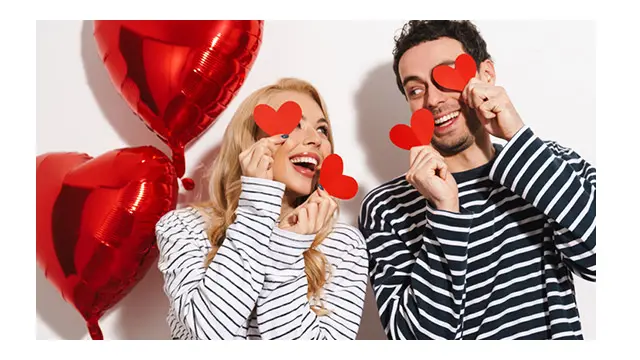 Sharing love while saving hearts
We were particularly moved by an email we received from Kim, who works at a cardiac clinic that sees pediatric patients.
It is not a place that any parent or child wants to be, so I do anything I can to distract the kids and make them smile. This year, we decorated the clinic with teddy bears holding hearts on all the exam doors. We also decorated our whiteboard with a Valentine's Day cartoon, and we'll be handing out valentines to each of the children through Valentine's Day. 

Their hearts may not work well structurally, but they have the same emotional reactions as those with fully functioning hearts. While hearts are always our focus, Valentine's Day makes such a perfect match to let our little ones (and their parents) know that they are in good and caring hands.
Celebrating an anniversary
Nancy told us about how she and her husband, who recently survived a heart attack, are celebrating a big milestone anniversary along with Valentine's Day.
We will combine Valentine's Day with our 40th anniversary on Feb. 12! In front of family and friends we have made over the years, we will renew our vows and have a small get-together. My husband is a volunteer firefighter, so fire and police families will witness the ceremony. The fire department chaplain will preside, and we will give each other new rings for the occasion. My husband recently survived a heart attack, so having him here with us makes the day even more special.
A very special delivery
Ursula recalled a new addition to the family 62 years ago.
It was Valentine's Day 1961, and I was sitting in my living room on a cold snowy day in Chicago. I was nine months pregnant, and I remember thinking about what I was going to give my husband for Valentine's Day. Then, suddenly, I started to go into labor, but before I could get to the hospital, I had to help push our car out of the snow.

We made it just in time to deliver our baby girl, Tanya, and that has always been the best Valentine's present that my husband and I could have ever asked for.

We have now been married for 66 years and Valentine's Day is always a very special celebration with our lovely Valentine's baby.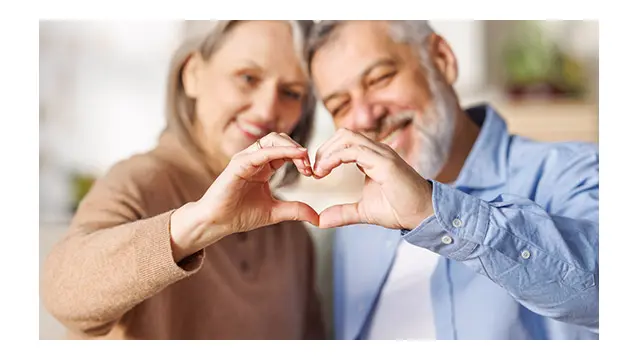 Valentines at the hospital
Katie, a nurse practitioner at an inpatient hospital, told us how she uses her power to connect to make the holiday special for all her patients.
The past few years, I have purchased the cheesy Valentine's Day cards (the ones that kids generally distribute at school), and I've brought them to work. Throughout the day, I distribute the fun cards to my patients, and I offer the cards to my fellow nurses to give to their patients as well. The silly messages and images generally evoke smiles and chuckles from the recipients. It's a little thing, but I delight in bringing a little joy and levity to the people that I am caring for.
Giving thanks on Valentine's Day
Barbara told us why this Feb. 14 is particularly special to her and her wife. Together for 20 years, they made the decision to get married in June 2021. A medical emergency gave Barbara even more reason to celebrate this year.
Although we had known for a few years that my wife had an aortic aneurysm, we had been told it was stable, and the time between her required visits to her cardiologist had been lengthened from six months to one year because of the stability.

On Jan. 18 of this year, my wife woke up with pain on both sides of her neck, chest pressure, and tingling in her arms. At the emergency room, we were told her aneurysm was now past the danger point and immediate surgery was needed.    

We were referred to a nationally known local hospital where emergency open-heart surgery was performed. My wife is now home and seems to have come through this ordeal successfully.

All the above makes this Valentine's Day a very special event and gives us great cause to be thankful every day for the love we share.
Friendship Songs
Our friends define who we are throughout our lives. Given friendship's importance, it's no surprise that there are thousands of songs that celebrate the special bonds we have with other people who aren't necessarily our families.
To celebrate the love of friends on Valentine's, Galentine's, and Palentine's days, we asked you to submit your favorite friendship songs for a community-curated playlist. We were delighted by the hundreds of suggestions we received from all over the country and narrowed the list down to the nine most popular songs. (If you're looking for more, here is our list of favorite friendship songs.)
Near the top of the list is "That's What Friends Are For," Dionne Warwick's celebration of friendship and the importance of supporting one another through life's ups and downs. In proposing the song for our playlist, Linda wrote:
Until you asked, I didn't realize that some of my favorite songs are friendship related. I have many playlists, but because of your email, I just made a friendship one. I will be adding more songs to it when I see your completed list. Thank you, it will be very uplifting to play.
Here's the full playlist for your next sing-along or road trip with friends:
"Thank You for Being a Friend" by Andrew Gold
"You've Got a Friend" by Carole King
"That's What Friends Are For" by Dionne Warwick
"You're My Best Friend" by Queen"
"You've Got a Friend in Me" by Randy Newman
"With a Little Help From My Friends" by The Beatles
"Lean on Me" by Bill Withers
"Friends are Friends Forever" by Michael W. Smith
"Bridge Over Troubled Water" by Simon & Garfunkel
We hope that these songs add to the soundtrack of your lives. And when you're singing along, as we did, we hope you keep in mind how lucky you are to have the friends you do.
Happy Valentine's Day!
Chris & Jim