Our company's mission has always been to help people express themselves and connect with the important people in their lives. In recent months, we've been trying to engage with our customers more fully, beyond just business transactions.
During the pandemic, we've found that we're uniquely positioned to expand on our mission and have focused a lot of attention on building initiatives to help you engage with each other and our family of brands. And our plans in that regard have accelerated. The pandemic made what might have occurred over five years happen in just one.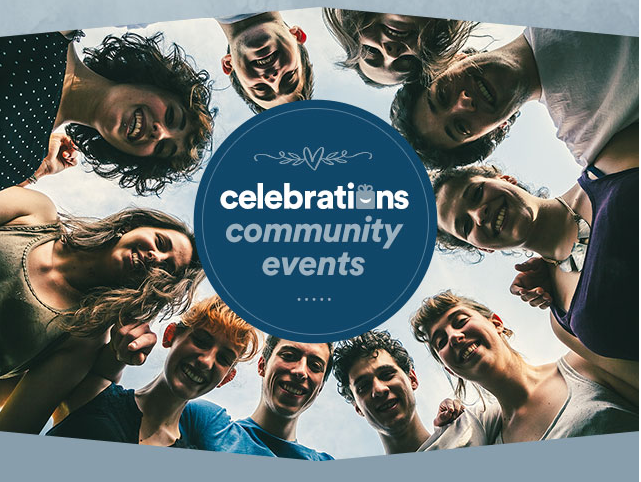 Through our increased engagement, including through this weekly letter, the people we once may have called customers – you – are now members of our community.
And with that comes our strong desire to serve that community and connect with you in ways you find interesting, beneficial, and even fun. So as part of that effort, over the last year we have been building virtual programs to engage with you, and we are delighted with your response. Some of the events we hosted for you included:
Cultivating Gratitude and Staying Connected
We've also hosted programs featuring food and entertaining, ranging from breakfast chats to building charcuterie boards for brunch and beyond.
We recently learned that millions of you have joined our events over the last six months. Being a resource to you has always been our top priority, and the response to our virtual events is far greater than we ever could have dreamed when our first flower shop opened 45 years ago.
We have two exciting upcoming events that we would love to tell you about.
Celebrations Book Club by Cheryl's Cookies
We've heard from our community that many of you belong to book clubs. They're a great excuse to enjoy good fun, have good conversation (and maybe even sip a little wine).
We are thrilled to announce that New York Times bestselling author Jennifer Weiner, will be joining the NEW Celebrations Book Club℠ by Cheryl's Cookies®. The event, produced by Long Island LitFest, will feature a FREE virtual conversation about her new book THAT SUMMER. It's a timely and deliciously twisty novel of intrigue, secrets, and the transformative power of female friendship.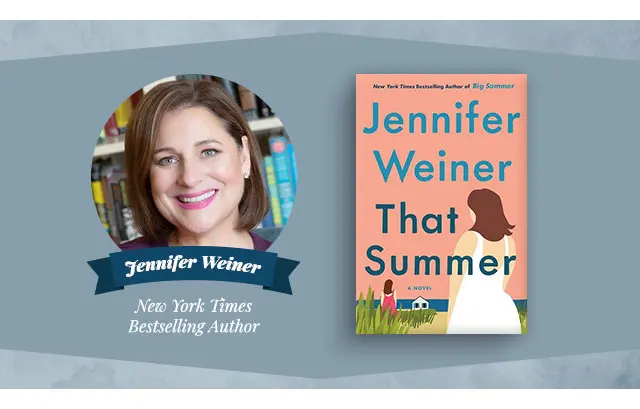 You will be able to engage directly with the author over the one-hour event talk.
Be sure to read the book in advance and feel free to send us a question for the author ahead of time.
When you sign up for this event you will receive a FREE sampler box of 6 Chery's Cookies to enjoy while you participate in the conversation! *
We're thrilled to launch our new Book Club and hope you will join us for more installments later this year.
Breakfast at Wolferman's Bakery
Join us for our next episode of Breakfast at Wolferman's Bakery on May 25. It'll include inspiring conversation about new beginnings and offer tips on entertaining in the warmer days ahead.
Our guest Pati Jinich knows a thing or two about fresh starts, having changed careers from a political analyst to chef, cookbook author, and host of her own TV show, Pati's Mexican Table.
Floral Lifestyle Expert (and our sister) Julie Mulligan is a pro at bringing beauty to the table and will show us how to design a gorgeous brunch setting using fresh herbs and florals. Julie has been working in the business with us since the beginning, and we're excited for her to show you a thing or two about what she's learned. The episode will be hosted by Francesco Bilotto, whom you may recognize from our Valentine's Day roundtable.
Both women will share their stories and provide helpful tips for making life changes, all while we talk about creating unforgettable get-togethers this summer.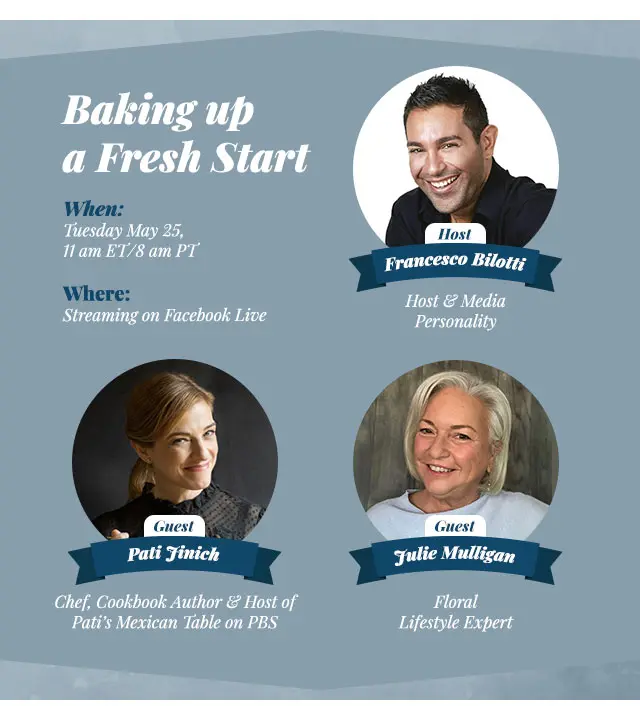 Thank you for being part of our community. We are excited about what we have started – and we are just beginning!
We hope you enjoy these upcoming events.
See you there,
Chris and Jim