This time a year ago, when lockdowns began in March, we listened to the experts, and their forecasts stoked our primal fears and concerns. We worried if we or our loved ones would get sick and if we would have adequate medical care and food supplies.
At the same time, the Easter and Passover holidays were upon us and lots of us were trying to cope with the idea that we couldn't safely hold in-person Passover Seders or Easter dinners. Some families had to accept that during the pandemic an Easter Egg hunt, ordinarily such a joyful event, might bring extended families too close together for safety.
In the intervening time, we've all adapted. We've learned a lot about finding new ways to connect with the people who mean the most to us through virtual gatherings on services such as Zoom, FaceTime, Skype and other group chat platforms. We've discovered new ways to celebrate the holidays, including resources for a virtual Passover Seder and online Easter games.
A reason for hope
And at last, there are the vaccines, offering for some the chance to see sorely missed friends and relatives, and for the rest of us, the hope of reunions in the near future.
Our friend, Board Member Larry Zarin, has described this past year as a "forcing function." In other words, by disrupting our normal rhythms, the pandemic has forced many of us to examine our lives more closely and to think more deeply about the people and experiences that matter most and how we spend our time and resources.
We have been thinking about how much in the past year has been different from what we may have come to expect earlier in their lives. This year, as we gather around the table, we will take time to reflect and reminisce about friends or family members who couldn't join us. We will be sure to record some of those memories and send them to our loved ones, and the meal also will include FaceTime calls to people who can't come to dinner in person.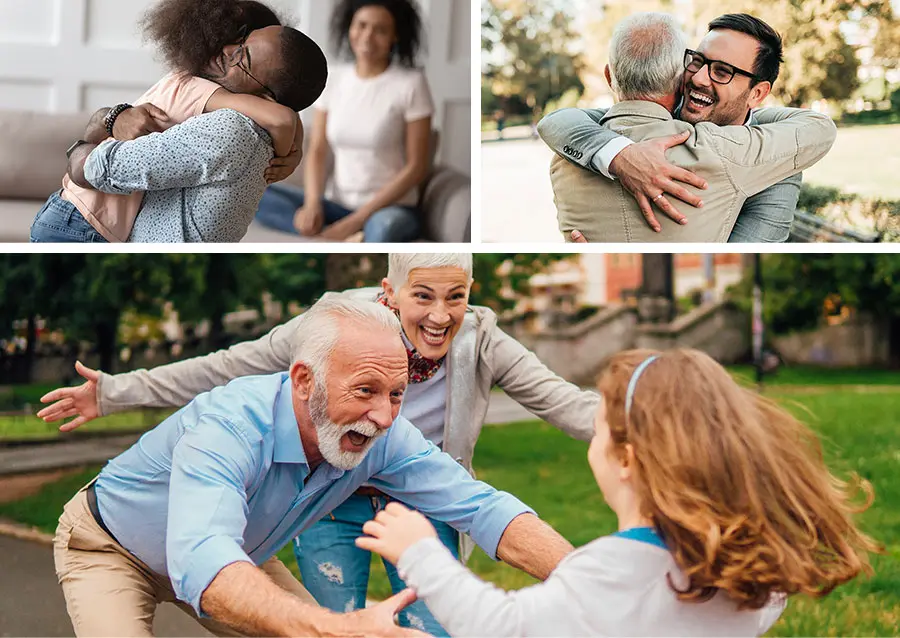 New opportunities and good fortune
Easter celebrates new beginnings. Passover recalls the suffering of ancestors, honors the journey to freedom, and gives thanks for the great good fortune of those who survived to keep the faith alive. For Jews and Christians alike, the respective holidays offer the opportunity for a mixture of reflection and celebration. Let's think of these times as a forcing function that asks us to renew our faith, our relationships, and our commitment to the values we hold dear.
We'd love to hear about how you'll be celebrating this year, whether it's an online gathering or a post-vaccination reunion, or a combination of the two. How have the preparations for the holiday been different this year than last, and what are your hopes for next year? It would be great to share tips on what works best for a virtual celebration, such as how to keep things flowing naturally in a Zoom call, and for those of you who are lucky enough to be reunited with loved ones, what you learned about your relationships in the last year. Please let us know here, and get a chance to ponder your own experience in light of what others have to say.
Activities to help you celebrate and connect
Especially for children, being separated from loved ones for yet another holiday might be difficult.
We spoke to friend, Dr. Dan Willingham, a psychology professor and researcher on the cognitive psychology of children, about some things to consider to help our children and grandchildren continue to have positive associations with holidays, particularly the upcoming Easter and Passover occasions. He suggested that with Seders or Easter dinners that must be held via FaceTime or Zoom, children might feel more connection to the occasion if people at each location are doing the same surprise thing at the same time. That would mean adults would have to plan and coordinate. Maybe it would mean the kids at the distant locations getting identical or very similar small gifts. Maybe for the Seder, it would mean each searching for the afikomen at the same time. For Easter, it might be a simultaneous Easter Egg hunt, or decorating the eggs together on camera. The idea is to create a shared experience and memory, and to say by doing that that we really are all together in spirit.
By the way, we've included Dr. Willingham in our Connectivity Council, a group of trusted advisors and friends, Here's a little more about the group.
To that end, here are some tools we put together that we hope you will find useful such as printable Easter coloring pages and cards. To help out with the celebrations for those of you who can't meet in person, we have some downloadable ecards and holiday-themed Zoom backgrounds. And finally, we've thought about how complex running an online gathering can be. So we've written up a guide on preparing for the festivities in advance.
If we must still be apart this year, let's use our tech skills to make the most of these holidays yet again. For those fortunate enough to be able to gather in person, let's remember that there's still a lot that science doesn't know, and some precautions are still in order.
Let's all of us realize again this year how fortunate we are, and how glad we are to have one another.
All the best,
Chris & Jim
Written by our Founder and CEO, our Celebrations Pulse Sunday Letters aim to engage with our community. From sharing stories to welcoming your ideas, we want to help you to express, connect, and celebrate the important people in your life.