Happy Easter Sunday. Easter makes us think about spring, renewal, family and community. With that top of mind, this week, we want to share with you two stories from our community.
#sharinglovethruflowers
The first comes from Livingston, New Jersey, where Christy Sanborn and her daughter Leena are spreading happiness by quietly sending flower arrangements to those who need a little pick-me-up.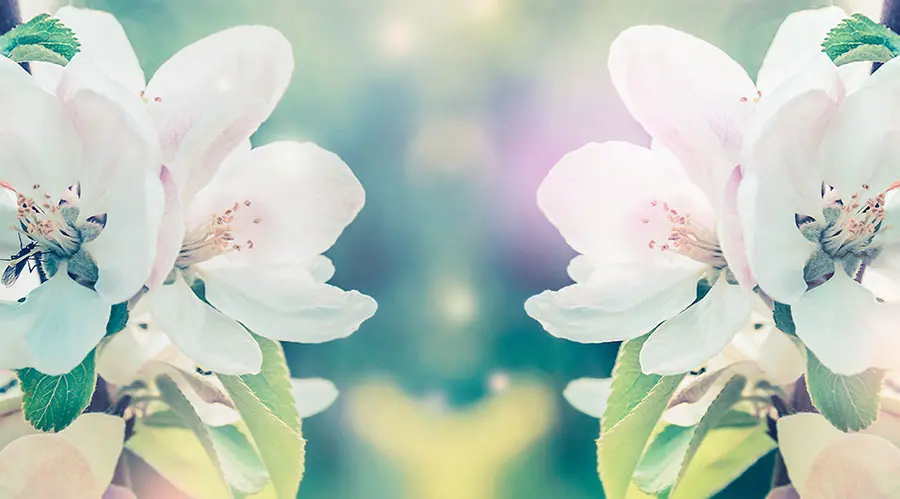 In an interview with a local news website, Christy says that she's long been delivering flowers to friends, acquaintances, and colleagues, but that this last year created an even greater sense of purpose.
"The pandemic has been hard on a lot of people, especially emotionally," she says.
That prompted her to create the hashtag #sharinglovethruflowers and a post to Facebook in August, encouraging her followers to "nominate others who could use…a little love."
That post garnered more than 1,000 responses, and since then, local flower shops as well as residents have stepped in to help carry on the tradition. Christy and her daughter are now delivering up to five anonymous gifts of flower bouquets a day.
A Good Idea Grows
"We had no idea that people would fall so much in love with the service," Christy says. "It just grows and grows every day."
The delivery service has even expanded beyond Livingston, reaching neighboring communities. However, this has made delivery a bit more challenging. We wanted to help.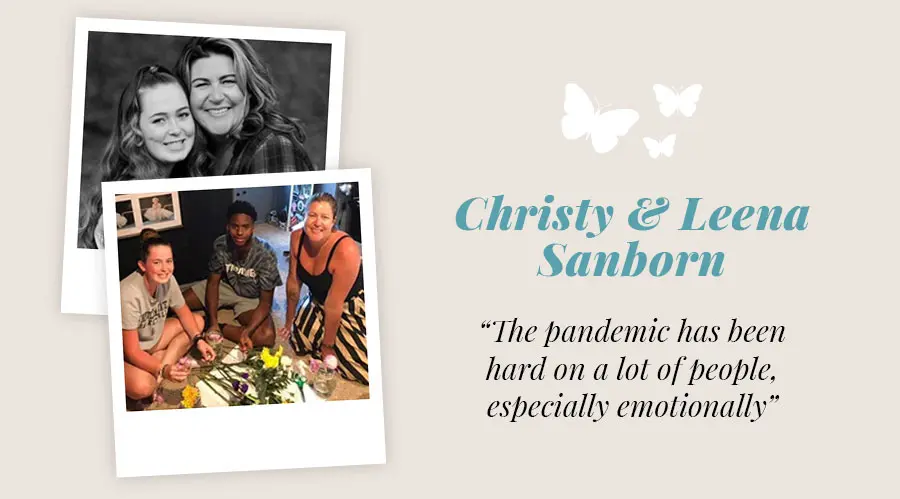 "I love that 1-800-Flowers.com has the option to deliver flowers anonymously," Christy explains. "When someone asks us if we will deliver to someone they know who is suffering, we always say, 'Yes.'. Even if it's a place we can't physically deliver to."
A New Approach to an Old Spring Tradition
This seems to follow in the spirit of an old tradition for a little later in the year, the May basket. It used to be that every spring at the end of April, children would weave baskets from construction paper and fill them with flowers, and very early on May 1, would hang them on elderly neighbors' gates or doorknobs, paper baskets full of flowers, anonymously. Making the gifts mysterious, not saying whom they were from, was part of the fun. It was a way for neighbors to tell neighbors they cared about them, and that we all were glad to welcome another spring together. Perhaps this pandemic year has felt to some of us like a long winter, but Spring is coming.
Last month, Christy and Leena reached out to tell us about #sharinglovethruflowers, and asked whether we could help brighten a few more people's lives. We were delighted by her idea. You can get involved, too, by contacting Christy at more.alignment@yahoo.com.
72 Reasons to Share Your Love
The second story is from a friend of ours, Raymond Lamontagne. He was searching for a way to celebrate his wife Monica's birthday. After nearly 40 years of marriage, Raymond had a few ideas on how to make Monica's 72nd birthday special, but the pandemic complicated many of them.
Like many of us, he'd found it difficult to shop in person during the pandemic. Then he remembered Monica's love of flowers.
"In normal times, I always bring flowers…into our house," Monica says. "This brings me great pleasure, but during the pandemic, we have been restricted in our movements, and the house has been rather bare of color and scent, as well as family and friends."
Ordinarily, Monica always bringing flowers into the house and arranges them in bouquets. Raymond knew how much those bits of color and flashes of scent mean to her.
Raymond contacted us to see whether we could help bring some of that back. We settled on 72 long stemmed roses.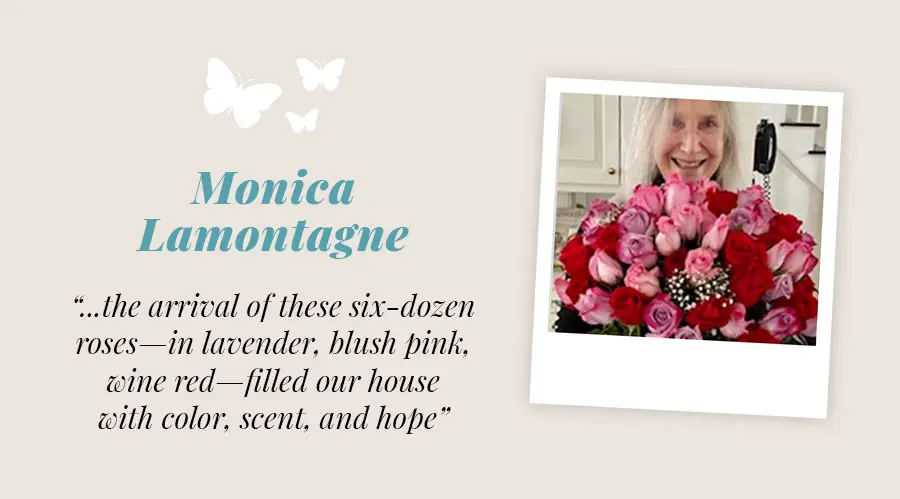 After a Complicated Year, Delight
Monica was delighted.
"In this complicated year, the arrival of these six-dozen roses—in lavender, blush pink, wine red—filled our house with color, scent, and hope," she says. "As I watch them open and shape shift each day, they delight me with their singular and collective beauty, and with the sweet thought behind them."
Raymond was pleased, too.
These two stories touched us., and I hope they do the same for you. During these difficult times, it's important to tell our friends, family, and our wider community how much each person means to us. Remember, you have the greatest power, to impact how people feel.
All the best,
Chris & Jim
Written by our Founder and CEO, our Celebrations Pulse Sunday Letters aim to engage with our community. From sharing stories to welcoming your ideas, we want to help you to express, connect, and celebrate the important people in your life.