Our Sunday letters are direct from our Chairman and CEO and aim to provide a message of hope and inspiration. We share the best stories that show how others aim to express, connect and celebrate the people most important to them during these times.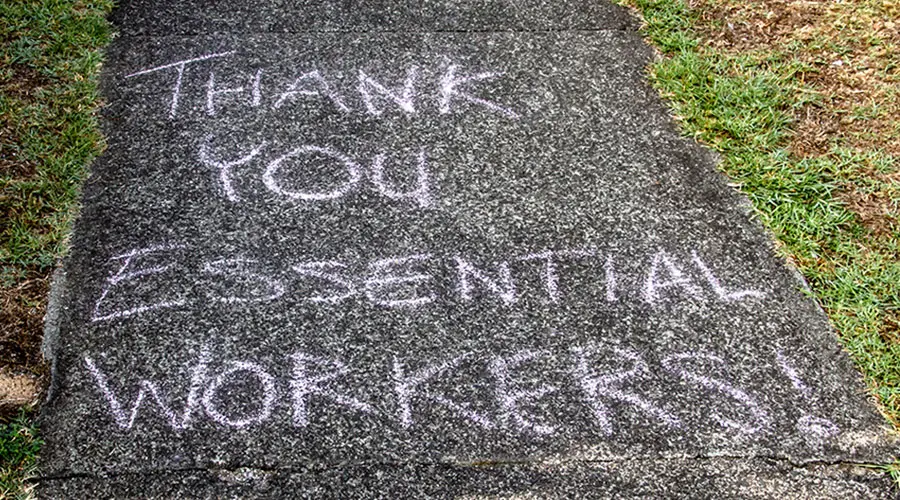 Paying Tribute to our Unsung Heroes
On Labor Day, we pay tribute to the people who work to make the products we use every day and who provide the goods and services that make our way of life possible.
The holiday was begun as part of the labor movement in the late 19th century as it wrought reforms for working conditions and hours. We all pay homage to their successes — moving from standard seven-day work weeks to five, limiting shifts to eight hours, making child labor illegal and improving working conditions and safety protocols.
Labor Day today is unlike those in the past
We also want to salute our unsung local heroes who probably don't get the recognition for their contributions that they deserve — such as the people who stock shelves, check out our groceries, drive taxis and buses, work in the hardware store and those who painstakingly clean and sanitize virtually everywhere we go. We invite you to say a special thanks to those heroes on Labor Day, especially those who may spend the holiday working and who we consider a #LocalHero
In past years, we'd celebrate the holiday with a long weekend of cookouts, parades, picnics, fireworks and other public gatherings. Like so many things, it will be different this year, but we have the obligation to ourselves, our friends, families and communities to make the best of it.
Yet one thing will be familiar. In addition to a day set aside for workers, Labor Day also has become known as the official end of summer. We all recognize only too well that this has been a peculiar and trying summer for many. We've missed our normal vacations and traditions, and we've worked hard to try to wring something special out of the summer months. It's not too late to knock off another item or two from that list of summer activities you created back on Memorial Day.
A new reality for education is right around the corner
With the mornings becoming a bit cooler and the sun setting a bit earlier, we now turn our attention to back to school. This is a tough time for parents and children alike, whether they're learning in person or remotely, and whether your kids are starting kindergarten or heading to college. You also might consider reaching out to others in a similar boat as you. You can join our Connection Communities, powered by Wisdo where you can meet others and discuss topics like COVID-19 anxiety and self care. The community is free, it is our gift to you.
If back to school doesn't affect you directly, consider dropping a note or calling a struggling parent to let them know you care or even offer to help if you can.
Whether you have kids or not, work is also changing. Many people are still working remotely, and, for some, their jobs may never be in a large open-office setting again.
How we respond is more important than the situation we are in
Others have lost their jobs and are looking now for new placements or even new career paths. Some of their organizations are pivoting to new business strategies, so their jobs may be different.
Many people are responding by joining the burgeoning gig economy, where they don't have a single, steady job but take on serial assignments from multiple employers. In short, the future of work is changing for many people, organizations and industries.
Everything is a bit different this year for everyone. We'll just continue to face challenges and hope they'll turn into new opportunities, to make new traditions, to rekindle relationships and make new connections, to accept the changes we can't control and to look for whatever silver linings we might find.
All the best,
Jim & Chris
P.S. This week @Mark Cuban mentioned on @GMA the power of partnering with virtual event companies to meet customer's changing needs for entertaining and gathering. At @1-800-Flowers.com, we are thrilled to partner with @Alice's Table to provide virtual floral classes to our customers. #virtualclasses #sharktank #floralarranging