As Mother's Day approaches, we're thinking a lot about the importance of moms in our lives. Many of us have mother figures who aren't officially our moms. They might be a grandma, a neighbor, or even a co-worker. Some of us are even lucky to have many moms!
Regardless of the makeup of your family or your relationship to your moms, the common denominator across all types of motherhood is love.
Here's something fun from Nicole DiGiose on our content editing team. She thought you might enjoy it.
Love Makes a Family
We launched Love Makes a Family to celebrate this love and share stories of motherhood in all its forms. Here are just a few examples of some extraordinary relationships: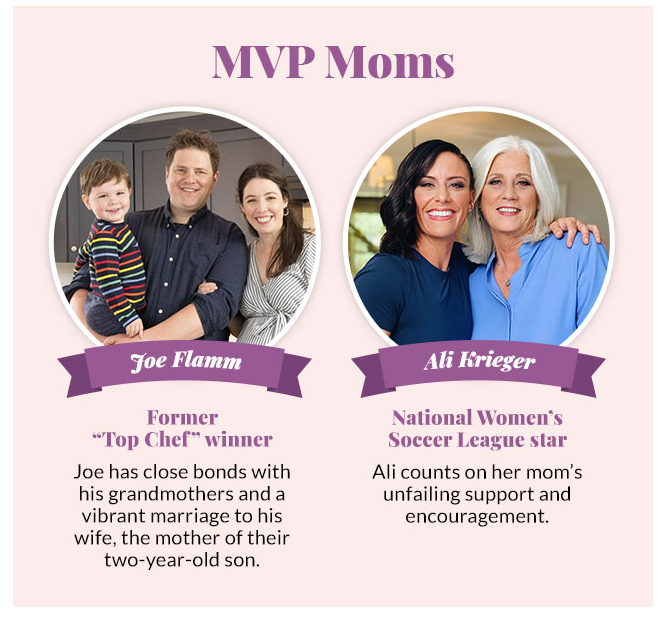 We would love to hear your stories about the inspiring moms in your life: mothers, stepmoms or any mother figure who is important to you. Tell us about those wonderful women here.
The Kitchen Table, Where Families Often Gather
Some of the stories we've heard so far involve shared memories and moments. We all have memories of shared food and special occasions. In fact, for us, our grandmother's kitchen table was the center of the family, our boardroom so to speak.
Many of us have kitchen tables, physical and virtual, that are at the heart of many family memories. A Harvard School of Education podcast reprises decades of research showing we're all healthier and happier when we make time for such gatherings. We'd like to invite you to our own table.
Hosted live on Facebook each month, our morning show Breakfast at Wolferman's Bakery offers a lively mix of cooking tips, personal stories, behind-the-scenes looks at the key ingredients in our products, and favorite recipes.
This month on April 27, our host Lucy Sommer, Wolferman's Merchandising Manager, will be back with guests Dr. Chloe Carmichael and Liz Della Croce Dr. Chloe , a clinical psychologist, author of Nervous Energy: Harness the Power of Your Anxiety, and member of our Connectivity Council, will offer tips for managing stress as a parent and ideas for how to support the mothers you know Liz Della Croce, founder of The Lemon Bowl, a healthy food, travel, and lifestyle blog, will share an easy French toast recipe that even the kids can help out with — perfect for Mother's Day!
It's a fair bet that stories about families and children probably will come up, too. They generally do around kitchen tables.
All the best,
Chris and Jim