Written by our Founder and CEO, our Celebrations Pulse Sunday Letters aim to engage with our community. From sharing stories to welcoming your ideas, we want to help you to express, connect, and celebrate the important people in your life.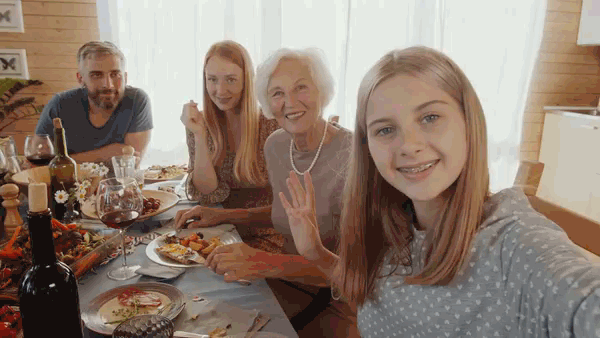 This Thanksgiving season, we invite you to join our virtual roundtable to discuss the importance of connection and what gratitude means this year. There is a lot to share and we couldn't think of a better person to invite than you.
This year has presented many unique challenges and navigating the upcoming holiday season is sure to be no exception. In normal times, 10 days before Thanksgiving, many of us would be finalizing our guest lists and menus. We would be thinking about dinner settings and who would win the upcoming football games. For many, Thanksgiving is the unofficial start to the holiday season.
A holiday season unlike any other starts soon
However, as we all are painfully aware, this year is not the same. While our holiday gatherings are on our minds, we are still grappling with the uncertainty around how to handle them because of COVID-19. We ask ourselves many questions: should I still host my annual Thanksgiving potluck? Will it be safe for Grandpa and Grandma to come to dinner? Every family must weigh its risk tolerance. As a result, many Americans may be staying home for the holidays.
An unusual holiday season will upend travel and spending patterns across the country. In a typical year, about 50 million Americans travel at least 50 miles from home for Thanksgiving. This season, the number of flyers during Thanksgiving and Christmas is expected to decrease by 50%.
Black Friday and the holiday shopping season will also be impacted. Many large retailers, such as Walmart and Target, already announced plans to not open on Thanksgiving and Black Friday to avoid large crowds. Retailers are instead offering digital sales that begin earlier. This will be a crucial period for many businesses as the holiday shopping season can account for up to 40% of annual sales (CNBC).
You're invited. The more the merrier. Let's connect and celebrate virtually.
Aside from the macro issues at play, we are focused on how Thanksgiving may affect communities on a personal level. For those who feel a sense of loneliness, holidays are an additional source of stress and create an emotional burden. We also realize that holidays always provide us with something positive to look forward to, especially as we roll into a new year that will be welcomed more than ever before. And for those with less to look forward to –wanting to develop some tools for managing — we want to provide some perspective, insights, and hope.
We hope you will join us on Wednesday, November 25th at 2pm EST.
Our live event, streaming on Facebook, will bring together the voices of industry experts from Alice Lewis, founder of Alice's Table, and fashion designer, Jason Wu to Liz Della Croce from The Lemon Bowl to share new recipes, décor ideas and other usable tips as you prepare to kick off your own celebrations. Co-hosted by Juliet Scott-Croxford, CEO of Worth, and Diana Heather, founder of two start-ups, this event will also lean into the emotional side of the holidays by sharing the impact of community building to foster meaningful relationships with Director of Communities at Wisdo, AnnMarie Giannino. It will also feature a mindfulness segment with Chopra Chief Impact Officer and Certified Chopra Educator, Devi Brown.
This is a new idea for us and we are happy to share it with you. We hope you will join us. And remember, the good news about virtual gatherings is that the more the merrier! Feel free to share.
We hope to see you there. Don't forget to RSVP today.
Chris & Jim