Written by our Founder and CEO, our Celebrations Pulse Sunday Letters aim to engage with our community. From sharing stories to welcoming your ideas, we want to help you to express, connect, and celebrate the important people in your life.
If you have ever felt lonely, you're not alone. Roughly three in five Americans feel lonely, according to a recent report by the health insurer Cigna. The problem isn't limited to just the U.S. It's so widespread that the United Kingdom even appointed a minister of loneliness in 2018.
What Types of People Are Most Susceptible?
People between the ages of 18-24 are the most likely to suffer from loneliness. In a national study, 61% of respondents in that age group indicated high levels of social isolation. Psychologists say it's because young people pull away from their inherited families as they transition into adulthood. The critical guard rails that prevented loneliness disappear as they begin to form new family units. The stresses of making critical professional, relationship, and personal decisions can further amplify a young person's sense of isolation and anxiety.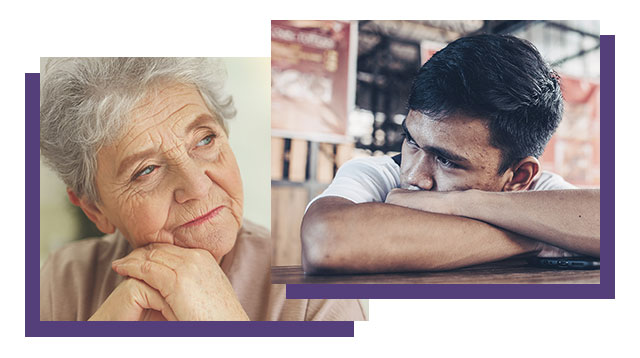 Elderly people are also particularly vulnerable. Potential illness, mental and physical changes, and retirement may leave older people feeling less integrated into society and lacking a sense of purpose or belonging.
Though we tend to associate the concept of feeling alone to the idea of not having a confidant or friend, people might also experience existential or societal loneliness if they feel like they are misunderstood or not welcomed into certain social spaces. We have all known people who seemingly have many friends yet feel that their lives lack meaning or that they are fundamentally different from others. We all know the expression, "lonely in a crowd."
Why Should We Care About Loneliness?
In addition to poor mental health outcomes, loneliness can have adverse effects on our physiological health. The heightened risks for mortality from loneliness are equivalent to the increased risk from smoking 15 cigarettes a day or being an alcoholic.
Historically, conversations around loneliness have been stigmatizing. People who feel lonely may be reluctant to express their feelings. Instead, they attribute their loneliness to self-deficiencies or others' lack of desire to maintain relationships. These thought patterns are self-defeating since shame and bitterness often cause the lonely person to withdraw even further from their relationships, exacerbating the isolation.
Katie Couric, a friend and community member, recently shared this touching story about loneliness: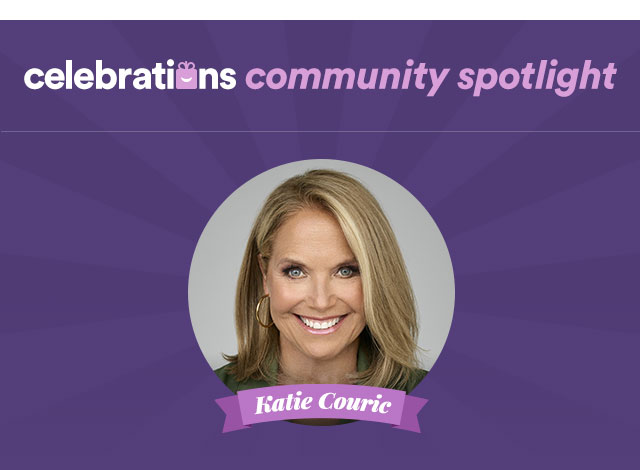 "Our neighbors, Bob and Betty, had been married for 70 years when my daughter Carrie retrieved her runaway foster puppies from their yard.
Carrie had been living alone at our house in the darkest days of the pandemic (I spent a couple months in LA for work) and was thrilled when Bob and Betty invited her over for a socially distant glass of scotch.
Charmed by Bob and Betty and their infectious love, she called me afterward to say their impromptu happy hour had made her very, well, happy.
But in March we were crestfallen to hear that Betty had unexpectedly passed away. We were so worried about what would happen to Bob without her. And with good reason.
Dr. Vivek Murthy, now Surgeon General under President Biden, declared loneliness America's fastest growing public health crisis years ago, comparing the physical impact of loneliness to smoking 15 cigarettes a day. But when I interviewed him for my podcast, he also said the inverse of this proves that social connection is an extraordinary source of healing, a superpower we can all tap into.
So last week, when I got some beautiful flowers delivered, I figured Bob might enjoy the bouquet and a visit.
We sat in the kitchen and I showed him pictures from my other daughter Ellie's wedding, I asked about his time in the Navy, and we talked about his children. Yes, the flowers brightened his day. But spending time with Bob brightened mine"
Katie Couric (@katiecouric) is an award-winning journalist, and founder of Katie Couric Media (KCM)
For more from Katie you can subscribe to her newsletter
The Pandemic's Impact
Since the beginning of the pandemic in March 2020, social-distancing and stay-at-home orders have become part of our everyday vocabulary. Undoubtedly, COVID-19 pushed people who were already feeling isolated over the brink. Google trends show a spike in the number of searches related to loneliness at the height of lockdowns in March and April of 2020.
In addition to being unable to gather with friends and family, many people lost their "weak ties," or minor social connections, to colleagues and others, such as the barista at the coffee shop, the mail carrier, or the cashier at the grocery store. All these people play an essential role in maintaining our mental health.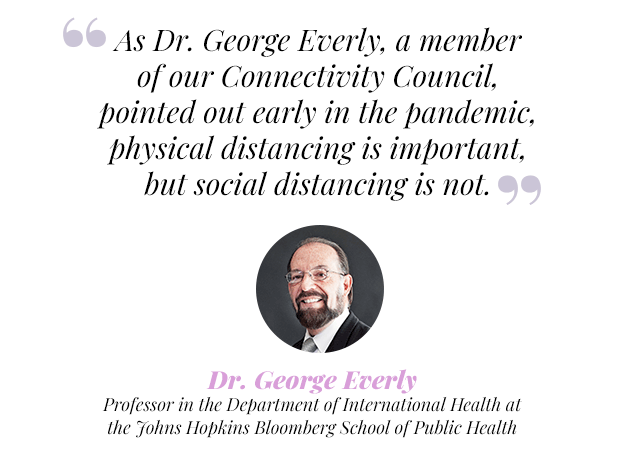 Some relationships became strained as quarantine placed added pressures and became a source of conflict, especially when couples disagreed about what activities and level of social engagement was appropriate.
On the other hand, the shared struggle of COVID-19 unified us. The virus was a great disruptor, upending our plans and changing the environment around us entirely. Many people, including older adults, learned how to use technology to keep in touch with friends and family across the country, or expand their social circles.
For instance, Alice's Table, 1-800-Flowers, and Harry & David teamed up to offer flower-arranging workshops and charcuterie-board classes to customers nationwide. We loved to watch how class participants set up separate iPads and computers, in addition to their main device that streamed the workshop, so that friends and family members from afar could participate in the workshop together. Now that's a good way to stay connected, while physically apart.
Sharing Loneliness
COVID-19 in many ways lifted the veil on loneliness and mental health. As novelist Olivia Laing wrote in The New York Times last year, "We are all lonely." The pandemic gave everyone a reason to feel whatever it was we were feeling and to talk about it. Normalizing loneliness, in turn, removed much of the shame and bitterness that might have previously accompanied it.
Our community health depends on tackling the issue of loneliness head on. While a lonely society is more anxious, depressed, and unhealthy one, an interconnected society means happier, more engaged, and fulfilling lives for everyone.
How Can We Help Lonely People?
1-800-Flowers strives to promote wellness and connection among our community through a partnership with Wisdo, an online platform where people seek help and advice. They can share positive and negative life experiences, as well as form meaningful connections with others who have been in their shoes and can offer their personal experience and wisdom. Our Connections Communities offer support to a wide variety of individuals including new mothers, caregivers, and those experiencing loss or loneliness.
Our "Loneliness" Connection Community offers people the opportunity to share their experiences with others who have had the same feelings. Today, there are nearly 90,000 members who continue to share their heartfelt
Below we share a few tips for combatting loneliness for yourself, a friend, or a family member. We especially enjoyed tips from former Astronaut Scott Kelly, who believes his time in space taught him how to cope with feelings of loneliness while in isolation.
• Reach out to at least one person you think may be feeling lonely every week
• Establish a daily routine
• Offer your support and understanding and create a judgment-free zone
• Engage in mindfulness practices, such as meditation and gratitude exercises, and encourage others to do the same
• Keep a Journal
• Go outside
• Seek professional help
As we reflect on the concept of loneliness, let's remember to show compassion for ourselves and others. We encourage you to think of how a small gesture of connection or expression, can mean so much for those who may be feeling a little extra alone.
All the best,
Chris and Jim
PS: Listen to Nicole Donnelly and me, CMO of charity gift card company TisBest Philanthropy, as we discuss my early years in the floral business, commitment to philanthropy and Smile Farms, and inspiring generosity in the next generation. You'll also hear about how much this weekly letter means to us and our Connectivity Council. #redefinegifting