Written by our Founder and CEO, the Celebrations Pulse Sunday Letters aim to engage with our community. From sharing stories to welcoming your ideas, we want to help you to express, connect, and celebrate the important people in your life.
How many of us, just a month ago, were hanging on to the last vestiges of the hazy, lazy days of summer? When we turn the corner to fall, suddenly we're dropping off kids at school or returning to school ourselves, redecorating our homes and apartments, and taking our last outdoor hikes of the year. Commutes grow longer and work becomes busier as daylight hours shorten. Our busy lives take on a whole new meaning.
It's not unusual for people to feel down when summer ends. In the past, Jim has felt a tinge of sadness on Labor Day weekend – something he mentioned briefly in an email to friends. One of them picked up on it and invited Jim and his wife to a "summer send-off" party. The break from routine helped cure the Labor Day weekend blues!
Preparing the Celebrations Pulse also boosted our post-summer spirits. The stories you shared about why you love fall got us even more excited about autumn and all its activities. This is a lesson for everyone: A little bit of planning – whether it's for how you'll spend your weekends or the calls you'll make to your friends – can make a big difference in how we and others feel.
Amid the fall frenzy, the focus of social lives may change from the beach or pool to pumpkin patches, stadium parking lots, and farmers markets, but the reasons for the activities remain the same: To build our community and strengthen our relationships.
Here are some of the ways we – and members of our community – are celebrating and connecting as the hours of daylight dwindle and the leaves begin to fall.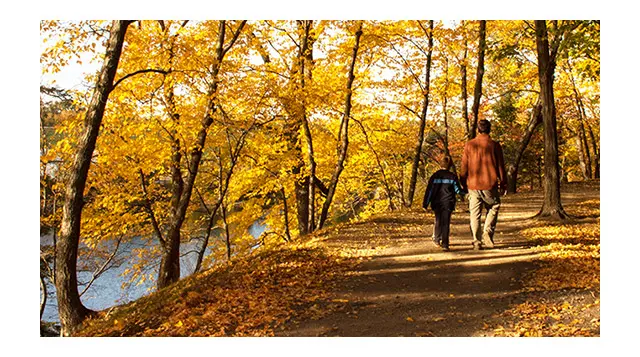 Fall foliage outdoors & indoors
On New York's Long Island, where we live, we always take time for a drive for a weekend drive on the tree-lined backroads to enjoy the spectacular foliage. The brief period of peak fall colors is always a reminder – like summer or sunsets – that nothing lasts forever.
Those drives are also a great opportunity to spend time with our children and grandchildren as we savor nature's fireworks show. With the radio turned off and smartphones stashed away, we catch up on our lives and share memories of the summer that's past.
You can enjoy the fall colors outside in many parts of the country. But even if you live in a land of evergreens, you can bring autumnal colors into your home or office.
Rachel Ashwell, a friend who created the Shabby Chic® aesthetic, uses fall colors to add a layer of warmth to her home décor. She pulls out the winter slipcovers and stacks her favorite cashmere and faux fur throws. "It's both a functional and aesthetic change," she says.
Alice Lewis, who runs our company's Alice's Table culinary and floral workshops, also loves the new season. "There's an abundance of flowers ready for the picking," she says. "Sunflowers, hydrangeas, dahlias…I'm a sucker for dahlias! They are so short-lived but have an amazing variety of colors, shapes, and sizes."
Fall cooking activities
For Alice, the arrival of autumn means a return to the kitchen after a summer of grilling. Slow-cooked comfort food, such as chili or beef stew, makes up her football Sundays. "My current favorite is barbecue-pulled-pork-stuffed sweet potatoes," she says with a grin.
"I love the transition from summer to fall — the coming together that fall has always meant," she says. Gathering family and friends for a weekend or the upcoming holidays at her New England home is an important part of her life. Autumn also brings back memories of apple picking, which she does faithfully every year, and the apple and cranberry crisp she bakes later.
Enjoying the Harvest
Across the country, orchards and fields are alive with activity as farmers and workers harvest the summer and autumn crops. Traditionally, all this activity culminates with Thanksgiving. But there are countless harvest festivities before then!
Soon, pumpkin patches, apple orchards, and corn mazes will begin dotting country highways, welcoming visitors to harvest festivities. It's another way to strengthen family relationships, get out into the community, and give thanks to everyone who works so hard to put food on our tables.
Speaking of which, we would be remiss if we didn't thank everyone who has been harvesting Harry & David's Royal Riviera pears over the past few weeks. Last year, more than 250 people hand-picked more than 19 million pears across our nearly 20 orchards in Oregon. We're all excited to share them with you starting next month.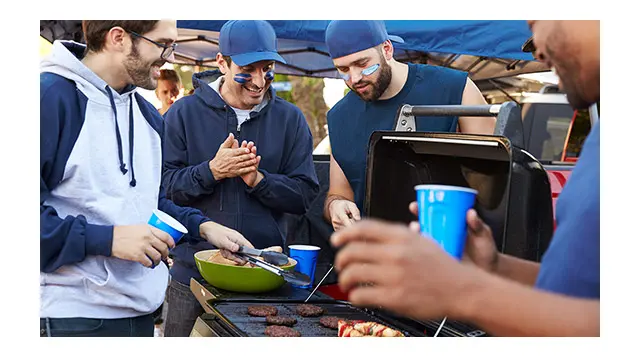 Tailgating and fall sports
For some of us, tailgating is one of the rites of passage for fall. It brings together communities of fans in parking lots, where fun, festivities, and sharing abound.
Community member Mark and his brother Steve grew up in Lansing, Michigan, in the shadows of Spartan Stadium, the home of the Michigan State Spartans. When they were younger, their parents, and their parents' relatives and friends all gathered in the parking lot of the stadium each autumn for the team's home games. "I just remember how excited I was when I had to go back to school, because I knew that we would be starting to tailgate soon," Mark remembers. "It was always one of my favorite activities, and that's why I love fall."
The brothers both remained in Lansing after they graduated from Michigan State. They married, had children, and now the kids are old enough to appreciate the experience of tailgating. "Things haven't changed much over the years, and that's a good thing," Mark said. "We park the car, set up tables, put out all of the food, and plant our Spartan flag. It's just wonderful that our kids enjoy the pre-game fun, the Spartan community around them, and how they too look forward to the season starting each fall. The older ones are getting ready to go to college soon, and there was never any doubt where they were going to school."
Loving fall rather than missing summer
Sometimes many of us see autumn as the ending of summer, and as a forewarning that winter is ahead. We don't generally pay attention to all the switches in our lives that occur during autumn. We take so much of it for granted because all these changes seem to happen on autopilot. One day we're scorching in temperatures in the 80s, and it seems, with a flick of a switch, we are grabbing jackets and hoodies to head outside.
In the face of all the activity, use your power to connect with your family, friends, and neighbors. Fall is nature's way of telling us that nothing last forever – and to make the most of our time.
All the best,
Chris & Jim