Written by our Founder and CEO, our Celebrations Pulse Sunday Letters aim to engage with our community. From sharing stories to welcoming your ideas, we want to help you to express, connect, and celebrate the important people in your life.
Every Dad is different. Some are quiet, some are strong, some are smart, some are funny, some are tough, and many are gentle and kind. There are also Dads who raise their families as single parents, and families with two Dads. Whatever the type, all Dads have one thing in common: The important role they play in our lives.

Because not all Dads are alike in demeanor, personalities, or needs, it can be hard to find the right way to show your appreciation on Father's Day. How do you thank the man who helped bring you into the world and show you how to thrive in it?

Our colleagues at 1-800-Flowers.com asked more than a dozen dads what they want for Father's Day. More than a few of the responses had nothing to do with physical gifts like barbecue tongs and ties. What most Dads really want is time with their families.

In other words, the most desired gift forges a deeper connection and costs only time. And they can be delivered during a simple visit, phone call, or letter. Remember, you have the power to lift spirits by simply reaching out and connecting!
Turning the table on Dad this Father's Day
Dad has been there for all your big moments. From learning how to ride a bike to dropping you off at college and sharing advice on how to raise a family, Dad's always been ready to lend a hand (or a helpful word). And when he's being a Dad, he's sharing his lifetime of experiences with you.
When you talk to your Dad on Father's Day, don't just express your feelings for him. Pose questions about what fatherhood has meant to him. Here are some ideas.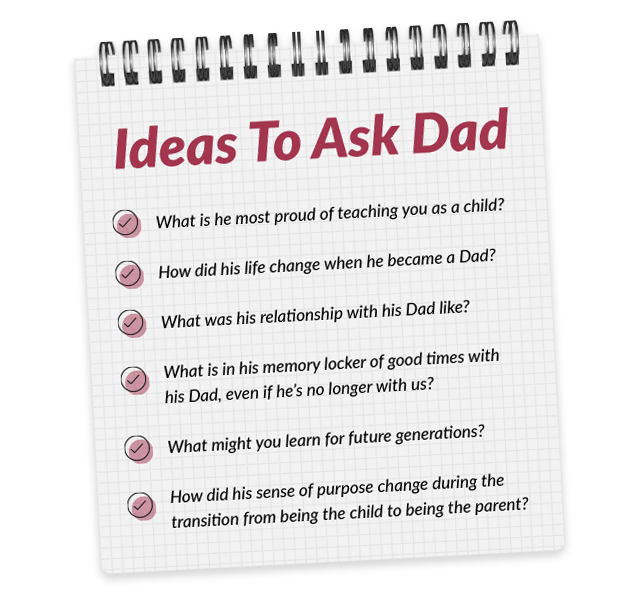 If you're a Dad, you can use your special day and special power to turn the tables, too. Talk to your children about what you were most proud to pass along to them, your favorite memories, and your dreams for their future.

Most importantly, end your Father's Day with a promise to keep the conversation going. And don't forget to set a date!

Please share with us your plans for Father's Day, whether you're a Dad or celebrating a Dad. What is the most meaningful memory of your Dad? What events or activities do you like or did you like to do with your Dad? For some families, it is sports, travel, or shared hobbies.
For Jessica, one of our community members, sports creates a common bond between her son and her husband:
My husband didn't just teach my son a love of sports. It's much more: He taught him loyalty, camaraderie, and how to talk with fellow teammates or fans. Their shared passion for all things sports is intense. They know every player's name, position, and what makes each one so good. They know not just that a player had been injured but when they'd be back on the field. Draft dates. Trade dates. You name it! All these stats are so complex it would take me weeks to remember! This intel allows my son to talk with authority about their favorite teams. He's getting it from his Dad, and it's so special.

–Jessica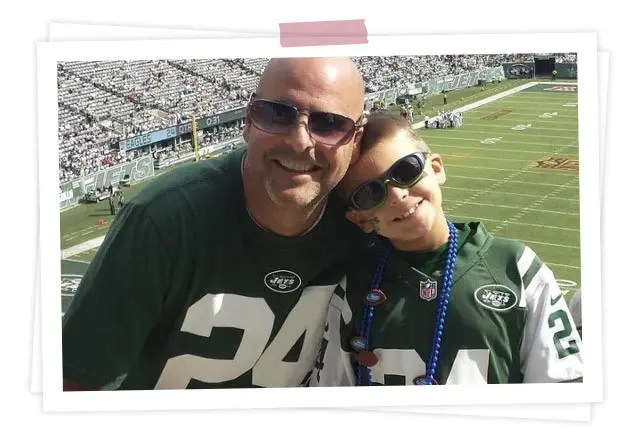 Granddads and other types of Dads
Father-like figures abound in our lives. You probably have people in your life who are dads who are doing an excellent job; it might be a co-worker, friend or a brother. Use your power this Father's Day to recognize them.

For us, being grandfathers is a very special role. Jim has committed to spending time with each of his grandchildren one-on-one this summer. And just last week, Chris became a grandfather for the second time, making this Father's Day especially meaningful.

Here are some more ideas for celebrating and connecting with Dad and father-like figures on this special day:
Write a letter about how much he means to you, gives examples and write it from your heart.
For grandfathers, give a card with an IOU of a phone call once a week.
Have some fun. Create a meme or an emoji that shows his fun-loving side.
For a co-worker Dad you admire, tell him you'll pick up a shift or a project so he can attend his child's sports event, school play or dance recital.
If there are two Dads, create a montage of photos of the family under a rainbow flag.
For a "second Dad" offer to take him out to eat the Sunday following Father's Day.
If your Dad is deceased, visit his grave if you're able to, and leave a family photo or a symbol of your love.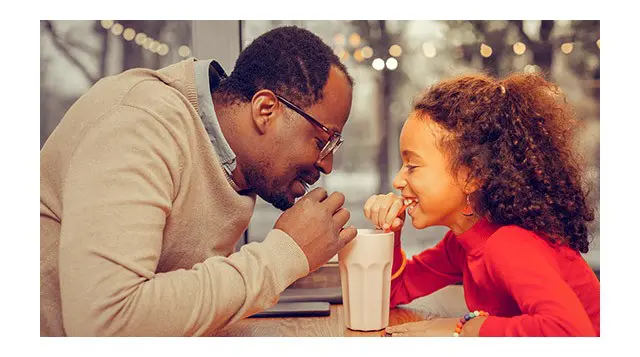 Of course, you can go the traditional route, like an all-in-one tool for the Dad who has a workbench, a docking station for dad's phone, watch, keys, and wallet so he doesn't have to ask where any of them are, or tickets to his favorite team's game.

Let us know your plans for connecting and showing your appreciation on Father's Day. We'd love to hear what shared activities, hobbies, and memories you have of your Dad and other fatherly figures. Remember: #givingisthegift.
All the best,
Chris & Jim