Written by our Founder and CEO, our Celebrations Pulse Sunday Letters aim to engage with our community. By welcoming your ideas and sharing your stories, we want to help you strengthen your relationships with the most important people in your life.
Despite the hundreds of millions of people living among us and the multitude of interactions we have with physical beings throughout our daily lives, we are lonely. And many are suffering in silence.
Three weeks ago, at the start of Mental Health Awareness Month, U.S. Surgeon General Dr. Vivek Murthy issued an advisory about how social isolation and loneliness have become widespread problems in the United States.
An alarming stat: More than 1 in 3 adults in the United States aged 45 and older feel lonely. This epidemic affects younger people too. According to the American Psychological Association, more than 20% of Generation Z, those born in the late 1990s and early 2000s – who also happen to be the most connected electronically – are the most alienated and disconnected emotionally, causing them to feel anxious and depressed. In addition to these two feelings, loneliness has been linked to an increased risk of heart disease and stroke, type 2 diabetes, addiction, suicide and self-harm, dementia, and earlier death.
In the advisory, Dr. Murthy says that given these profound consequences, loneliness should be treated the same way that we address tobacco use, obesity, and the opioid addiction crisis. Murthy goes on to say, "We are called to build a movement to mend the social fabric of our nation. It will take all of us – individuals and families, schools and workplaces, health care and public health systems, technology companies, governments, faith organizations, and communities – working together to destigmatize loneliness and change our cultural and policy response to it."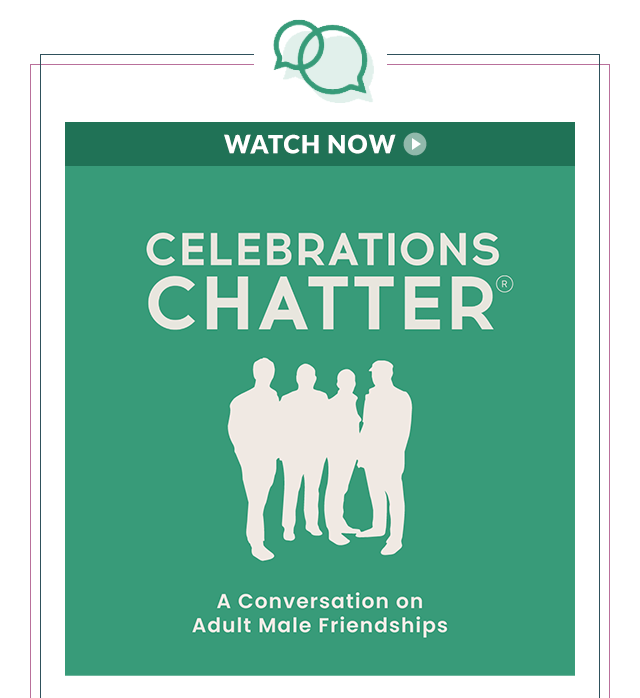 The male friendship recession
Recently, on his podcast Celebrations Chatter, Jim talked about the difficulty some adult males have in developing friendships. He spoke with three of his friends: Larry Zarin, our friend and board member; Dick Auletta, a veteran public relations expert; and Dr. George Everly, a psychologist who serves on the faculties of the Johns Hopkins School of Medicine and the Johns Hopkins Bloomberg School of Public Health, and member of our Connectivity Council.
During their conversation about their own friendships, Jim brought up a recent The New York Times story that talked about male friendships. It says: "American men appear to be stuck in a 'friendship recession' – a trend that predates the COVID-19 pandemic but that seems to have accelerated over the past several years as loneliness levels have crept up worldwide."
The four of them looked back at their childhood as a potential sign of why men may find it hard to connect with other men. Generationally, their fathers weren't emotionally present to hug their children or say "I love you." Maybe not showing affection was a cultural thing, but "back then" men didn't hug other men. Forget about kissing. They also didn't cry in front of each other no matter what the conversation. Women, on the other hand, have always been more in tune with their emotions around other women, feeling comfortable to cry and show vulnerability, furthering the bonds they have with one another.
It's quite ironic how today, with social media and the many ways to "connect" with someone, we're so physically distant from everyone. We yearn for in-person contact. We want to trust, support, and be reliable, and have someone reciprocate. So, how can men establish and foster virtuous friendships? Is it even possible? Yes! Dr. George Everly recently wrote how the deterioration of male friendships today was not always the case. George, Larry, and Dick had some ideas for men to create new – and rewarding – male friendships:
Go first
Like a dance, one person needs to lead. Take the initiative to reach out to an old friend you haven't spoken to in a while, whether it's by phone or text or email; or introduce yourself to someone you might see frequently, but do not know.
Make a plan
Arrange an outing. Take a trip to a ball game. Play a round of golf. Grab a cup of coffee. Or take a morning walk together around the neighborhood. Or invite him over for a barbecue. Jim's friend David Siegel, CEO of Meetup.com, recommends making a concrete plan to "ensure you actually get together; suggest a specific time and place."
Share something personal
Once you've established trust, lean further into the relationship. Confide in your friend. It can be a difficult question about parenting a teenager or informing them you're stressed from caring for an elder. Being able to open up to someone who's not your life partner will deepen the friendship. You'll also help your friend, who might be experiencing similar things, including dealing with loneliness, to open up to you.
Join a club
Sign up for a group or use your power to create your own group, be the organizer, and invite someone to dinner or to an event.
The bottom line is you need to start a dialogue. Be open, listen, show that you genuinely care. Your new friend will recognize that you're investing time in and developing a friendship.
All the best,
Chris and Jim