Written by our Founder and CEO, our Celebrations Pulse Sunday Letters aim to engage with our community. From sharing stories to welcoming your ideas, we want to help you to express, connect, and celebrate the important people in your life.
As children and young adults, most people have little trouble finding and making friends. There's something about toys, playgrounds, and school that foster connections and comradery – and, often, friendships that can last a lifetime.
Inevitably, though, even the strongest friendships made early in life start to change as you grow older. Certain events, like new jobs, provide opportunities to meet new people. If you have a partner or attend school, you also have a chance to meet new people.
And then, as we move into later adulthood, many of our oldest friends from our younger years have relocated and raised their own families. They also likely developed new friendships at work, in their neighborhoods, or with fellow parents at their children's schools. That's why, in adulthood, we need to be deliberate about meeting new people. Our friends at Vital Choice recently posted an article about making friends after 50.
If you're looking for a New Year's resolution, consider reaching out and rekindling friendships. We have never heard anyone say, "I have way too many friends" and have never heard one person say, "There are way too many people who care about me." By taking a few simple steps, you can instantly enrich your life and that of another person. Jim recently spoke to Authority Magazine on Medium about finding happiness and joy even during turbulent times and it really does all come down to relationships.
You don't need a reason to reach out
Remember, you don't need an excuse to reach out. Send an email, text or make a phone call. You can restart relationships at any point.
Nurture the relationships you have, rekindle the relationships you've lost, create the relationships you wish you had.
Dr. George Everly
For Jim, it takes a plan.
I keep lists of categories of friends, including childhood, professional, and golf buddies. I send memes, GIFs, or funny cartoons to people on my lists as a way to liven up the conversation, and invariably they respond with their own humor. We use humor to stay connected, so there's still a current in the line.
Jim Mccann
Jim recently spoke to Ashley Hunter, an insurance executive. Ashley has lots of personal and professional experiences abroad, which has made her a seasoned relationship builder and maintainer.
"It really becomes a conscious decision to take the time to keep in touch," Ashley explained. "One of the things I do is keep a relationship calendar that includes scheduling of contacting personal and professional friends. As you get older, it becomes much more important to initiate contact with friends. It allows them to know that they still have a place in your world, and it's good for mental health. It always brings a smile to your face when you hear from friends, and normally you just pick up right where you left off with lots of laughs and humor."
Additionally, Ashley, who travels frequently for work, always seeks out friends in different cities she visits to meet for a drink or coffee.
Sharing Tools for Developing & Managing Adult Friendships
How do you nurture your network of relationships and friends? If you join a community association, go to a business conference, or even attend a cocktail party, why not sit next to someone you do not know? At events or parties, Jim always looks for someone standing alone and introduces himself. Not only has he met many wonderful people that way, but it makes them feel less awkward and him too.
How do you stay connected to old friends or make new ones?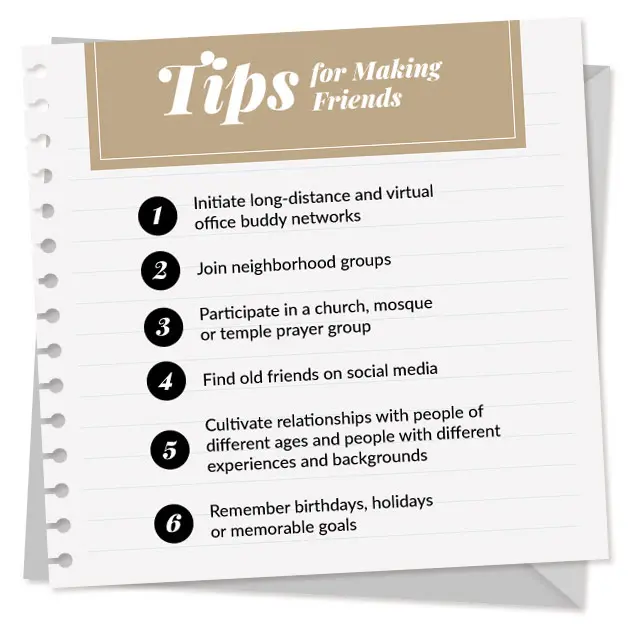 Perhaps reacquainting with old friends or seeking out new ones can be part of your 2022 New Year's resolutions. You might be hesitant and think, "Oh, it's been so long," or "Why would they want to be friends with me?" The self-doubt is understandable; however, we're willing to bet that the person on the other end would be delighted to hear from you.
Here's to friendship and a Happy New Year!
Chris & Jim McCann