Written by our Founder and CEO, our Celebrations Pulse Sunday Letters aim to engage with our community. By welcoming your ideas and sharing your stories, we want to help you strengthen your relationships with the most important people in your life.
The long Memorial Day weekend connects us with our past and strengthens our relationships in the present.
Over three days, the community comes together to visit the graves of fallen soldiers and decorate them with flags. We'll gather for parades, to volunteer at veteran organizations and community cleanups, and, yes, to celebrate the promise of warmer days ahead with the first barbecue or beach day of the season.
The activities that vary from the solemn to the festive may seem contradictory, but they have something very important in common: Both celebrate the community that we inherited from the brave soldiers who fought so bravely to protect it.
Even as we celebrate a day off work, it's important to acknowledge that their sacrifice not only gave us a holiday but also a community of shared history and values.
The importance of remembrance
Acts of remembrance, like the wreath-laying at national cemeteries on Monday, are ancient traditions that bind the community together and reinforce collective memories. They're remarkably similar throughout history and across cultures, says Dr. Bill Hoy, a professor of medical humanities at Baylor University.
At a personal level, we hold funerals and other memorial services to keep alive the memory of a person who has been lost. Memorial Day observances preserve the memory of the sacrifices of the sailors, soldiers, and others who lost their lives defending our country.
Ultimately, these traditions are reminders that we live in a community that has shared values and a shared history. "Virtually no society allows the bereaved to go it alone — they always gather around them, offering aid, support, encouragement," Dr. Hoy explains.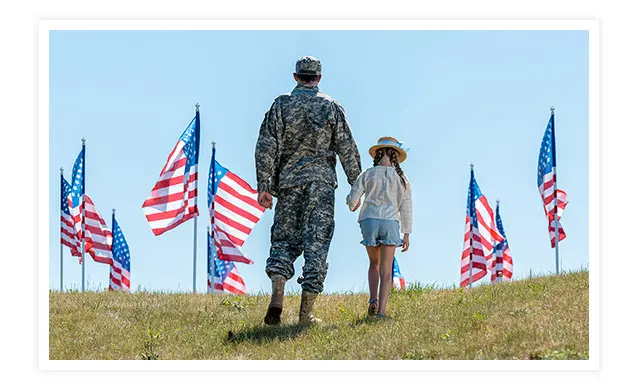 Community memories of service
Memorial Day is also an opportunity to reflect on the importance of service and, if you're lucky enough, share memories of when you served or of relatives who fought to protect our country.
Leslie, one of our community members, wrote to share how she was inspired by the stories of her maternal grandmother, who enlisted in the Navy during World War II and served as an instructor on the flight simulators.
Hearing her tell of her adventures during her service was part of my inspiration years later to join the U.S. Coast Guard. Sadly, she passed away before I could get the chance to share some of my own adventures with her. To the best of my knowledge, we're the only two women in the family to have served. 
Another community member, John, has a special memory about his own father and the impact of visiting the grave of his fallen uncle:
My dad's dad died before he was born, and as the youngest of eight, he looked up adoringly at his older brother, Bob, who died in Europe during World War II. Bob is buried in Arlington National Cemetery, and I'll never forget taking a trip to Washington, D.C., as a child and watching my dad place a flag at his brother's grave. It was the first time I saw my father cry.
Mary shared how service in the military helped turn around her daughter's life and set her up for a very promising future:
She went from an abusive marriage to becoming a captain in the United States Air Force. She raised one child at the time and then struggled to educate herself by going to Texas Tech to get her nursing degree. I am so very proud of her. She retired with a disability as a surgical nurse and will be graduating in July with her master's degree in nursing. She has really come a long way with the help of her service to our country.
Thank you to everyone who has served our country and sacrificed for our community so that we can continue to enjoy it.
All the best,
Chris and Jim