Jim McCann, 1-800-Flowers.com's founder and chairman, explains why we've built MomVerse, an AI-powered tool that helps you personalize poetry and songs for your Mom.
At 1-800-Flowers.com, we know we're in the business of helping people have more and better relationships. We do it primarily through our vast collection of gifts that range from floral bouquets and gourmet food to sweet snacks and personalized keepsakes.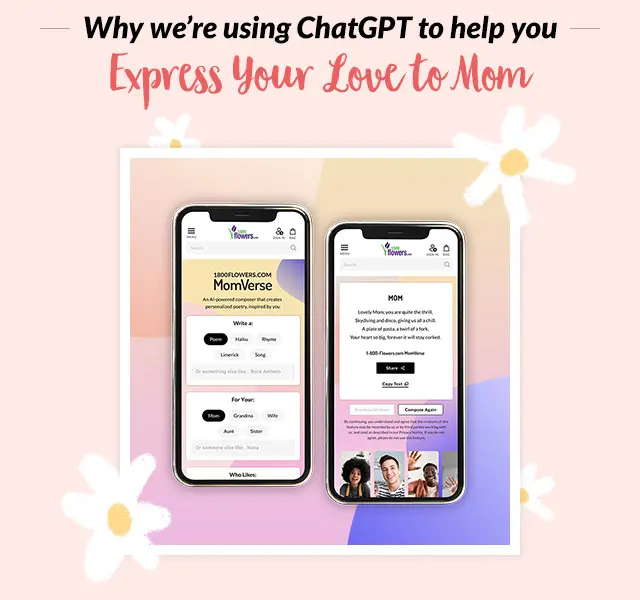 But our work isn't limited to just selling gifts. We remind you about occasions. We give you ideas on how you can connect with other people and express yourself to build the relationships that are so important to a happy life. We're always striving to bring home the point that Giving is the Gift. We all have a superpower to change how other people feel, and in doing so change the way we ourselves feel.
Our company has long used cutting-edge technology to make gifting more convenient for our customers. It's in our DNA. Our name stems from our early adoption of a toll-free number that enabled anyone anywhere to order gifts with a simple and free phone call. In the 1990s, we pioneered online shopping on CompuServe and America Online. And in the 2010s, we launched mobile apps and blogs to make shopping more convenient and to help our customers make connections and strengthen relationships.
At first, these technologies were unfamiliar to the majority of our customers, and many told us that their first taste of what was to come came by interacting with our brands. We're proud of our history of guiding people into the future.
Enter ChatGPT
You might have read stories about the latest technology with a daunting name – generative artificial intelligence. Tools like ChatGPT allow you to ask it questions and get answers as if they were written by the smartest person in the world. This technology has the potential to change the world, much like mobile telephones or the internet did decades ago. And we don't want our company – or our customers – to miss out on what's possible.
We're proud of our history of guiding people into the future.
Jim mccann
Founder & Chairman)
1-800-Flowers.com

And, yes, we've done it again. Our team of engineers incorporated ChatGPT into a free and easy-to-use tool we call 1-800-Flowers.com MomVerse. It's something you can use today to create a poem or song that's personalized to your mother or any mother figure in your life. With a few clicks, you'll have a verse that you can share with Mom or all the important people in your life.
We think it's really neat – and a great way for you to try out ChatGPT from the familiar place of our websites. It's also a great way to use your power to change how someone feels this Mother's Day. We'll soon be updating it for other occasions like birthdays, anniversaries, and more.
Please give it a try and let us know what you think. We're proud that we have yet another free tool in our arsenal to help you better express yourself, connect with people, and strengthen all your relationships.