Written by our Founder and CEO, our Celebrations Pulse Sunday Letters aim to engage with our community. From sharing stories to welcoming your ideas, we want to help you to express, connect, and celebrate the important people in your life.
Ways to lessen anxiety around new school years, start new projects, and enjoy the beauty of nature.
We love fall. Here in the Northeast, it's one of the most beautiful times of the year, when the leaves change around our neighborhoods. We are thankful that we have kids and grandkids to help us rake those leaves that fall from the colorful trees and fill up our yards!
There are also weekend getaways, depending on where you are, that entail going to watch the beauty of those trees turning vibrant colors. And for some, taking that all in requires sipping a pumpkin spice drink, and taking in all the wonderful stimulating flavors and smells of fall.
So many take a different, relaxing kind of breath during the summer. August is traditionally a slow time, particularly in Europe, where people often take time off. Likewise, many families take their summer vacations during this month, catching a break before the return of September and the onset of fall, work, and school.
Confronting autumnal anxieties
We've heard from many who have a sense of anxiety and nervousness around this time as things get hectic, and we return full-throttle to work and school. Connectivity Council member Dr. Chloe Carmichael, who is a clinical psychologist, wrote a book called "Nervous Energy: Harnessing the Power of Your Anxiety." We wanted to share some of her insights with you.
In her book, Dr. Chloe outlined nine tools that can help you harness your nervous energy to live a more productive and fulfilling life. We asked her to elaborate on the psychology around the beginning of fall, what the change in season means, and how it might affect us in a positive way.
"Each year brings that sense that school is starting, a new beginning, despite how old we are. Every new generation experiences this, and every older generation recalls this time of year. We remember those days of back to school shopping, polishing up our school supplies, sharpening our pencils, and the newness each fall brought with a new grade, or a new year at college," Dr. Chloe pointed out.
Dr. Chloe added that's why for many of us, fall is a reminder of new beginnings, particularly if we have children who are starting new grades, attending new schools, or embarking on their college years. It's an annual renewal for so many.
"It can be a nerve-wracking time, not only for adults who are diving back into longer hours at work after a summer that might have been more laid back, but also for kids who are facing the newness of another school year. Equally, there's lots of anticipation and preparation for adult parents to get their kids ready for the school year. It's advantageous to have nervous energy, because you can use that as a source of stimulation, and productivity.
"It's also great to relax, and take the time to get away, and marvel at nature's beauty during autumn. For many of us, it's the last time we're able to be outside for an extended period before winter sets in and keeps us all inside. And being outside and witnessing nature's season change is a great way to appreciate the world around you.
"And, because we're trying to take advantage of spending those final days indoors as the year comes to a close, many use their nervous energy to take on new projects during fall," Dr. Chloe continued. "Fall marks the beginning of new endeavors, particularly as winter approaches, and we are able to continue to work on those projects indoors."
Celebrating fall harvest
For some, particularly in our business, fall means harvest time: first peaches, then pears, and grapes. The Harry & David harvest team, for example, works tirelessly each year to pick roughly 600 tons of pears… per day.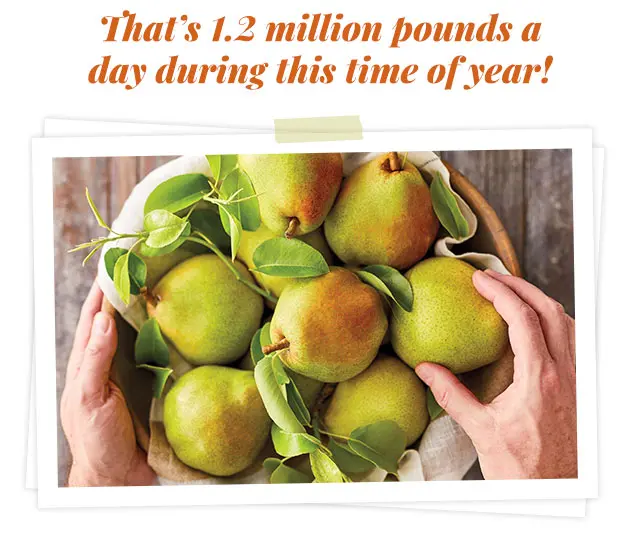 Thus, it seems that fall always comes back to nature and growth in a certain way. There are the brilliant colors of the leaves on trees that can provide a respite for some of the nervous anxiety that comes with fall, and there are trees that grow delicious fruit, like pears, that are harvested each fall.

Have a happy and productive fall, and if you get a chance, take a minute to admire nature's gift of trees splendidly shedding their colorful leaves.
All the best,
Chris and Jim