Written by our Founder and CEO, our Celebrations Pulse Sunday Letters aim to engage with our community. From sharing stories to welcoming your ideas, we want to help you to express, connect, and celebrate the important people in your life.
While we were growing up, it was a family tradition to drive around and view all the festive outdoor Christmas decorations in our neighborhood. We can remember, as kids, sitting in the back seat of the car, all of us angling to get window time, to see the lights and holiday spirit. As children, it was so magical. And even today, as adults, we admire the magic of neighbors working together to put on a display for the community.
Over the last decade or so, Halloween has become perhaps the second-best time of the year for neighbors to decorate – and haunt – the outside of their homes. Now, as grandparents, our children are creating a new tradition of pointing out the ghoulish creativity of their neighbors. It's so wonderful to see the awe in the grandkids' eyes.
We know…things have changed a lot since we used to trick-or-treat with nothing but a sack. Yes, the holiday has gone from modest and simple to a bit more commercial but so what?! It is an opportunity for the old and young alike to have some fun.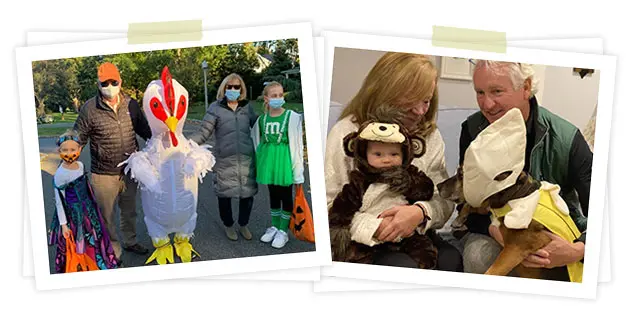 Popularity of Halloween decorations
This year, according to the National Retail Federation, more Americans are planning to decorate their homes this season, and the NRF's Halloween Data Center estimates that $2.6 billion total will be spent on decorations. In addition, vintage decorations are becoming very popular, according to Google Trends.
In large swaths of the country, Halloween is arguably the last day of the year where weather permits us all to join in on outside fun before winter sets in. And once the Halloween decorations have been marveled at, they are put away to make room for holiday adornments in December.
Halloween is a community-based celebration, and it's not just neighbors coordinating on the spookiest outdoor decorations. Cities, towns and municipalities celebrate by coming together on activities like haunted hayrides, annual 5K runs in costumes, street fairs, and public screenings of Halloween movie classics.
In this communal spirit, residents – both adults and children – come together to share all the frightening fun of the season. The trend of community celebrations continues to grow.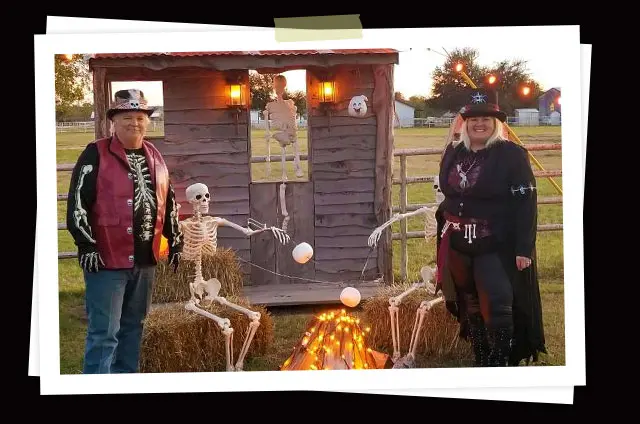 The spookiest communities
We thought it might be fun to give you an inside peek at some of the most unique and spirited community celebrations from around the country. This month, Country Living Magazine showcased the top 15 small towns to visit for Halloween.
We took a couple from this list and others based on what you've shared with us. We hope this will give you a head-start for next year's Halloween. It's never too early to start planning day trips to see a city or town near you next year, or borrowing ideas to create your own community celebrations. And finally, provide you with some tips that you might even consider incorporating while you garnish your own home.
Some of our favorites include:
Fairborn, Ohio (near Dayton): In the Dayton-area town of Fairborn becomes a verifiable Halloween wonderland. There's a year-round Halloween store, a Halloween festival and extravagant Halloween decorations.
St. Helen's, Oregon (outside of Portland): Considered one the best Halloween towns in Oregon, St. Helen's is known to become terrifying – in the fun sense! The town served as a backdrop to the 1998 Disney classic Halloweentown. The whole month of October is a Halloweentown celebration.
Sleepy Hollow, New York: For Sleepy Hollow, Halloween is the most wonderful time of the year. Beginning in mid-October there are haunted hayrides, Gothic mansions, blazing pumpkins, farmers markets, live music, street fairs, a 5K run (with costumes), Halloween parade, and Headless Horseman.
Charleston, South Carolina: Charleston settles on the scary number of 13 things to do for Halloween. These include a haunted pub crawl, family "fright nights," and screenings of the Halloween cult classic "Rocky Horror Picture Show" and other spooky movies.

(Speaking of scary movies, Jim was recently re-watching some Halloween-themed movies and was reminded that these films are really scary. We're sure you've been watching your favorite scary movies during the last few weeks as well.)
Happy Halloween, and may this year be one of the most vibrant – and scariest – for you, your families, friends and neighbors!
Chris & Jim