Written by our Founder and CEO, our Celebrations Pulse Sunday Letters aim to engage with our community. From sharing stories to welcoming your ideas, we want to help you to express, connect, and celebrate the important people in your life.
We celebrated National Caregivers Day last Friday, and we didn't want the moment to go by without acknowledging the wonderful community of people who are caregivers, some in our own lives. They are unsung heroes and verifiable lifesavers.

Since the start of the pandemic, we have all been reminded about the enormous impact of first responders, the heroic caregivers who deliver urgent medical care. They see so much pain and suffering, which makes them truly remarkable human beings.

Caregivers come in many other forms. They are neighbors, parents, children, partners, friends, and even strangers – professional or community-based – who give of themselves to help those in need.

There are approximately 43.5 million caregivers just in the U.S. today. More than one in five Americans are caregivers, having provided care to an adult or child with special needs at some time in the past 12 months.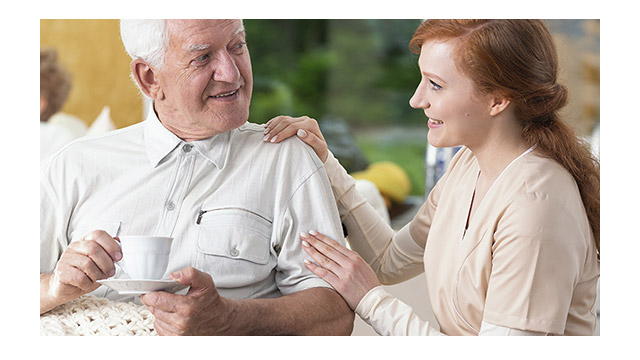 Why sharing is caring
Caregivers share a piece of their lives and their time to lend a helping hand to those in need. Our lives are defined by a limited amount of time, and once it passes, there's no getting it back. That's why time is the most precious gift that anyone can give.

Our friends at Harry & David recognize this fact with their simple mantra, "Life is a gift. Share more." And it's one of the reasons they're embracing the support and appreciation of caregivers while providing useful information for those providing and receiving care.

We're constantly reminded that Harry & David and our other brands serve the caring community. This is especially evident in the thousands of messages that accompany our deliveries. People send flower arrangements and fruit baskets to express their gratitude to those who have gone the extra mile, while others provide care by ordering everything from prepared meals to sweet treats to lift the spirits of people they care for.

Our community is indeed a caring one. We're humbled by the fact that people choose our brands to express their love for others and to connect with all the people in their lives, including caregivers and those in need of care.
Stories of caregivers
In sharing their lives, caregivers provide indomitable acts of love, developing unique and special bonds with those under their care. Here are a few of the stories of caregivers in our community.
Carl and Denver
Carl was diagnosed with Parkinson's disease later in life, which greatly affected his mobility, especially with his hands. He had always loved playing checkers and chess. Soon after his caretaker Denver learned this, he began bringing in a checker set with each visit he paid to Carl. The two became formidable opponents and played for hours at a time. The two would unwind with checkers, sharing stories and laughter as Denver patiently listened and played with Carl.

As Carl's Parkinson's progressed, the lively chatter and laughter slowly dwindled to gentle, warm glances and smiles. Yet, the joy the two found in the activity remained. The hours Carl and Denver spent playing checkers were some of the happiest moments for both.
Ann and Ruth
Sometimes, caregivers are family and must balance providing care with managing their own lives and families. Ann lost her husband at the age of 33, leaving her with three pre-teens. Tragically, Ann's sister-in-law, Ruth, was diagnosed with inoperable cancer two months after Ann's husband died.

Despite her own grief and responsibilities at home, Ann became her sister-in-law's caregiver, making the short drive to Ruth's home each morning after the kids left for school. Ann returned home to be there for her kids to greet them when they got off their school bus. Each night, Ann would provide an update to her kids about their favorite aunt.

One night, Ann came home and told the kids that Aunt Ruth was near death and that she would take them the next morning to say goodbye. Ruth died shortly after the tearful meeting. Ann's devotion to Ruth was a lesson in love, and something the children have never forgotten.

Mark and Pam
For some adult children, caregiving is a continuous process as the various elderly family members start to age. Over the past decade, Mark and his wife Pam directed the care of three family members in their 90s: Mark's Aunt Selma, who had been crippled by an accident and developed dementia; his father, Hal, who had Alzheimer's, and Pam's mother Freddie, who became blind and increasingly frail and sickly. They died, respectively, at 93, 98 and 100 years old.

As they took care of them one by one, Mark and Pam already had their hands full with jobs and two sons who had their own struggles. While they both considered it a privilege to give back to their loved ones, it was all-encompassing. The combined responsibilities ended up dominating their lives.

"When you're devoted to the care of your significant others, it very often leaves little time for yourself," notes Gillian Leithman, Ph.D., a retirement specialist whose clients are often charged with taking care of their elders. "This can cause great stress because there are such limitations on your ability to rejuvenate and recharge."

Our caregiver community
We know there are so many wonderful stories of caregiving, and we also know that caregivers could benefit from the support of one another. Caregivers can turn to our Caregiving Connection Community, a safe haven for family caregivers to meet others in their situation as well as seek tools and strategies.

"When you're going through these challenges, you need to know you're not alone, and Wisdo works hard to give you a safe, nonjudgmental place to say, 'This is really difficult,' or 'I need a day off,' and hear back from peers who won't take issue with you," Dr. Leithman says.

There's great healing in knowing somebody else feels the way you feel or is struggling with the same issues you're struggling with – somebody who can say, "I hear you. I get it. Tell me more. What can I do to help?"
There are some interesting experiments where people are being paid to be caregivers to family members in need. That strikes us as an interesting path to explore, and much more in keeping with the responsibilities within the extended family. We think there are some great opportunities for innovation in institutionalized care.
To all the wonderful caregivers out there, we salute you, we appreciate you, and we honor you and all the hard work you do to make the lives of others more comfortable.
All the best,
Chris & Jim