Written by our Founder and CEO, our Celebrations Pulse Sunday Letters aim to engage with our community. From sharing stories to welcoming your ideas, we want to help you to express, connect, and celebrate the important people in your life.
Twenty years after 9/11, it is still very hard to put into words what that day means. For everyone who lived through it, it is about remembrance and resilience. For those who lost family and friends, it's a deeper infliction. That day of infamy was deeply tragic for those who lost a husband, wife, fiancé, brother, sister, son, daughter, and other loved ones whose lives were cherished.
If you are old enough, you certainly remember exactly where you were when the planes struck the World Trade Center, the Pentagon, and a field in rural Pennsylvania on a brilliantly beautiful late-summer Tuesday morning. And you – like us – recall how we spent the rest of that desolate day.
We are a company with strong ties to New York. We also care a great deal about being a resource for our community, particularly around expressing sympathy, grief, and loss. Expression and connection are at the core of our business. Remembrance is an important part of this equation.
Tributes through acts of remembrance
This year, we are marking the anniversary through our involvement with The Floral Heart Project, which was launched in 2020 as public art installations commemorating the lives lost to the COVID–19 pandemic. Today, we will be honoring the lives lost on 9/11. The Floral Heart Project will be laying handcrafted floral hearts in New York City, Washington, D.C., and Somerset County, Pennsylvania as a tribute to honor the individuals who perished. We hope it helps provide healing, compassion and sympathy.
Acknowledging grief and remembering
Jim recently spoke to Dr. Jason Troyer, a grief counselor who runs Griefplan.com. Dr. Troyer said that 9/11 is a day of solidarity and communal grief, even for those who may not be directly affected by what happened that day.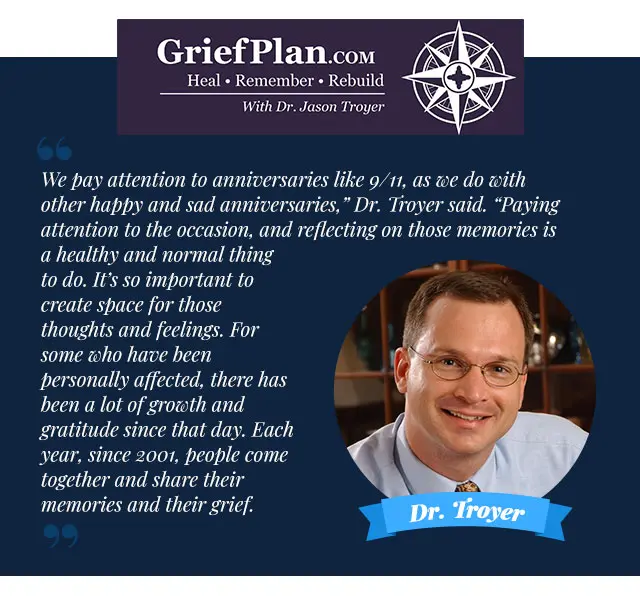 Dr. Troyer added that 9/11 has become a national day of sadness, and that we remember back to a day and a time when our sense of safety was destroyed. "It shook us all to the core, and for many it was such a personal loss. I speak with many who lost a loved one that day, and it's important for them to spend time at a place that helps them remember. Some light candles, and others keep a journal."
To help cope, Dr. Troyer suggests making sure to spend some time on that day focusing on the loss and sharing your feelings, perhaps by having someone with you who you trust. Finally, it's important to acknowledge the pain and keep to a plan that helps you cope.
A true lesson in resilience
We recently spoke to Karen M. Carlucci, a licensed psychotherapist and certified professional coach who tragically lost her fiancé on 9/11. "We were at the height of what was supposed to be the happiest of times – planning our October 2001 wedding," Karen told us. "When all of those hopes and dreams were destroyed, I thought I would never be free of the dark cloud that seemed to swallow me whole."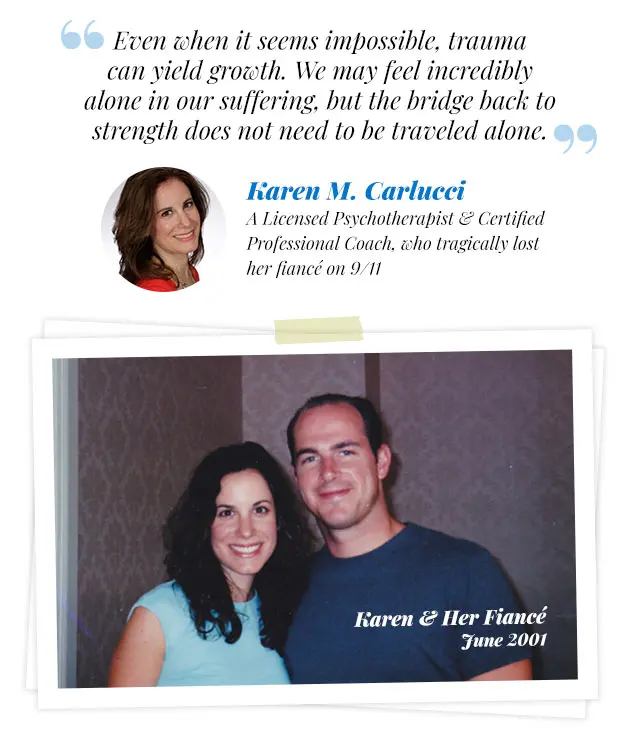 "We were forced to accept the unacceptable," she continued. "For me, the support of others, therapy, and telling my story helped me heal. Breath by breath, we collectively rose to the occasion of honoring those lost by living as fully as possible. Resilience is a superpower we all have, a muscle that flexes when we need it most."
Karen said that these past 20 years have taught her a great deal about that resilience, not only in her role as a licensed therapist, but more importantly as a human being.
Today, Karen also encourages everyone to remember all that has happened this past year and a half through the pandemic, which has been so difficult for so many. "Reflect on a time that you didn't think you would survive, but then somehow pushed through. Remember who and what you relied on to get to the other side. See yourself now as the resilient being you are."
All the best,
Chris and Jim