With the holidays fast approaching, many of us have noticed our calendars filling up quickly. The season can feel a bit overwhelming as we ponder the gifts to buy, the cards to send, and the parties to attend or organize for kids, neighbors, family, and friends. Not to mention decorating the house, buying a tree, and adorning it with lights and ornaments.
Yes, the holidays can be overwhelming. But just as quickly as they approach, they seem to fly by once the season starts. Before you know it, the calendar has turned to Jan. 2, and we're left wondering where the time went.
That's why it's important to savor every moment of the holidays. They'll become the memories you'll cherish for the rest of your life. If you're like us, our favorites are rooted in the rituals that we enjoy year after year. They take us back in time and give us reasons to look to the future.
Here we share a few of our favorite holiday traditions and rituals along with a sampling from our community. We hope you're inspired to share yours – and be inspired to create new ones that you and your family continue for many holidays to come.
What are some of your favorite holiday traditions and what do they mean to you and your family? Share your stories with us, and we'll include them in an upcoming Celebrations Pulse.
White Elephant Christmas party
Several years ago, Jim and his wife attended their first "White Elephant" party at a Midtown Manhattan restaurant. They weren't expecting to have much fun but were surprised that they had such a great time. So surprised, they made it part of their Christmas Day family celebrations.
For those unfamiliar with such gift exchanges, each attendee brings one wrapped present – ranging from quirky to serious – and names are drawn to determine who gets to pick from the collection. When your turn is up, you get to choose a gift from the community pile or steal from someone else. A mix of goofy and serious generate the most fun. (If you're curious about the rules or want to know the difference between White Elephant and Secret Santa exchanges, check out this article.)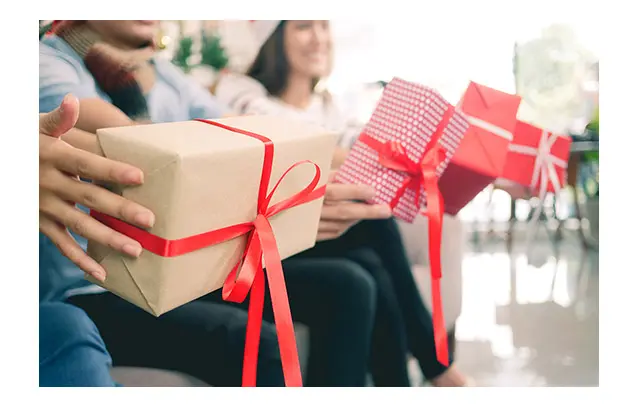 The McCann family still talks about the more memorable gifts that landed in the community pile. A few years ago, one of the prizes was a dung beetle, which unsurprisingly was never "stolen." The same couldn't be said for a box filled with lottery tickets. Our brother Kevin loves the lotto, but he didn't understand the rules of the game. When he opened the gift, he was delighted. A near-riot broke out when it was taken. That started another McCann tradition: No lottery gifts at the White Elephant party!
One of our team members, Lisa, shared that her family also holds White Elephant gift exchanges. To avoid dung beetles and family fights, her family announces a theme in advance of the party. Last year, all gifts had to be items "As seen on TV." In 2022, it's country-themed gifts.
We asked a few of our friends and associates to share special holiday moments that triggered a memory. Everyone had a reminiscence at the ready.
Homemade wreaths
For John, his favorite memory involves Christmas wreaths. "It's just crazy how, when I notice wreaths, it takes me back to a time and place during my boyhood in Pittsburgh," he explained. "As a family, we made our own wreaths, and what that entailed was first going to the hardware store where my father would buy these empty, round wire objects which served as the base of the wreath."
John said the next stop was the favorite for the kids. After the hardware store, the family stopped at a local farm market, and his mom and dad would buy a bunch of pine branches, fresh cranberries, and boxes of small candy canes. But that wasn't the best part.
The farm market had these amazing candy apples, and we each got one. We'd get home, and we'd make those wreaths by tying those branches, cranberries, and candy canes on the rounded metal wires. Then we hung them on our front and back doors, and at the top of the steps on the second floor. I can still smell that fresh pine.

– John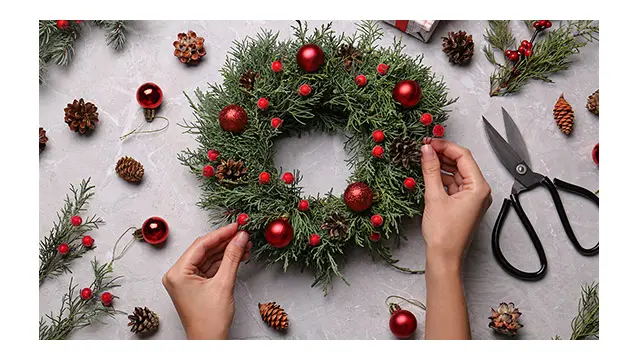 The scent of plum candles
For Matt, the smell of plum candles triggers memories of yesteryear.
My mom put them out when she decorated the house, and when she lit them up, the aroma was the first real sign that the holidays were starting. If I go to a store, or a holiday party, and they are burning, or I see them on a shelf, plum candles instantly take me back to that time and place. One of the first things we do with my family now for the holidays is put out plum candles. The first time I told my kids about how much they mean to me, they just sort of shrugged, but as they've gotten older, I suspect that plum candles hold the same meaning for them as they do for me.

– Matt
Special kugel
Finally, our friend Ava in New York can't think of Hannukah without being reminded of her mother's special kugel that she made every December.
Our mother passed away at the age of 93, right before the pandemic began, and she was cooking right up until the end. Our last meal together was the last night of Hannukah in 2019, and as she always did, she put out all her famous dishes, including what she called her 'special' kugel, and it was special because it was unusually sweet. As far back as I can remember, I always looked forward to eating that kugel because it was the only time of the year she made it. I've tried to carry on the tradition, but for some reason, I cannot duplicate the perfection she was able to create.

– Ava
We'd like to hear from you. Are there any objects, decorations, or traditions that take a special meaning for you this time of year? And if you're starting new traditions this year, feel free to share those as well.
We hope everyone's holidays are filled with special memories that last a lifetime.
All the best,
Chris & Jim