Written by our Founder and CEO, our Celebrations Pulse Sunday Letters aim to engage with our community. From sharing stories to welcoming your ideas, we want to help you to express, connect, and celebrate the important people in your life.
Over the next two weeks, families around the world will exchange gifts and enjoy holiday feasts. These annual traditions are the highlight of the year for many as they spend time enjoying great food, company, and conversation.
But not everyone has a place to go or food on the table. You might have neighbors who live too far away from their families to join holiday celebrations or have lost loved ones. Some people may be experiencing a health issue like depression and may not feel up to gathering. Others may be struggling to pay their bills and have cut holiday celebrations from their budgets.
We all have the power to bring holiday cheer to those who may not have plans for the holidays. All it takes is reaching out to those around you and asking about their plans.
There are many ways to use your power to make a difference this season. You can literally make room at your home to invite friends, neighbors, and colleagues to your festivities. You can share your time to volunteer to help the less fortunate in your community. Or you can give to organizations that support people who are struggling to make ends meet.
Making room at the table
When we were growing up, our parents invited friends and neighbors who had nowhere to go to join our family festivities. The guests always made the celebrations extra special, and it reinforced in our young minds the messages we heard at holiday services.
The tradition followed us into adulthood. A few years ago, for instance, Jim learned that an employee had no plans for Christmas dinner and invited him to join the McCann family feast. The employee happily agreed, and it made his day – and ours.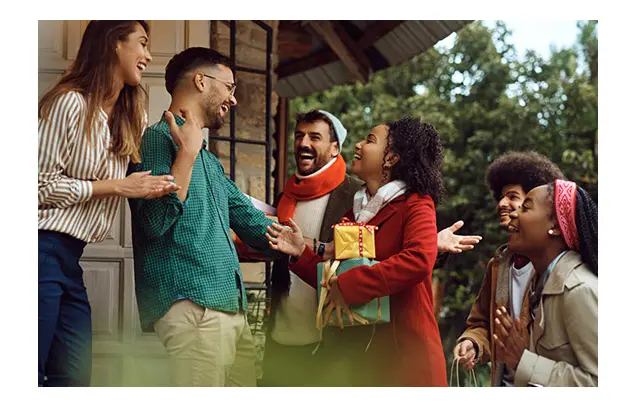 We're not alone in making room at the table. One employee told us that her mother-in-law invited people she encountered on the street into her home every Christmas. Larry Zarin – our friend, board member, and a wonderful chef – shared that he regularly invites people with nowhere else to go to join his family's holiday feasts. He says such gatherings are as nutritious for his soul as the food is to his guests!
Giving your time to help others
If you do not have space at your table, you can still share your time to bring holiday cheer to those less fortunate in your community. Food banks and pantries across the country need volunteers to help process donations or deliver meals to those who would otherwise go hungry.
Michael, a friend and member of our community, shared that he's made it a tradition to help deliver meals to the elderly in New York City. He notices that during the holidays, many of his fellow volunteers became too busy with their own lives, and so many times, he is left with a skeleton staff to do the work of many.
It's totally understandable that people get crazy busy during the holidays. What's sad about this is that so many elderly people are alone during this time of year, so they need us more than ever, so there is a real need for help. We are always so grateful to see new faces during this time of year, and I'm sure we're not the only ones who feel this way. -Michael
Giving to Feeding America
You can also help our community by donating to organizations that help fight against hunger and food insecurity. In the wake of the pandemic and rising inflation, food insecurity has soared. Last year, 53 million people turned to food banks and community programs for help.
We're proud this holiday season to be actively engaging our customers in joining the fight against hunger and food insecurity. Now through Dec. 24, 2022, for each gift purchased from the "Season of Giving" holiday collection, 20% of the net proceeds* will be donated to Feeding America®. For every $1 that this national nonprofit receives, it can help provide at least 10 meals on behalf of member food banks.**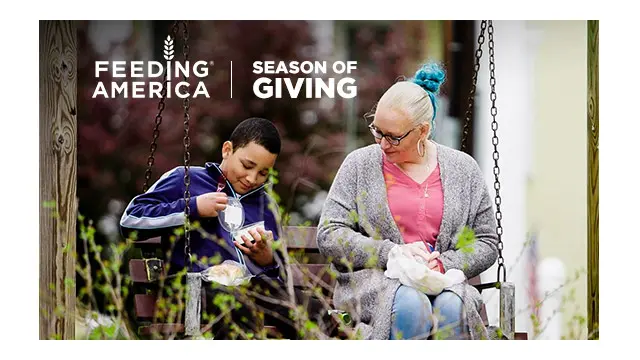 Feeding America® is the largest hunger-relief organization in the United States. Through a network of more than 200 food banks, 21 statewide food bank associations, and over 60,000 partner agencies, food pantries and meal programs, it helped provide 6.6 billion meals to tens of millions of people in need last year.
The donations from your "Season of Giving" purchases will support local communities across the country.
With a week before the start of Hanukkah and two weeks before Christmas, there's still time to make a plan for how you will share your home, your time, and your well-being with others in the community. You have the power to spread the holiday spirit to others – and to yourself.
All the best,
Chris & Jim