Written by our Founder and CEO, our Celebrations Pulse Sunday Letters aim to engage with our community. By welcoming your ideas and sharing your stories, we want to help you strengthen your relationships with the most important people in your life.
Summer is traditionally a time to enjoy swimming parties, backyard barbeques, and family reunions. This year, it's also time to figure out what in the world is going on with technology – and how it might help or hurt our relationships with each other.
Better or worse, technology plays an essential and growing role in our lives, especially our relationships. It's been credited with bringing us closer together and blasted for pulling us apart.
The debate has only grown hotter this summer. Everyone is talking about the future of AI after ChatGPT gained 100 million users in just two months. Then, Meta launched Threads, a social media platform that attracted 100 million subscribers in five days. And let's not forget Apple, which previewed an augmented reality headset that promises to change nothing less than how we see the world.
An argument for optimism
The latest innovations, like all tech, can be detrimental to our relationships. A bot like ChatGPT can disrupt our jobs, oversimplify expression, and even dull our sense of critical thinking. Social media can distract us and steal minutes (or hours) of our attention, which may cause mental strife. And virtual reality can remove us from the real world entirely.
But I'm an optimist who looks for ways in which these tools can help strengthen our relationships. ChatGPT can give us the right words when we're drawing a blank. Social platforms can keep us connected regardless of distance. And virtual reality can add depth to our relationships when it's designed to augment rather than replace reality.
My optimism is rooted in history. 1-800-Flowers.com has been confronted with new technology since its earliest days. We made decisions based on how each innovation might help or hurt our relationships with customers and their relationships with each other.
In the 1980s, we embraced the toll-free phone number to build (and name!) a national flower delivery service. In the 1990s, we pioneered online shopping over less connected tech like CD-ROMs. And since the start of the new millennium, we jumped into mobile, content, social media, and more. As a business, each tool allowed us to sell gifts in new ways. More importantly, they deepened relationships and helped us do more than sell products; now, we're building a community of gift givers.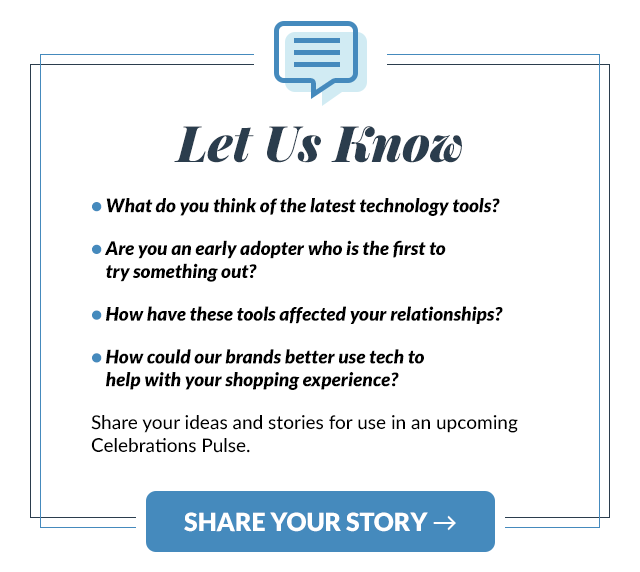 Introducing AI
This summer, we're seeing a flurry of new innovations, and AI is at the top of our list. The latest form – generative artificial intelligence using large language models – allows you to ask questions and get answers as if they were written by the smartest person in the world.
We immediately recognized that ChatGPT could be leveraged to help people express themselves. For Mother's Day, we launched the 1-800-Flowers.com MomVerse, which instantly created a song or poem based on your mother's interests. For Father's Day, we turned it on dad jokes. Tens of thousands of you used this service to see what AI can do – and express yourself to your parents.
Because we had so much success, and because many of you told us how much you enjoyed interacting with ChatGPT, we're planning to update it for other occasions in the future.
The fourth industrial revolution
Message generation is just at the tip of the AI iceberg. I recently had serial entrepreneur and New York Times best-selling author Dave Kerpen on my "Celebrations Chatter" podcast. Dave is best known for writing books on new technologies in their infancy. He's also the co-founder and co-CEO of Apprentice, a platform that connects entrepreneurs with the brightest college students to help address the biggest business challenges of the day.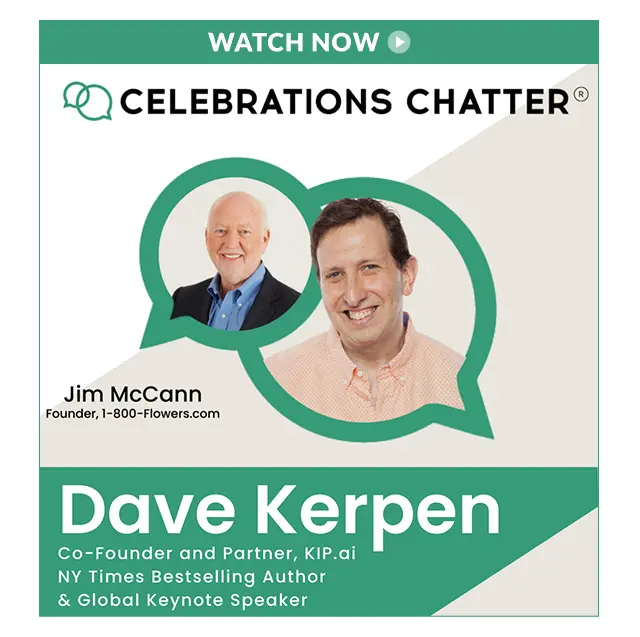 Dave explains that we've seen other technological innovations develop the same way. "Before Facebook, there was Myspace, Friendster, and other social networks, but it was Facebook that really built the product that changed everything and got social networking to a point where it reached critical mass.
"I definitely think generative AI is bigger than social media, and I would put it right up there with the Industrial Revolution, and the Internet," Dave continues. "In fact, many people are calling the advancement of AI the fourth industrial revolution."
As for relationships, Dave points to how his company is using AI to improve how people listen to each other, which is key to better relationships.
Most of us think we're pretty good listeners, but sometimes we're not actually listening; we're waiting to talk. When we focus on better listening and not thinking about what you're gonna say next, you're really hearing them and mirroring and validating them. That's a skill that changed everything in my relationships.
Dave thinks tools like ChatGPT can help. In fact, salespeople at Dave's company use an AI-based training tool that records conversations and then analyzes them to determine whether the employees were really listening to what the other person had to say. It then offers advice on how to be even more engaging and thoughtful in future conversations.
It's clear that AI technology has the potential to change the world and, in the process, strengthen our relationships. Looking back on our history, we felt the same way about AI that we did with toll-free phone numbers, the Internet, and smartphones. We're proud of our history of guiding people into the future. And we don't want our company – or our customers – to miss out on what's next and what's possible.
All the best,
Jim