When you send someone flowers, you instantly make their day, no doubt about it! Flowers have an almost magical quality about them that just makes people feel good. And it couldn't be easier to show someone how much you care: order online or by phone, pick up a bouquet at your local florist or market, pick a few stems from your own garden–any way you do it leads to a smile!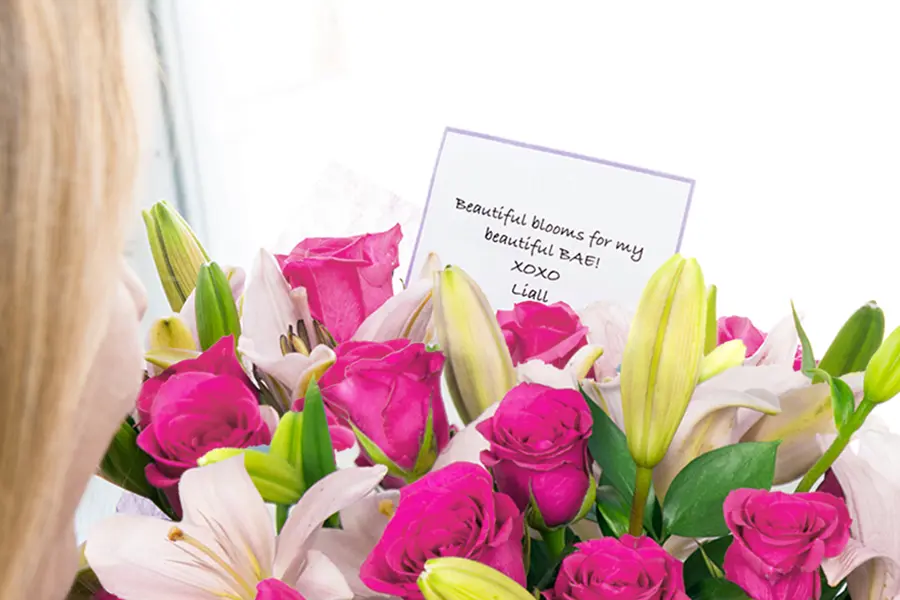 Of course, with so many options, it can get a little confusing sometimes. For example, at 1-800 Flowers.com there are 2 distinct floral categories. There are flower arrangements designed & delivered from a local florist in the town where the recipient lives and there are fresh-cut flowers picked on our premier partner farms, right here in the United States and around the world, that are cared for and inspected to make sure they meet our 100% Smile Guarantee®, and shipped fresh to ensure lasting beauty and enjoyment.
Each option has its own unique benefits. Before choosing, just take a minute to think about the recipient and which surprise they would prefer. There's the thrill of being handed a gorgeous, professionally designed arrangement that needs only to be unwrapped and enjoyed, or the beauty of flowers that have been harvested, selected and wrapped with care to protect them on their journey to your loved one, who will delight in seeing the flowers open and bloom in the coming days! These flowers can be arranged in one vase or divided up in to several. They can also be displayed in a treasured family heirloom or a simple mason jar. There's an opportunity here to be a bit more creative and hands on with the flowers!
Which do I prefer? Well, that's like asking me to pick a favorite child! But in this post, I'm going to tell you more about what I love about our fresh-from-the-farm flowers.
These flowers are being sent to someone as a gift, and are packaged as such. From the moment they see that purple box being delivered to their door, they know they're in for a treat!
There is a special compartment inside the box that holds an enclosure card with your personalized message.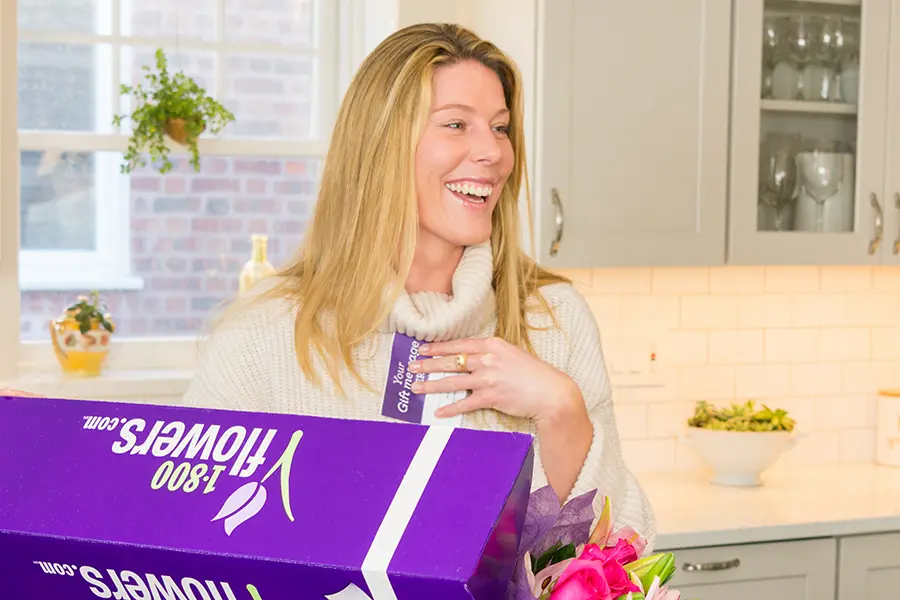 Included with every bouquet are 2 packets of flower food, which has been proven to extend the vase life of fresh cut flowers.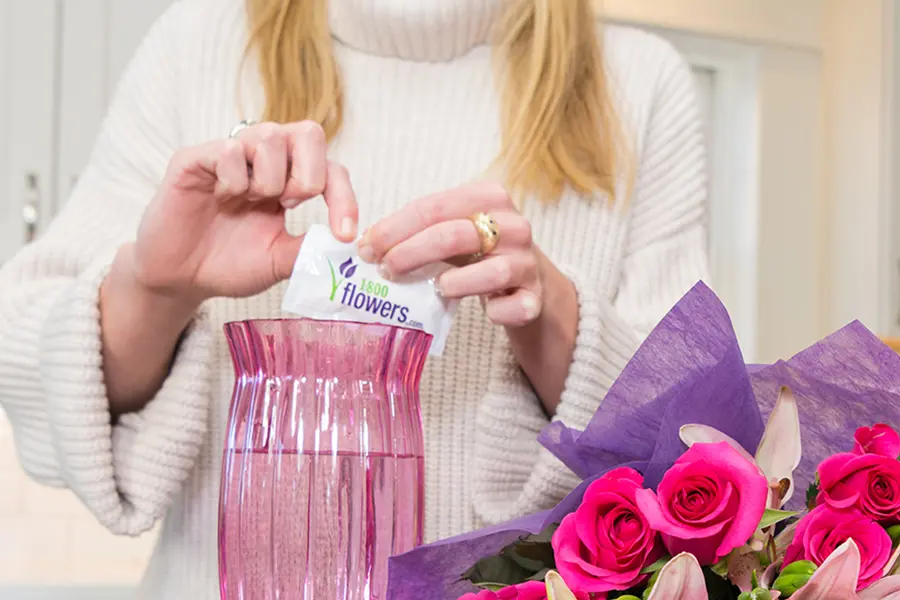 There is also a special compartment inside of the flower box where a vase, chosen specifically for the bouquet, is placed and held securely during the delivery process.
After filling the vase with fresh, clean water and adding the flower food, they simply need to give the end of each stem a fresh cut before placing it in the vase.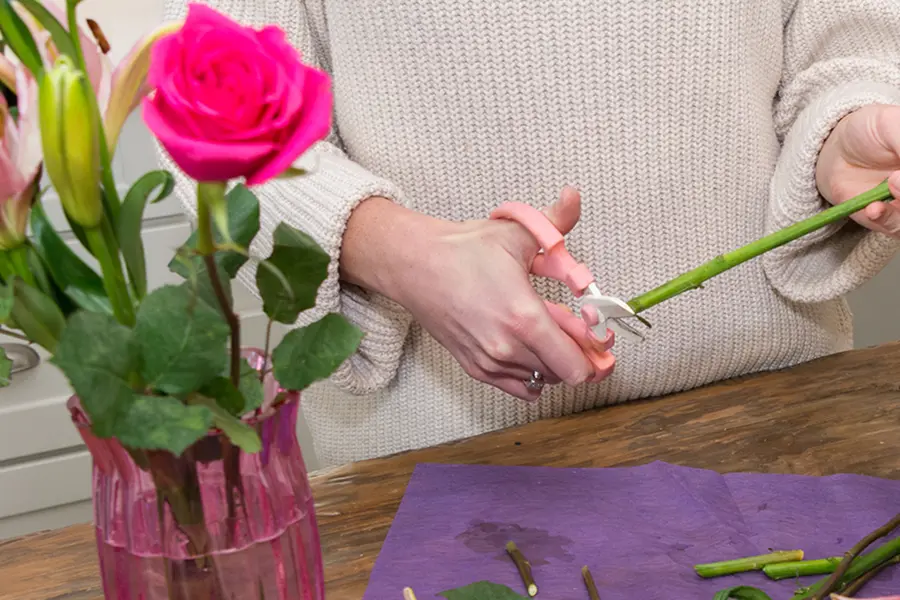 They can start by inserting the stems around the circumference of the vase opening in a crisscross pattern. As they continue to add stems, they can be placed in the middle of the arrangement. They'll see that the flowers added to the middle of the bouquet will be held up by the criss-crossed stems first added.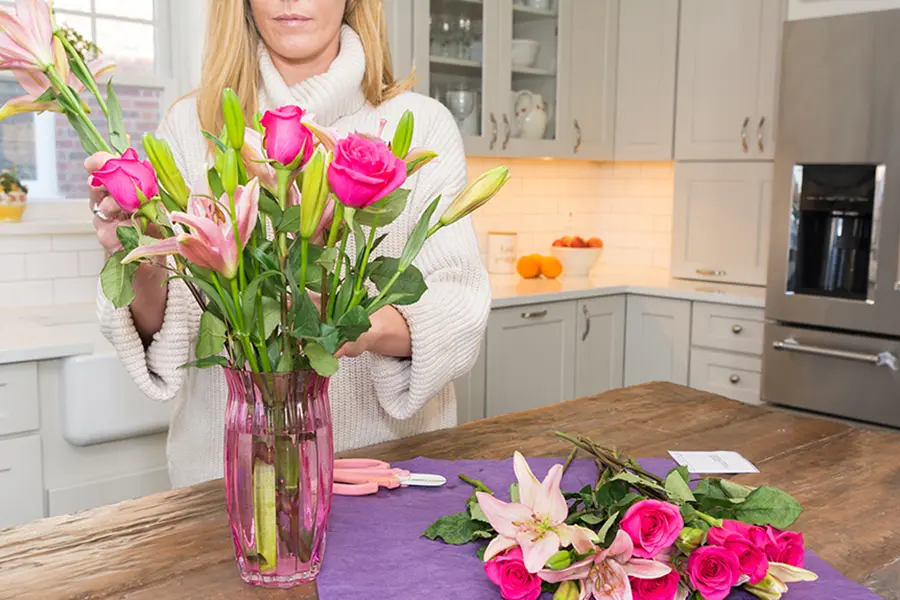 Because our farm-fresh flowers begin their journey to your home shortly  after they are cut, they'll probably look very different than what you're used to seeing in a flower shop. That's because that haven't even started to bloom and open their petals. There may not  be as  much color showing at this point, especially if the bouquet includes lilies.
For example, the bouquet on the left is how the Bae Bouquet™ from 1-800 Flowers.com looks when it first arrives. On the right is the same bouquet one week later!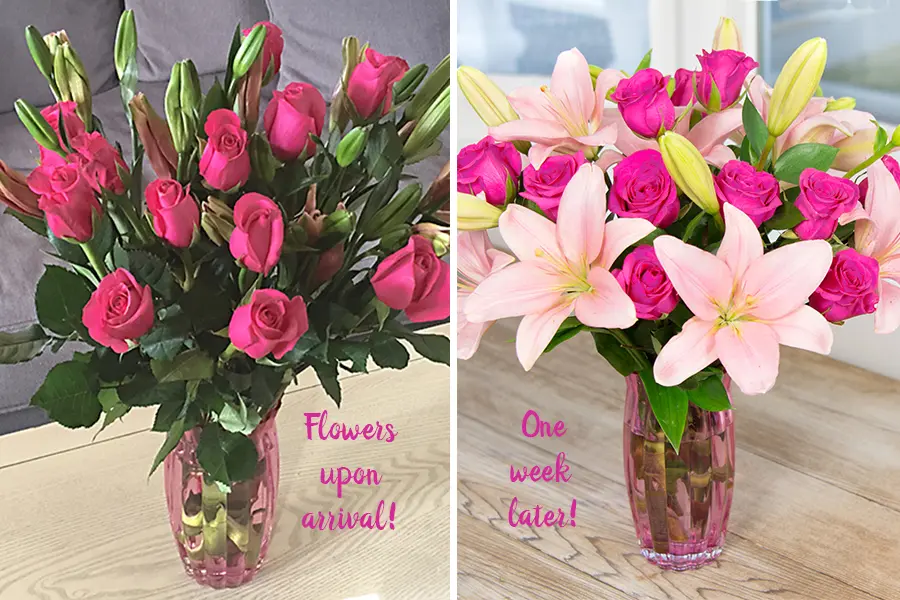 By using a clean vase and clean water, adding flower food, and re-cutting the stems and changing the water every few days, your recipient can add several days to life of their beautiful bouquet. And they shouldn't worry about discarding flowers as they pass their prime, perhaps even changing up the vase as the flowers get shorter from re-cutting and the bouquet gets smaller. This can literally add extra days of enjoyment to the life of a bouquet!
Coming up, I'll be sharing some cool ideas for preserving and repurposing all those lovely Valentine's flowers (and year-round bouquets) we love to help you send!