I love Christmas, and I love decorating Christmas trees! The main tree in my home tends to be pretty traditional, changing only slightly from year to year, with new ornaments added here and there. So, I'm here to talk about the beauty and versatility of fresh tabletop Christmas trees.
These beautiful arrangements are usually handcrafted by your local florist and make great gifts. In fact, the Holiday Flower Tree has been a bestseller since it was first introduced nearly 20 years ago!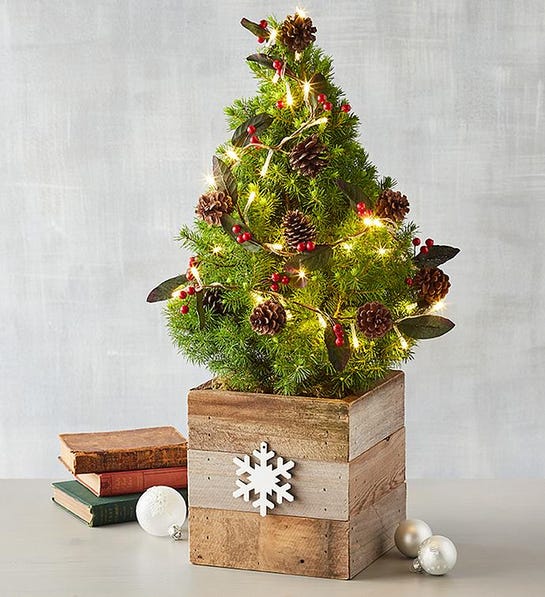 Trending mini Christmas trees with lights
If you've attempted to decorate a Christmas tree with lights, challenges ranging from broken bulbs to tangled cords are enough to have you scrap the lights for a tree with ornaments. Fear not, for some mini Christmas trees with lights come pre-assembled, such as this Holiday Spruce or Rustic Christmas Tree. Another festive option is the Hand Tied Mini Christmas Tree Bouquet that comes with lights in a rustic mason jar. There are also trees that come with ornaments, if you want the full tree package.
Mini Christmas trees are versatile
Whether you live in an apartment, are an empty nester, or are traveling during the holidays, tabletop Christmas trees are festive additions for those who want to have a tree without the production. You can add a mini Christmas tree to the bedroom, kitchen, foyer, office, or any space that cannot accommodate a larger tree. And the trees, like the Holiday Lavender Tree, are sustainable too, and can be replanted in your garden or kept indoors for natural decorative appeal during the cozy winter months.
Other tree options that can work for the holidays and after are bonsai, olive, magnolia, and, money trees. Simply add a tree skirt or lightweight ornaments, and it's getting to look a little more like Christmas.
DIY tabletop Christmas tree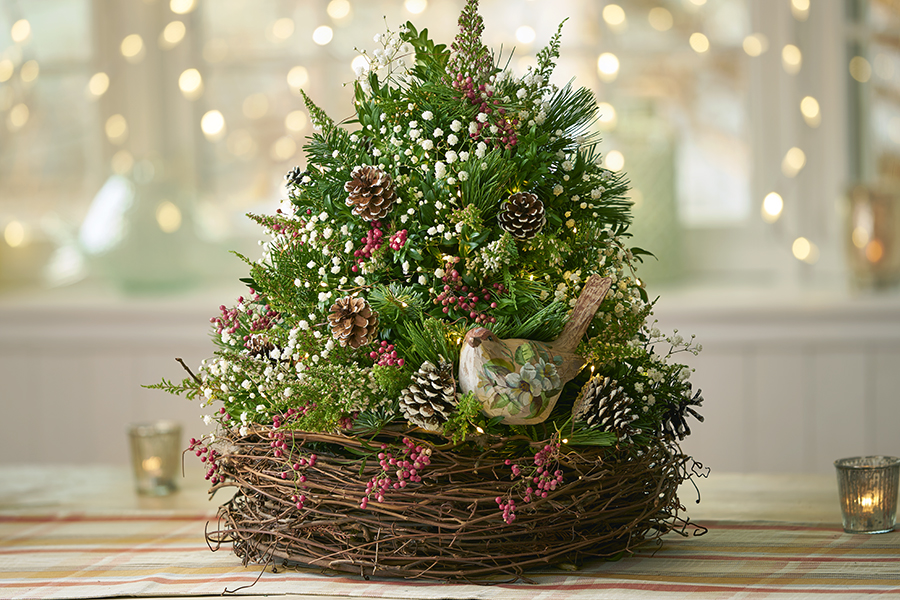 If you have a little time and want to get creative, these trees are pretty easy to make. The basic instructions are the same for whatever size tree you want. The smaller the tree, the faster and easier it will be to construct. Petite trees are so sweet and can be tucked into so many unexpected spots. Larger trees, on the other hand, allow you to create a completely custom look based on your choice of container, decorations, and color scheme.
How to make a tabletop Christmas tree
What you need:
Floral foam
Dish/plate
Tape
Clipper
English Boxwood
Assorted evergreens
Step 1: Set up your floral foam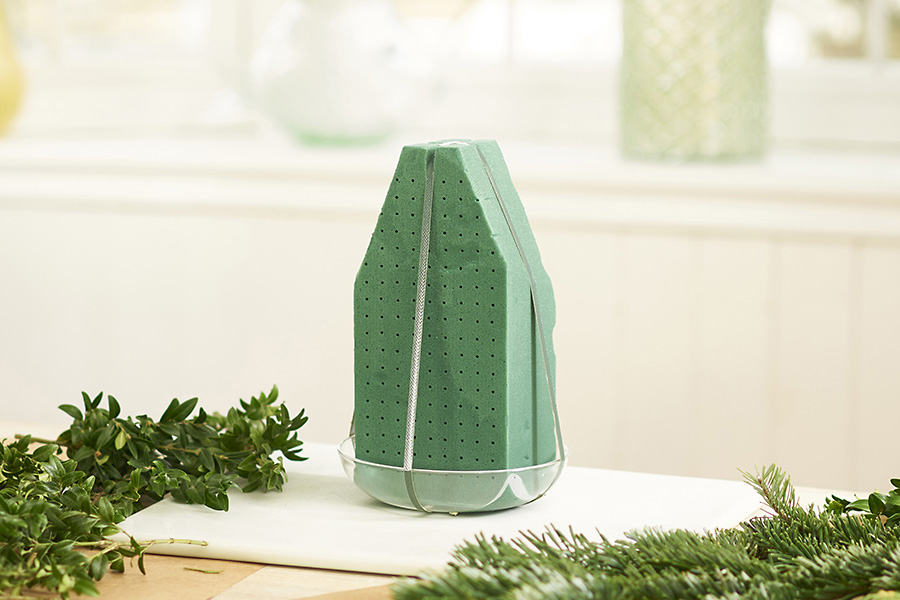 Cut the corners from one end of the foam as shown; fill your sink with water; and place the foam into the water, allowing it to become totally soaked through. Tape the foam into a plate/dish. You can use any waterproof container as the base and put the foam directly into your chosen container before creating the tree. Or you can create the tree using a smaller base, like the one in the image, and then place the finished tree into a decorative container.
Step 2: Prepare your greens
Boxwood is the main green that I used for the tree, and I accented it after the main shape was created, filling in with other assorted evergreens such as cedar, pine, and balsam.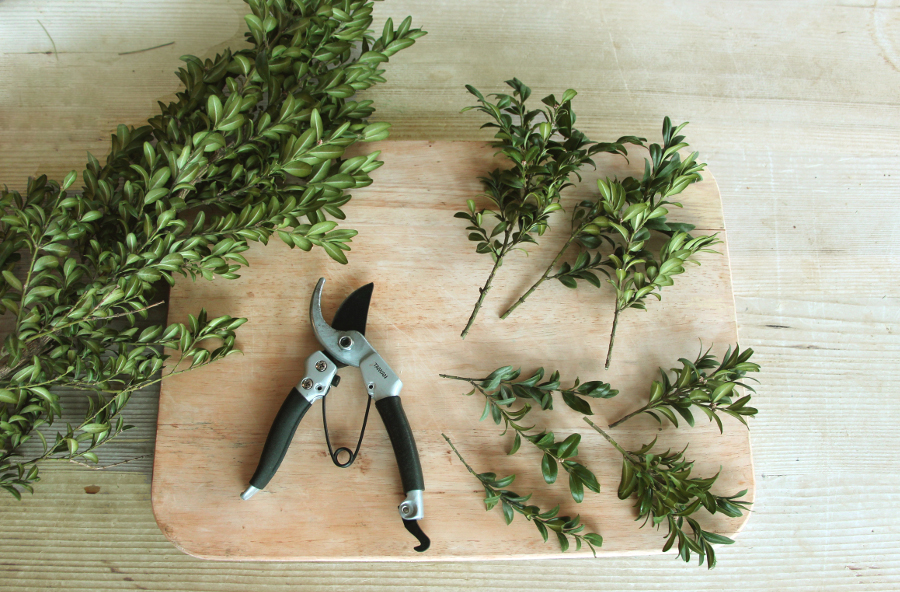 Before starting, cut the greens off of the main branch into smaller pieces of varying lengths ready to insert into the foam.
Step 3: Arrange your greens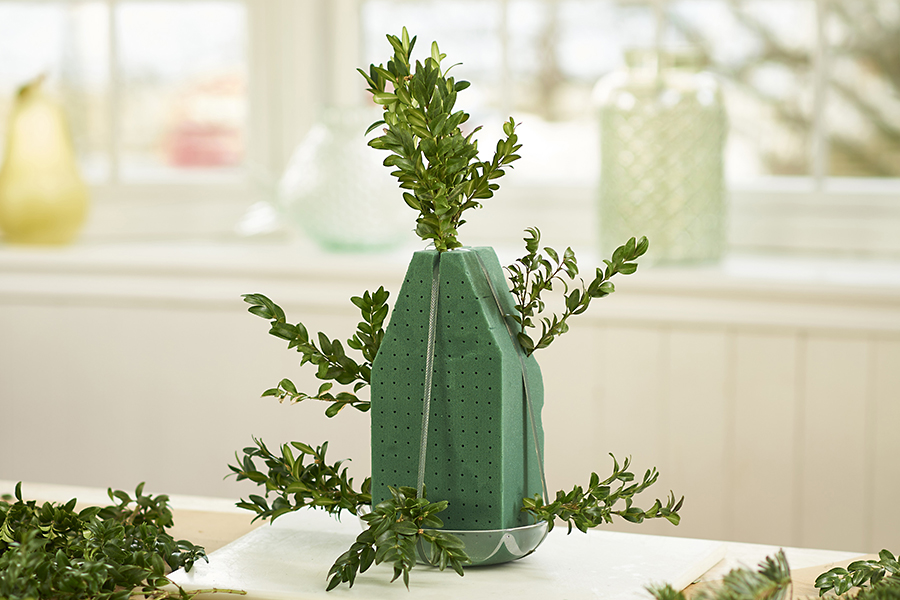 Start by inserting a taller pre-cut piece of boxwood at the top to create your basic height. Do the same at the bottom and the sides. This gives you the base shape of your tree.
Step 4: Fill in your tree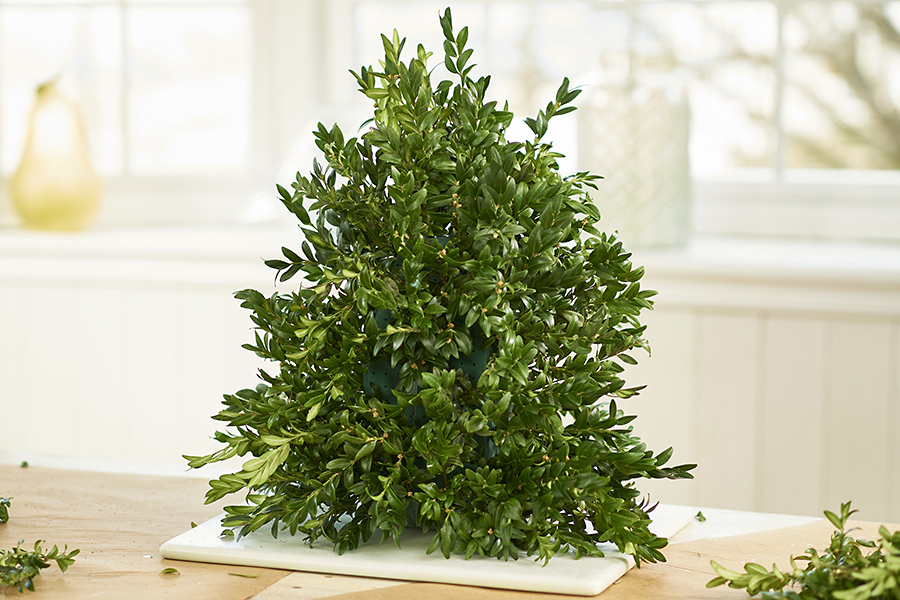 Continue adding pieces of boxwood, turning the tree as you go, until you have filled in the whole tree.
Step 5: Accent with various evergreens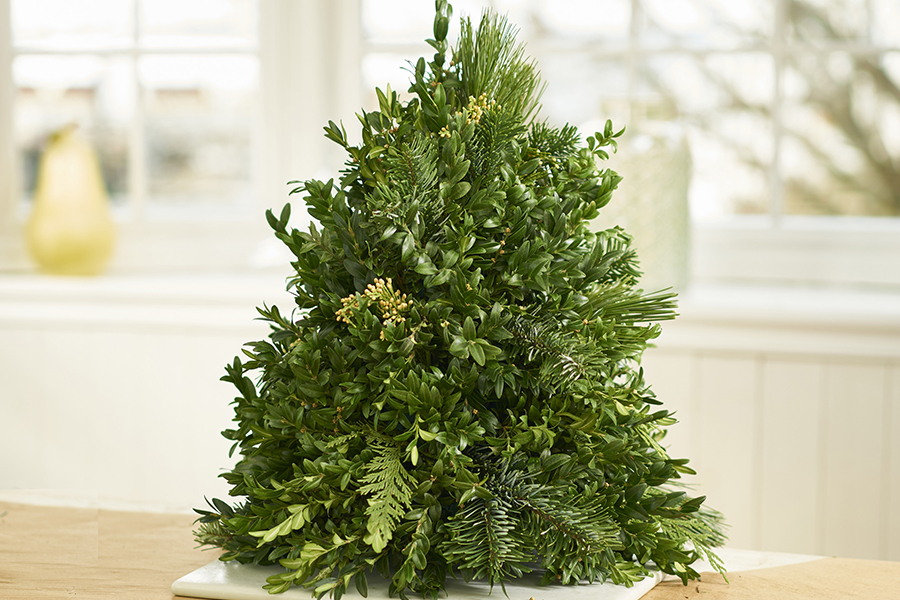 I like to add a few sprigs of other evergreens for two reasons. The first is that evergreens such as balsam and pine add wonderful fragrance. I find it adds visual interest as well.
Tabletop Christmas tree decoration ideas
At this point, your tree is ready to decorate! Because this tree is actually a "flower arrangement," you can easily use fresh-cut flowers as a primary decorating feature. Just give your chosen flowers a fresh cut and insert them directly into the foam; they will stay fresh for up to two weeks at least. I like to use fresh flowers that will dry nicely too, such as baby's breath (which looks like snowflakes), pepper berries, and heather.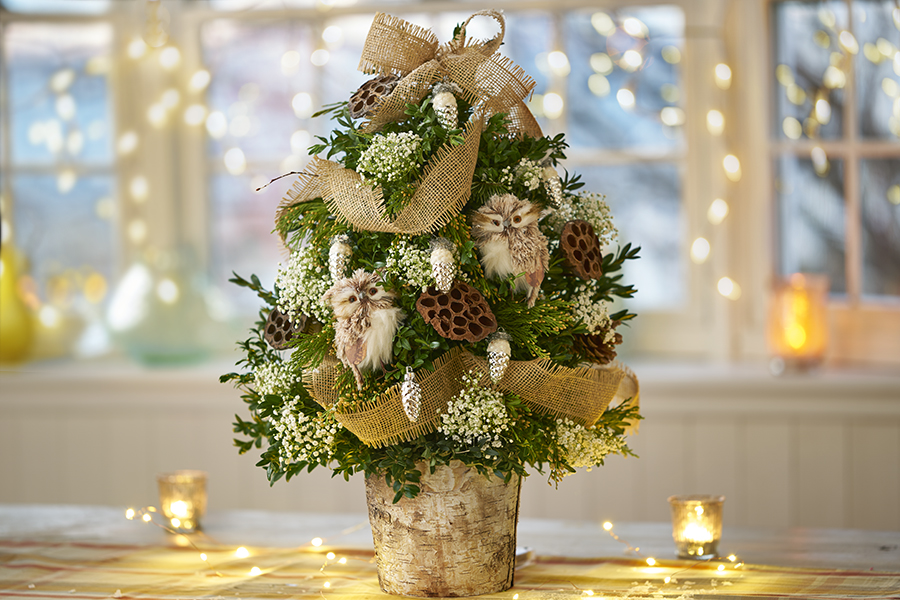 Here, I nestled my Christmas tree arrangement into a large bird's nest basket and added white heather, baby's breath, and pepper berries.
In keeping with the woodsy feeling, this is the same basic tree arrangement placed in a natural birch container. The decorations include dried pods, baby's breath clusters, vintage silver pine cone ornaments, and burlap ribbon garland.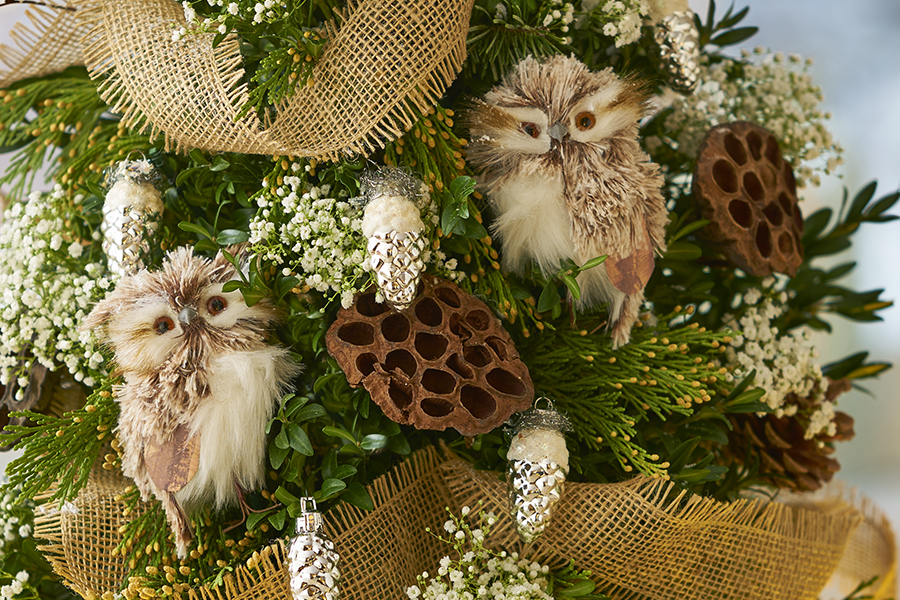 The theme really comes to life with the addition of these faux snowy owls. Owls are on-trend, and this is an easy way to include them in your holiday decorating.
I have created and decorated so many different trees over the years, and I find that I never run out of new ideas. Here are a few more examples to inspire you to create one of your own and start a new tradition. It's also a great way to give a truly personalized gift!