Memorial Day is the unofficial start to summer. It's a time for families to be outside enjoying the fresh air, sunshine, and freedom we have in this country. This freedom, however, comes at a price. On Memorial Day, we honor all the brave men and women who have served in the U.S. Armed Forces and made the ultimate sacrifice so that we can live free.
Depending on the ages of your little ones, you may be challenged to find things for them to do while also conveying the meaning of this holiday. Here are two simple DIY Memorial Day crafts using recycled materials to keep kids busy and happy on this important day.
Making patriotic-themed red, white, and blue decorations gives you a chance to have some fun while teaching your children about Memorial Day and why it's important to acknowledge the sacrifices made for our country.
DIY Memorial Day craft No. 1: Memorial Day wreath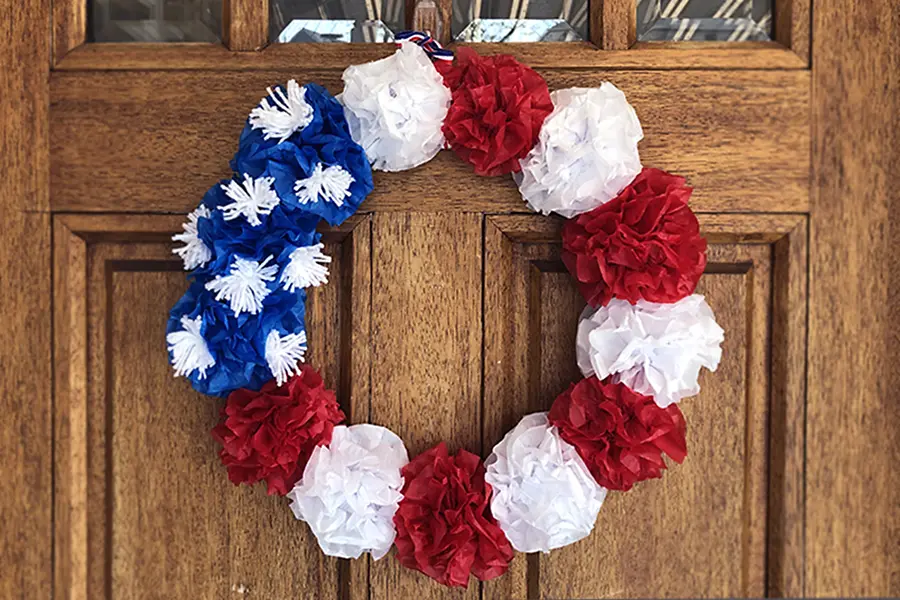 One way to get crafty with all those cardboard shipping boxes you have lying around is to create a red, white, and blue Memorial Day wreath out of them. It's easy to make, and all ages can get in on the patriotic fun.
Of course, you'll need more than just cardboard to get started…
Materials needed for Memorial Day wreath
Scissors
Straight edge cutter
A package of red, white, and blue tissue paper
White yarn
Various size plates
A pencil
String, ribbon, or yarn to create a hook for hanging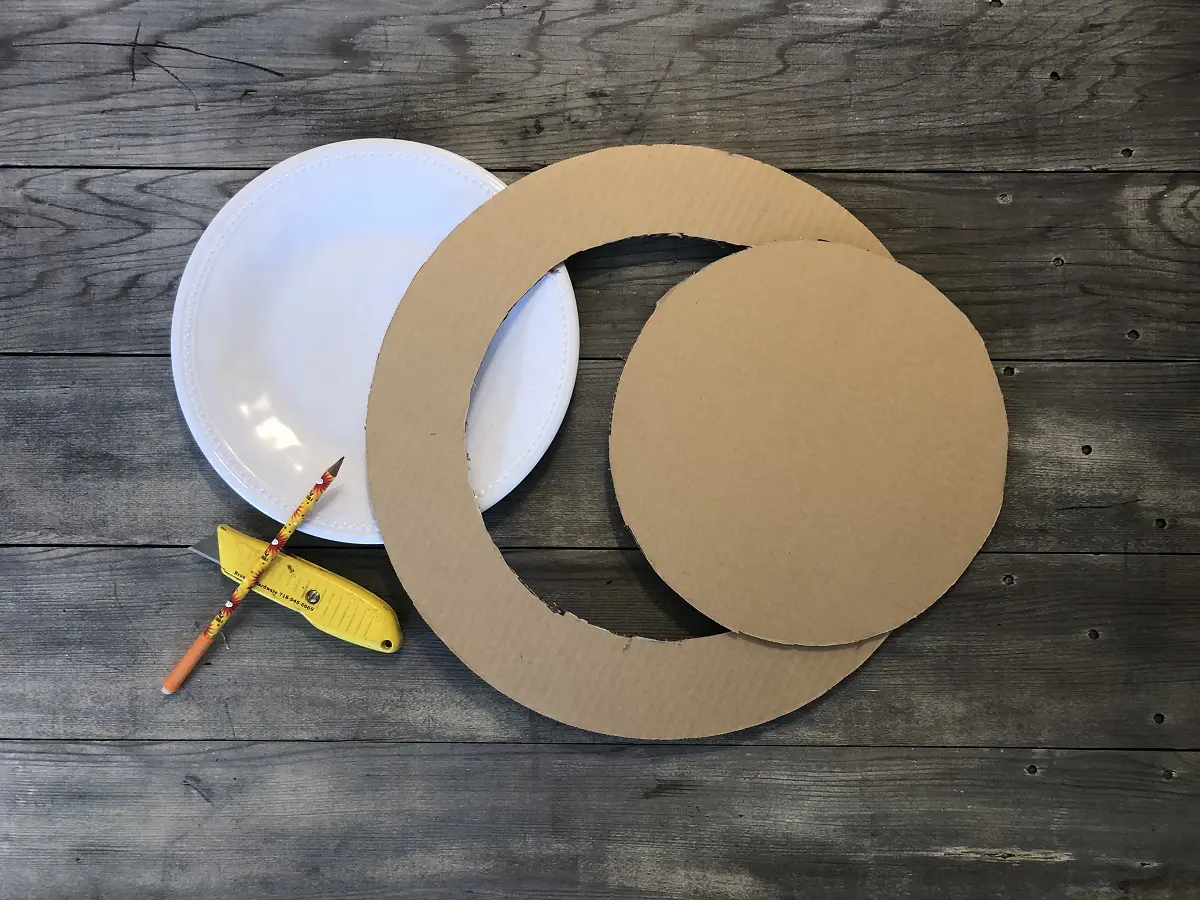 You'll need two different-sized plates to create your wreath outline. I used a cardboard cake round and a plate to cut out the inside of the circle.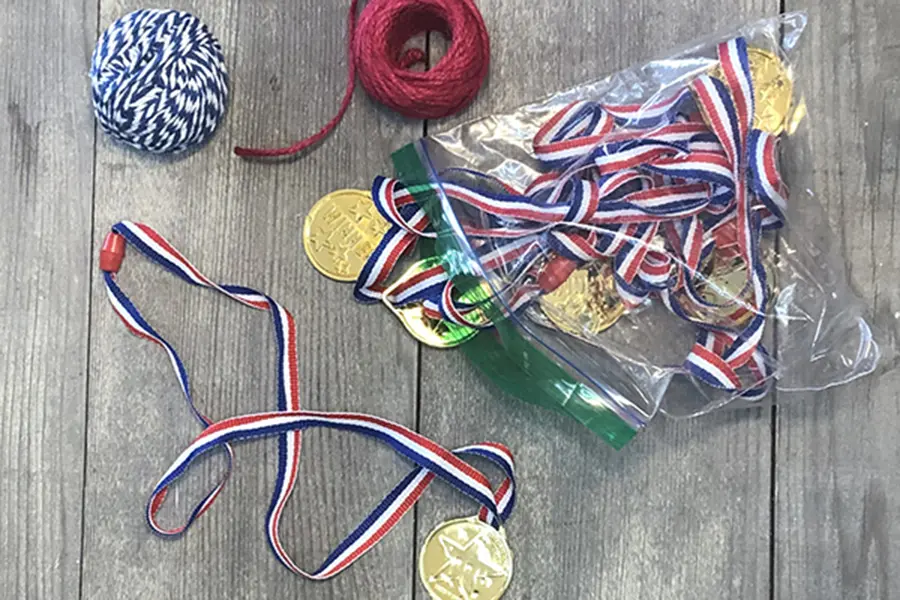 Since I save so many knick-knacks for future projects, I had a few plastic gold medals on red, white, and blue ribbons left over from a "Family Olympics" day. The ribbons were just what I needed for this wreath. If you a have red, white, and blue ribbon, it will add an extra patriotic pop to your Memorial Day wreath.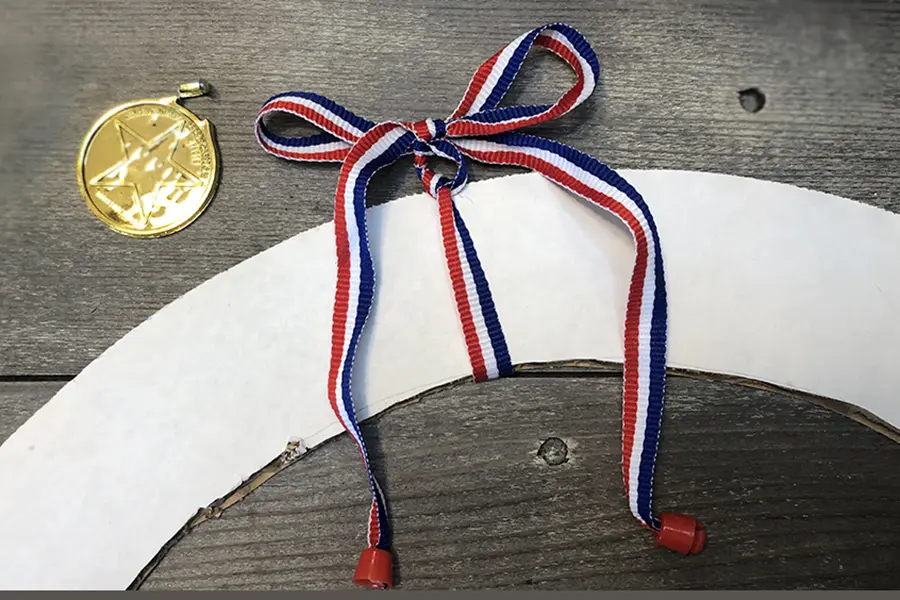 To add the ribbon, I simply cut off the plastic gold metal and tied it around the base of the cardboard wreath before adding the tissue paper flowers.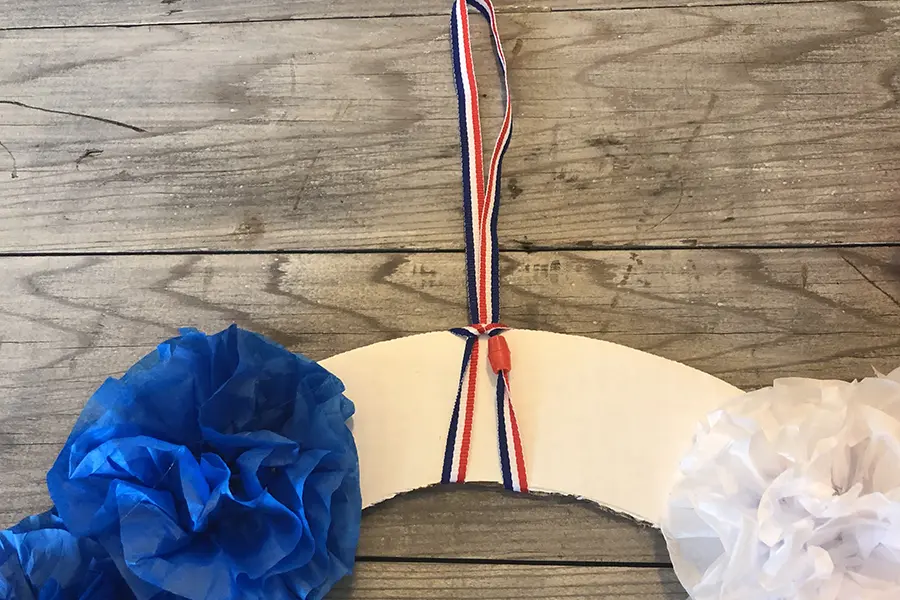 When tying the ribbon, you don't need to make a bow. Just loop the ribbon around the cardboard to create a loop for hanging.
To make the tissue paper flowers, take five large pieces of a single-color tissue paper and cut them into layered pieces that are 5 inches wide by 10 inches long. Watch the video above to see how to fold the tissue into an accordion, staple it in the middle, and separate and fan out each individual piece on either side of the staple.
For reference, I made:
Three blue tissue paper flowers
Five white tissue paper flowers
Five red tissue paper flowers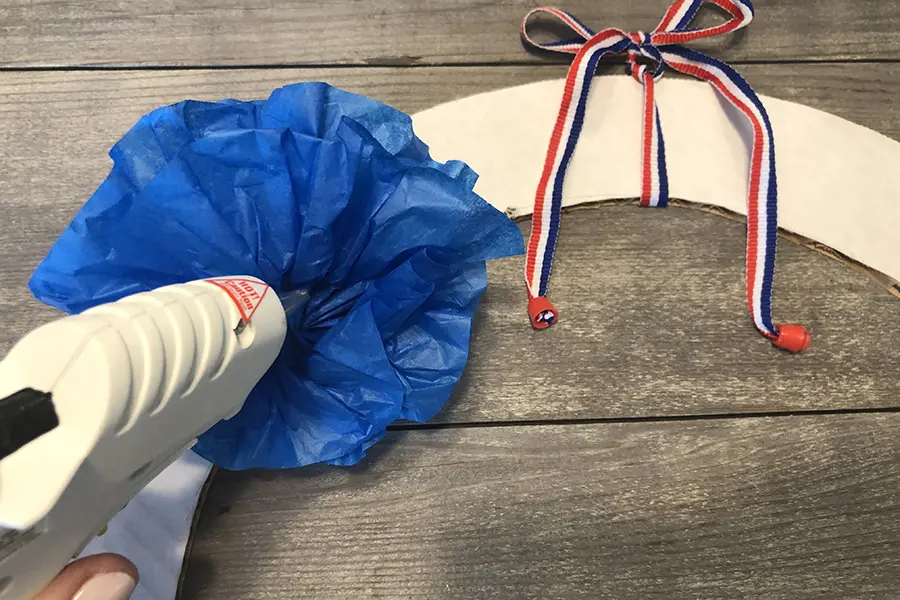 To get the tissue paper flowers to stick, use any type of adhesive that will keep them in place. I used a hot glue gun, as I find it easy and fast to work with. If you are doing this with young children, stick with craft glue or glue dots.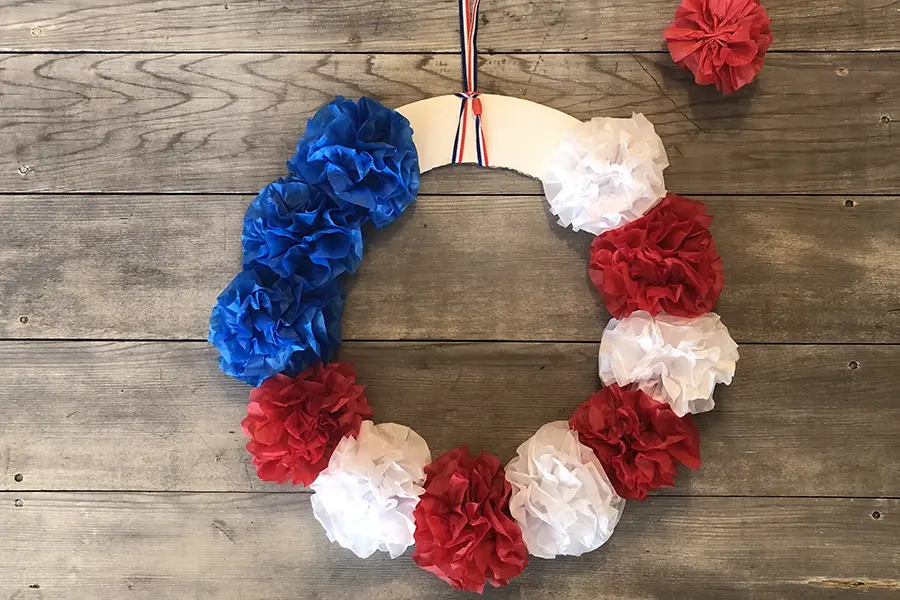 Then, attach the three blue flowers on the top left of the wreath.
Next, add and alternate the red and white flowers to represent the stripes of the American flag.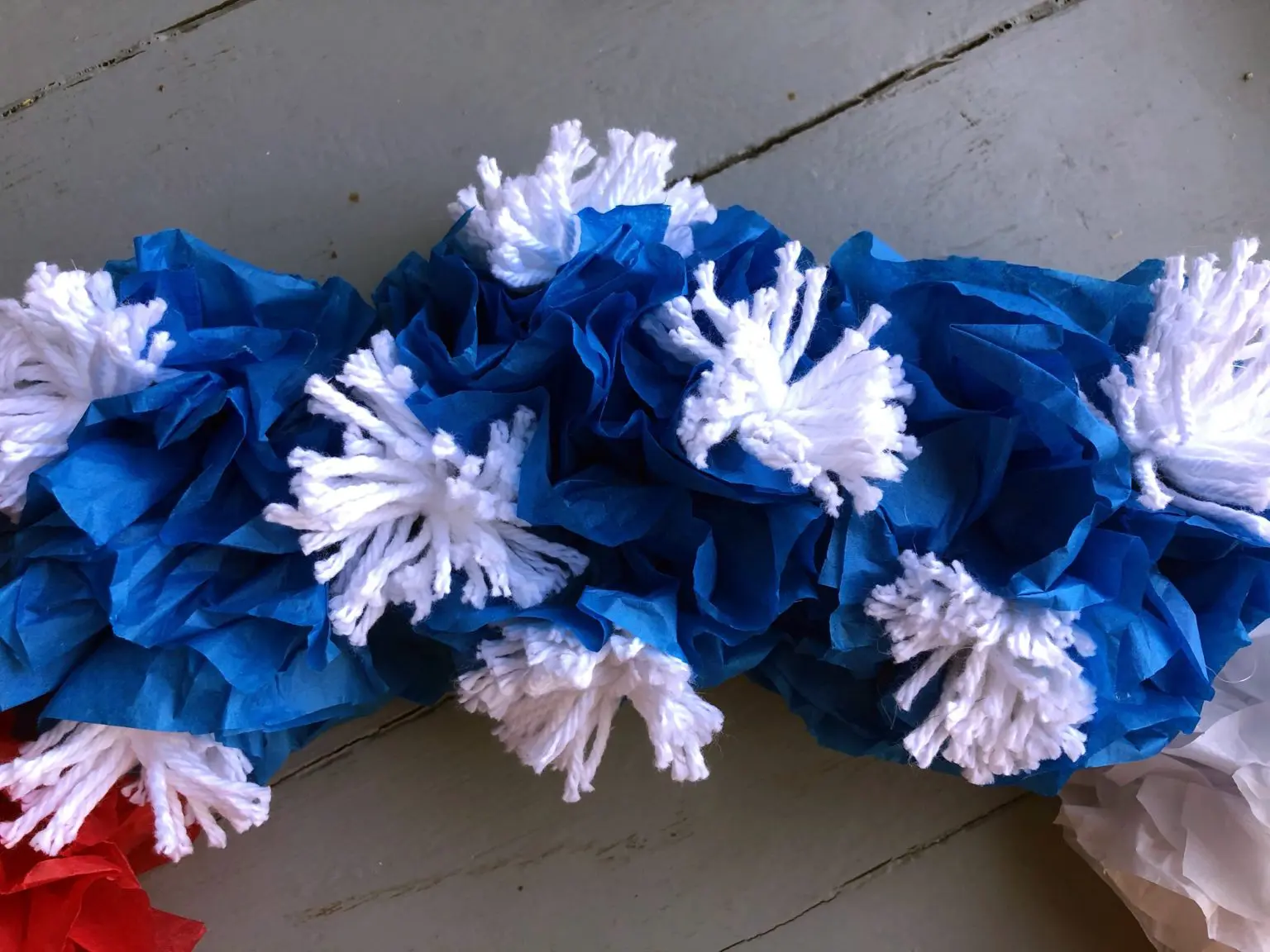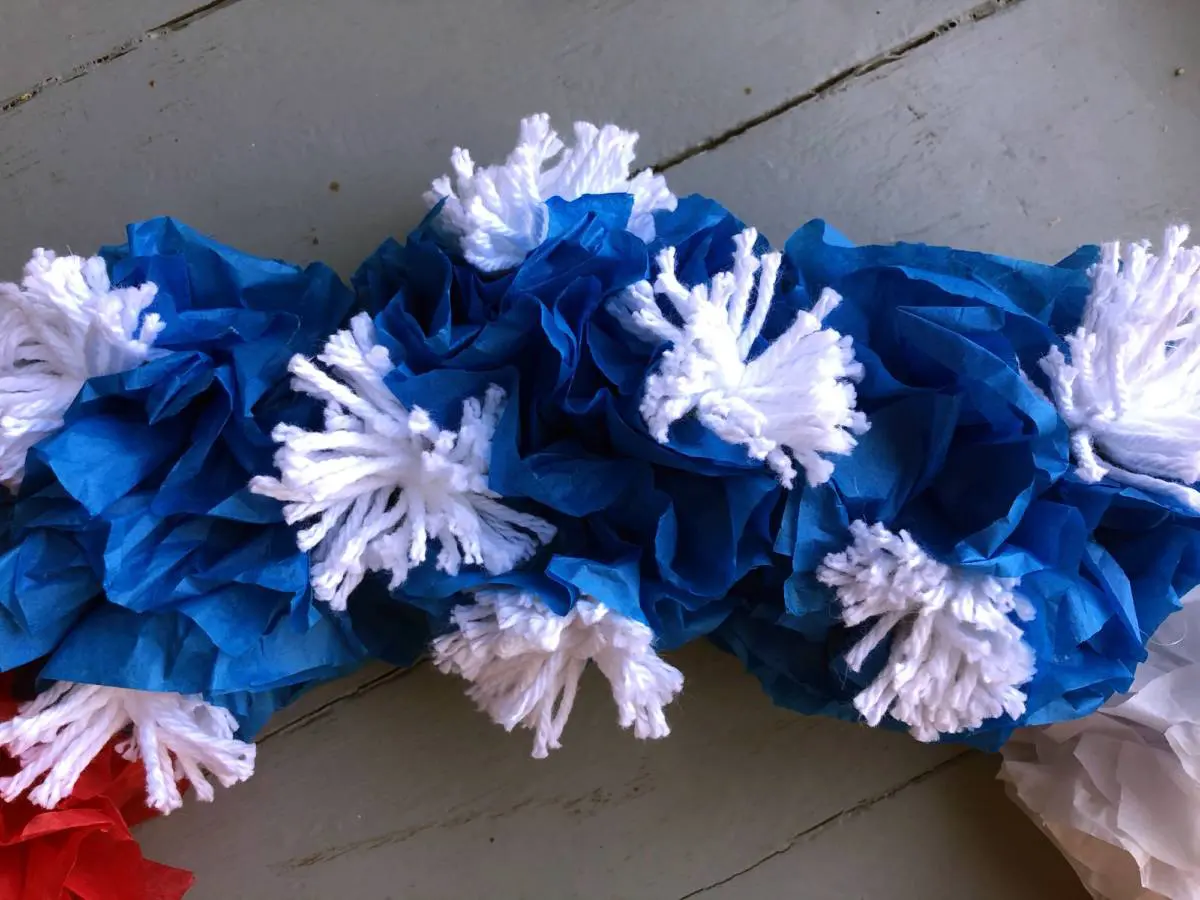 To make the American flag's stars, use white yarn to create little starbursts that can be nestled and glued into the "petals" of the blue tissue paper flowers.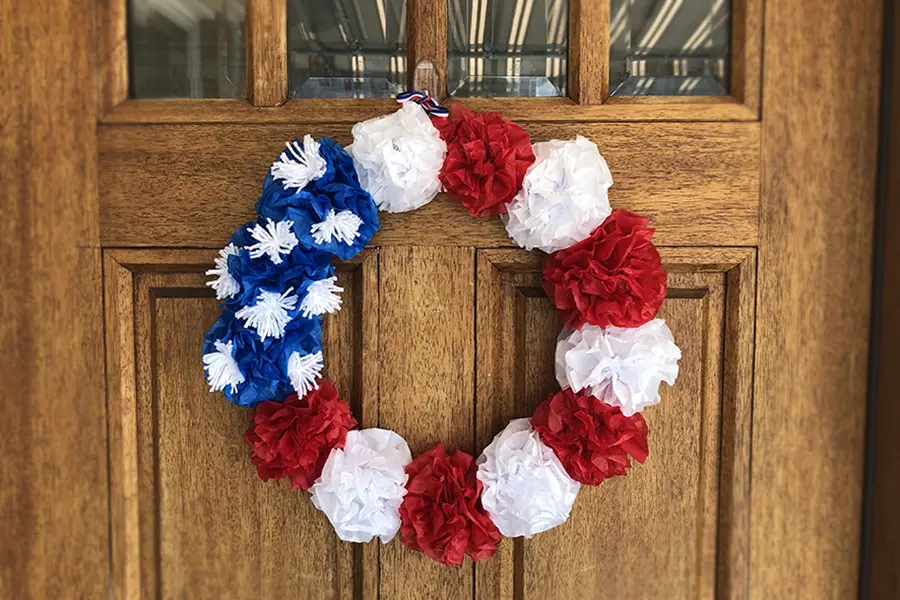 Follow these steps and you'll have a beautiful homemade Memorial Day wreath. You can hang your wreath on your front door — if it's protected from the elements — to acknowledge and send a message of thanks to the fallen service members and their families.
DIY Memorial Day craft No. 2: Memorial Day garland
This idea for a festive Memorial Day garland is made from materials that you probably already have around your house.
Materials needed for Memorial Day garland
Cardboard boxes
Paint or markers
String or ribbon
Hole puncher
Scissors or straight edge cutter
You can make the garland any size you want. I decided to do 4-inch triangles.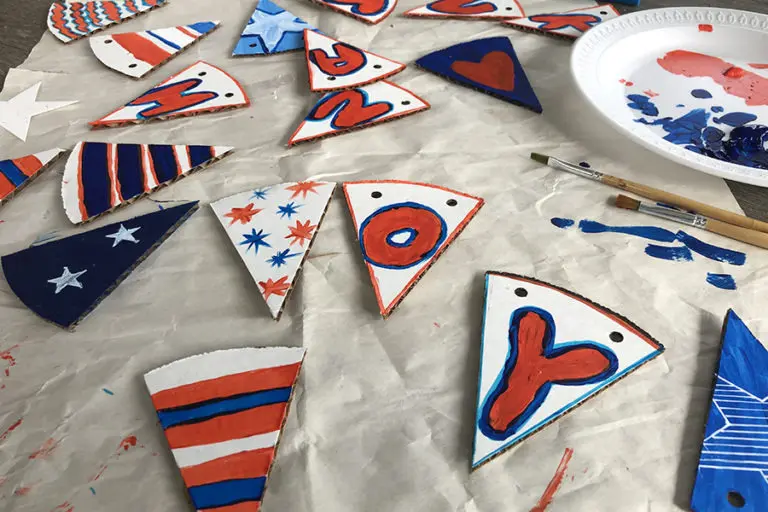 I cut out enough triangles to spell out "Thank You" and added additional triangles decorated in patriotic colors to complete the garland.
This is a great DIY Memorial Day craft for kids. Let them use their imagination to decorate the individual triangles.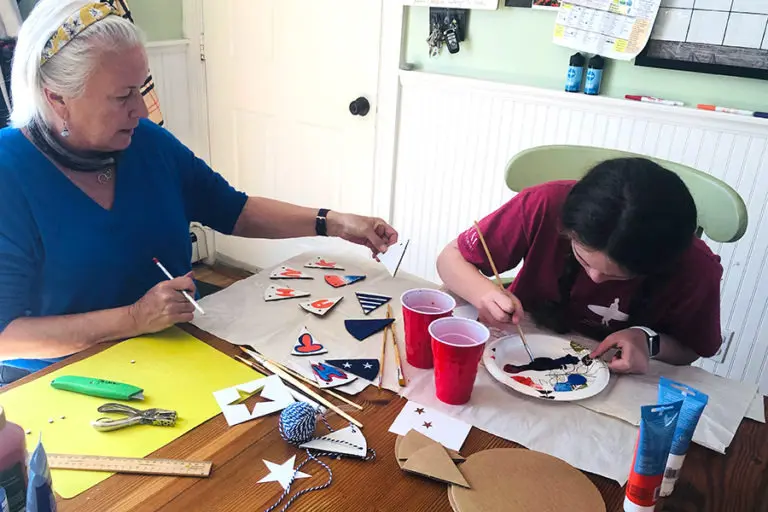 It's also fun to do together, and I like that it can be worked on in stages. Whenever you have the time or feel like chilling out, just sit down and paint or draw a few designs.
Once you have all the triangles decorated and have punched two holes at the top of each one, simply lace a string (twine, ribbon, jute, etc.) through each triangle.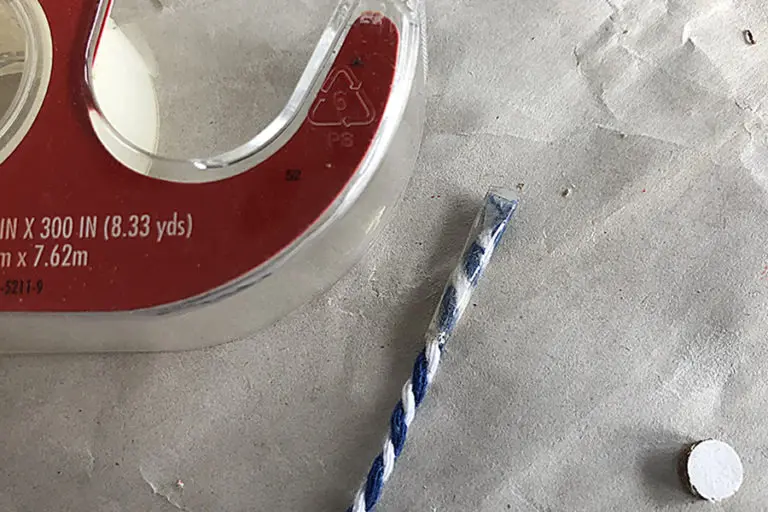 I found it helpful to wrap the end of my string with a piece of Scotch tape; it made it easier to thread through the holes. I also laid out all the triangles on the table in the order they should go in, before starting to connect them to create the finished garland.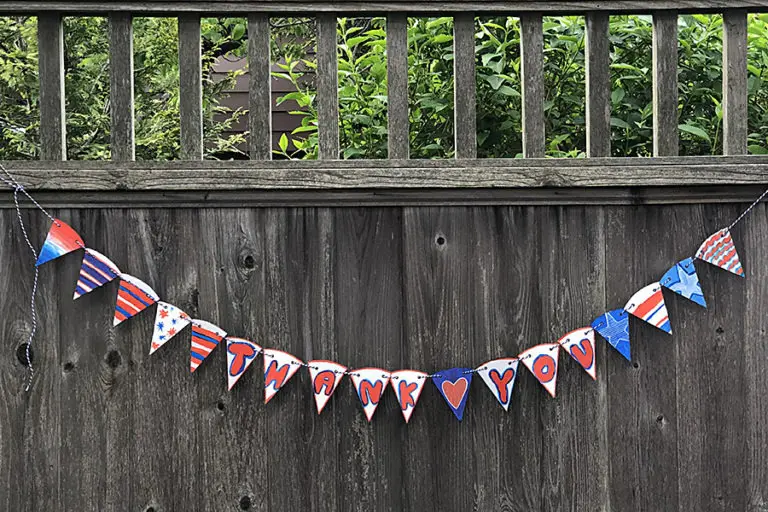 I am thrilled with how this DIY Memorial Day craft turned out and how easy it was to do. And the fact that it created a second life for all the extra cardboard I had makes me very happy. I'll be doing these garlands for birthdays, Fourth of July, anniversaries, etc.
Take a little time this Memorial Day to reach out to a veteran or a family of a vet with a simple "Thank you for your service."
Happy Memorial Day!
---