Halloween is arguably the most DIY friendly holiday. Between costumes for kids and adults, décor and spooky-inspired parties, the options are endless!
DIY Halloween Candy Vase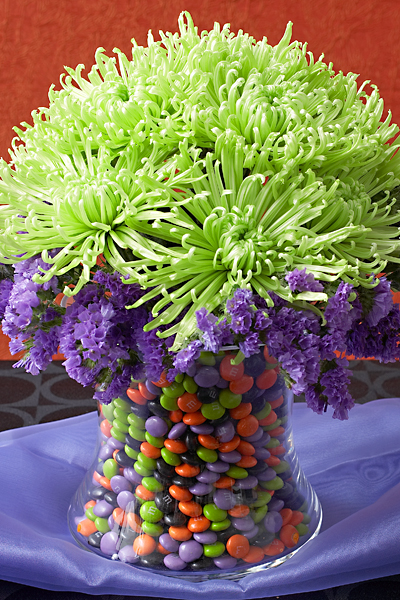 Personally, I love the purple, lime green, orange and black combination for the holiday, so when I saw Halloween M&M's in the store, I immediately bought a few bags. Just another reason to buy candy!
To create this look, I used a nested vase, which allows the filler to rest between the walls of two containers. You can make your own by putting a narrow vase or glass inside of another large glass container. Ideally, you would want both glasses to be the same height, but if not, the inside glass can be slightly shorter than the outer one. For the floral, I used shamrock spider mums and purple statice. Not only do they look great, but both flowers are hardy and will last about two weeks.
DIY Papier-Mâché Halloween Pumpkin Vase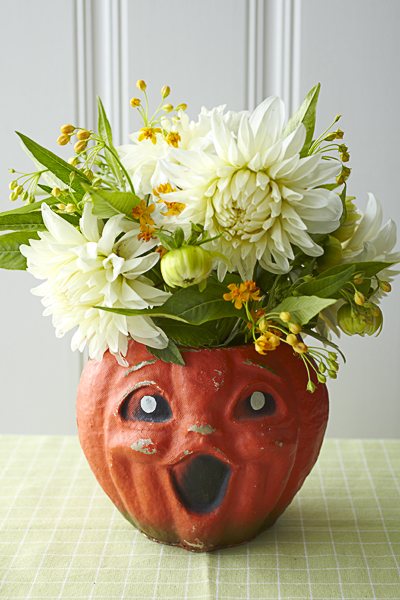 For a more retro look, this original papier-mâché pumpkin from the 1950's is my favorite Halloween decoration. Re-using the plastic pumpkin trick-or-treat baskets can create a similar, kid-friendly look as well.
With a few cuttings from your fall garden – here I used dahlias and asclepias – this old pumpkin becomes the happiest jack-o-lantern in town!
DIY Candy Corn Flowers
Planning a kids party? This candy corn arrangement is a sweet addition. Great as a centerpiece or as part of a Halloween-inspired dessert bar! Not only will guests love the final "treat" but the kids can help put this together prior to the festivities.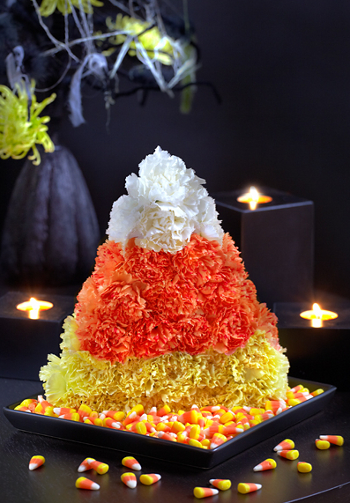 Materials Needed for the Candy Corn Flowers:
Approximately 2 dozen yellow carnations, 2 dozen orange carnations, and 1 dozen white carnations.
1 brick of floral foam
1 water proof dish or tray
How-To Make the Halloween Arrangement:
Start by thoroughly soaking the floral foam and standing it up vertically on the tray.
Cut your carnation stem to about 2 – 4" in length.
Starting at the base insert the yellow carnations all around the base of the foam using longer stem lengths to make the width fuller at the base of the "candy corn".
Repeat with the orange and white carnations, creating the shape as you move up the foam ending with a single white carnation at the top forming the point of the corn.
You can take the basic directions for this floral candy corn arrangement and scale it up or down depending on your desired finished size. If your plan to display this arrangement on a mantle or foyer table, it can also be done as a one-sided arrangement.
DIY Spooky Halloween Centerpiece Video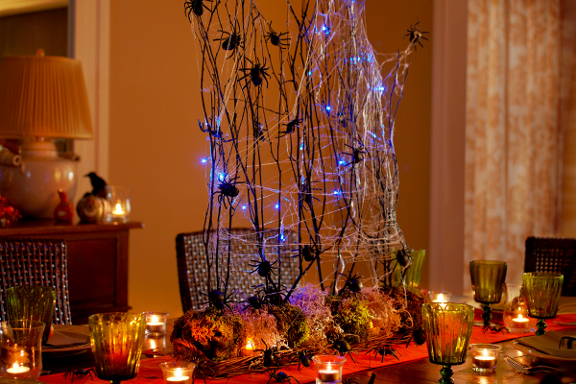 Using 1800Flowers very own Willow Multi-Tealight Holder, I've created the perfect spooky Halloween centerpiece along with branches, plastic spiders, LED lights, hot glue spider webs, moss and more!
Whether for a table runner or to welcome trick-or-treaters, this DIY creepy centerpiece will be a Halloween hit!