Halloween is arguably the most DIY-friendly holiday on the calendar. Between costumes for kids and adults, spooky décor, and parties decked out with frightfully ghoulish embellishments, there are countless opportunities to express your creativity and craftiness.
One of my favorite ways to celebrate the season is with colorful, over-the-top Halloween centerpieces. And with flowers that show off the vibrant colors of fall and the sugary treats we all have lying around the house this time of year, we have plenty of materials at our disposal to make some eye-catching pieces to be the focal points for our festive tablescapes.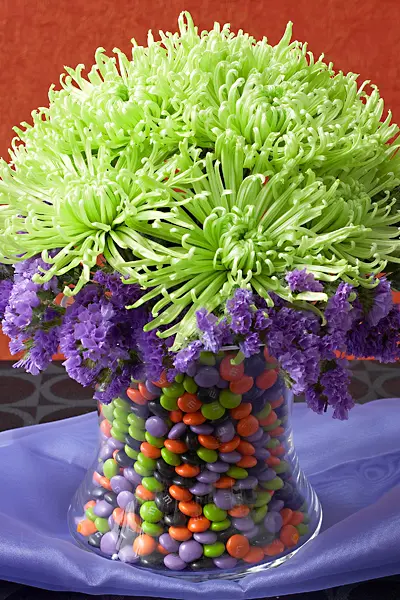 DIY Halloween candy centerpieces: the candy vase
I love the purple, lime green, orange, and black color combination that's prevalent for the holiday, so when I saw Halloween M&M's in the store, I bought a few bags. Just another reason to buy candy!
To create this look, I used a nested vase, which allows the filler to rest between the walls of two containers. You can make your own by putting a narrow vase or glass inside another large glass container. Ideally, both glasses should be the same height, but if they're not, then the inside glass should be slightly shorter than the outer one. For the floral, I used shamrock spider mums and purple statice. Not only do they look great, but both flowers are hardy and will last about two weeks.
DIY Halloween table décor: papier-mâché pumpkin vase
When I'm going for a more retro look, I break out this original papier-mâché pumpkin from the 1950s — it's my favorite Halloween table decoration. If you don't have a decades-old, trick-or-treating pumpkin handy, just reuse one of the plastic baskets your kids take with them around the neighborhood on All Hallows' Eve. It creates a similar — albeit not quite as spooky — look that positively screams Halloween.
With a few cuttings from your fall garden — here, I used dahlias and asclepias — this old pumpkin becomes the happiest jack-o'-lantern in town!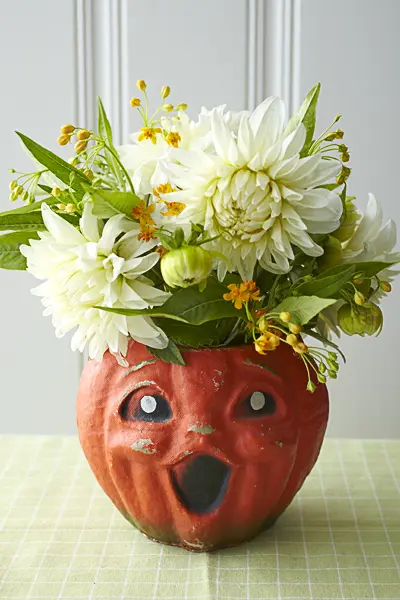 DIY candy corn flowers
Planning a kids Halloween party? This candy corn arrangement is a sweet addition. It's great as a centerpiece or as part of a Halloween-inspired dessert bar! Not only will guests love the final "treat" but the kids can help put this together prior to the festivities.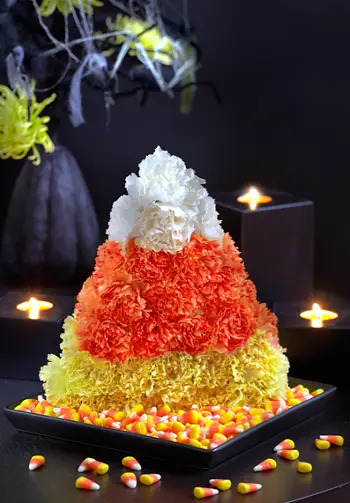 Materials needed
Approximately two dozen yellow carnations, two dozen orange carnations, and a dozen white carnations.
1 brick of floral foam
1 waterproof dish or tray
Instructions
Thoroughly soak the floral foam and stand it up vertically on the tray.
Cut your carnation stems to about 2 to 4 inches in length.
Starting at the base of the foam, insert the yellow carnations all around the sides, using the longest stems at the bottom to make the base of the "candy corn" wider.
Repeat with the orange and white carnations, creating the shape as you move up the foam.
End with a single white carnation at the top to form the point of the candy corn.
You can take the basic directions for this floral candy corn arrangement and scale it up or down depending on your desired finished size. If you plan to display it on a mantle or foyer table, this arrangement can also be done as a one-sided design.
Halloween table decoration ideas: flower arrangement with Halloween candy
Here's another decoration that's perfect for a Halloween party table. This DIY Halloween flower arrangement featuring a ceramic pumpkin, your favorite candies, and the best fall flowers will wow your guests (and help satisfy their sweet tooth, too).
Create this festive centerpiece for your own home or as a gift for the hosts of a Halloween party you're attending this month. Either way, it will help set just the right mood for you to have a monstrously good time!