A Unique Mother's Day Activity to Wow Mom
Spring is here and Mother's Day is right around the corner. Have you started to think about how you can show mom just how much you love her and how special she is? Hosting a Mother's Day wine tasting is a fun way to spend time with mom for you to enjoy the holiday together!
The planning and preparation can be as much fun as the event itself! Getting together with a few of your and moms friends to plan a Mother Daughter Wine Tasting party, makes for a great girls day and for a guaranteed good time. In addition to the mother/daughter ideas, a Mother's Day wine tasting for the whole family (21 and older of course!), can be equally as fun!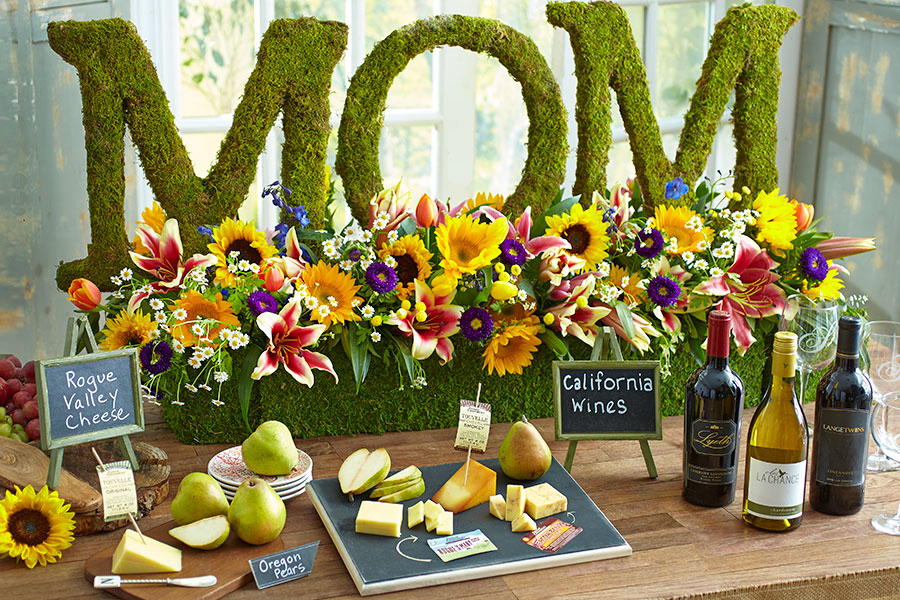 A rustic, natural Napa Valley-inspired wine tasting can make for the perfect setting to incorporate so many of the most popular trends: burlap, chalkboard, mason jars, monograms and Made in America.
THE INVITATION
The best way to kick off a classy party like your wine tasting with mom, is with a classy invitation that she will love.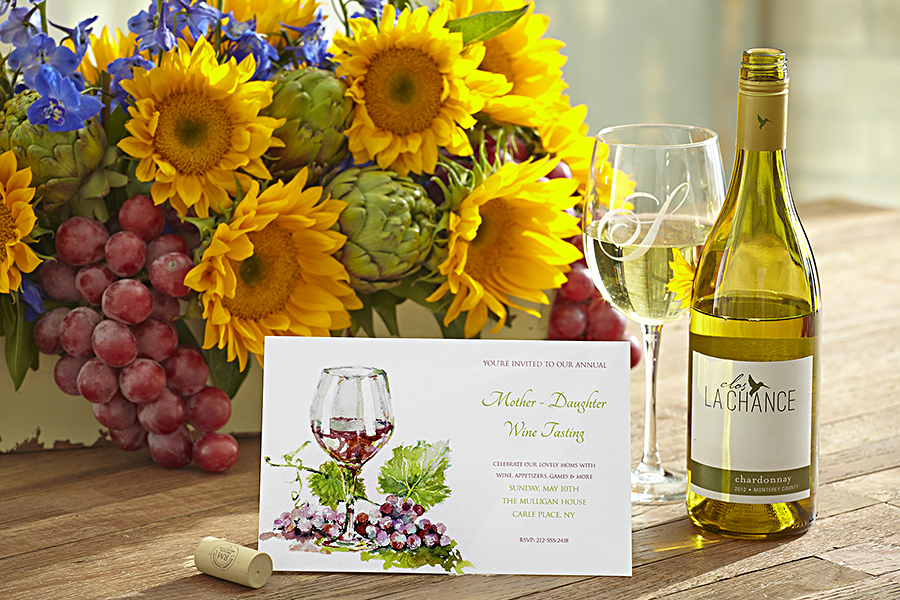 We chose this hand painted invitation and re-purposed the artwork into the décor. If you don't want to buy your invitations, you can hand make them, or just send an e-invitation.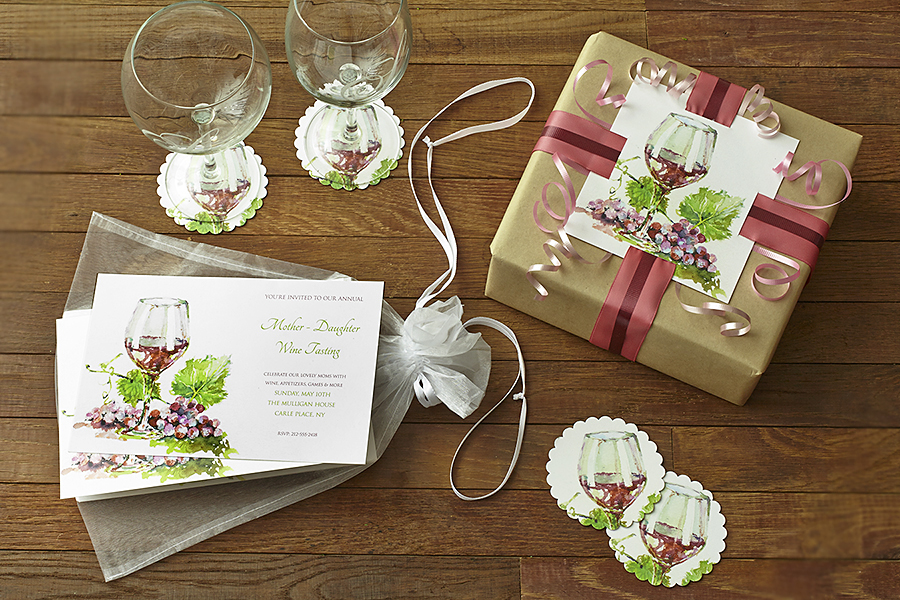 DÉCOR AND ACTIVITIES
I wanted to create a statement piece that would set the stage as soon as the moms arrived. After all, this day is all about Mom! Monograms and initials are literally everywhere – on wine glasses, bags, front doors, jewelry, iPhone cases, bedding, etc. I thought that having the moss-covered letters spelling out mom, and "growing" up from a moss planter that's brimming with vibrant garden blooms, would be a spectacular backdrop for a buffet table. If you want to go a little smaller, consider spelling out M-O-M in planters or a regular floral arrangements.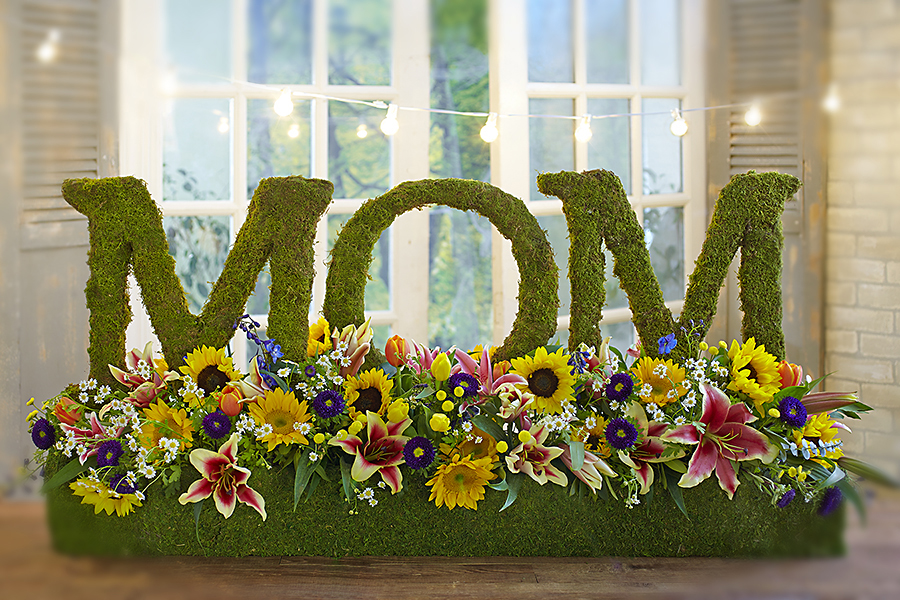 I didn't have a planter as big as I wanted this piece to be, so I made it from the box that the flowers were shipped in! I used Instant Green by Super Moss to cover the outside of the box. This stuff is great, inexpensive and easy to work with. I used the premade letters but you can use the same moss to cover letters that are available at most craft stores.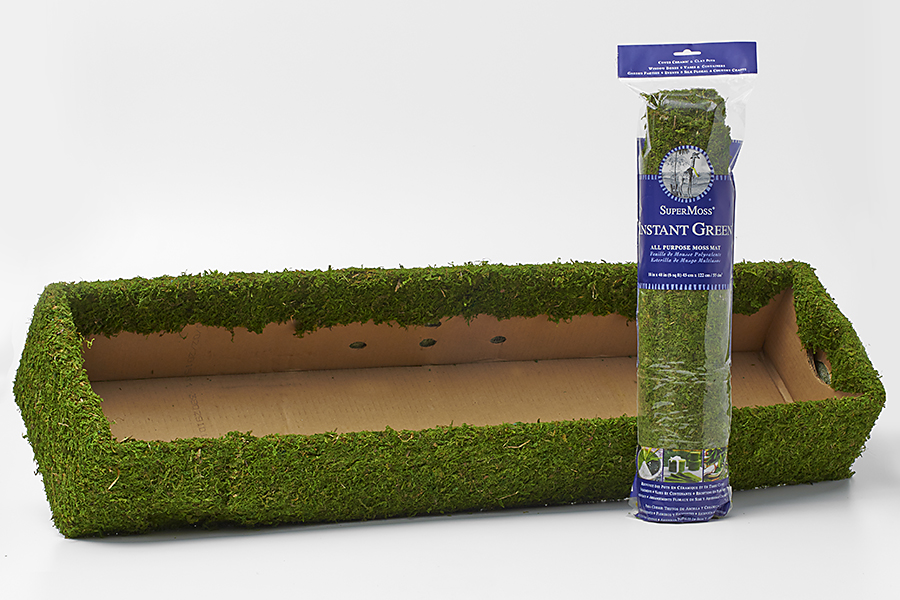 Add sticks to the letters and position them in the foam first, then create your floral arrangement!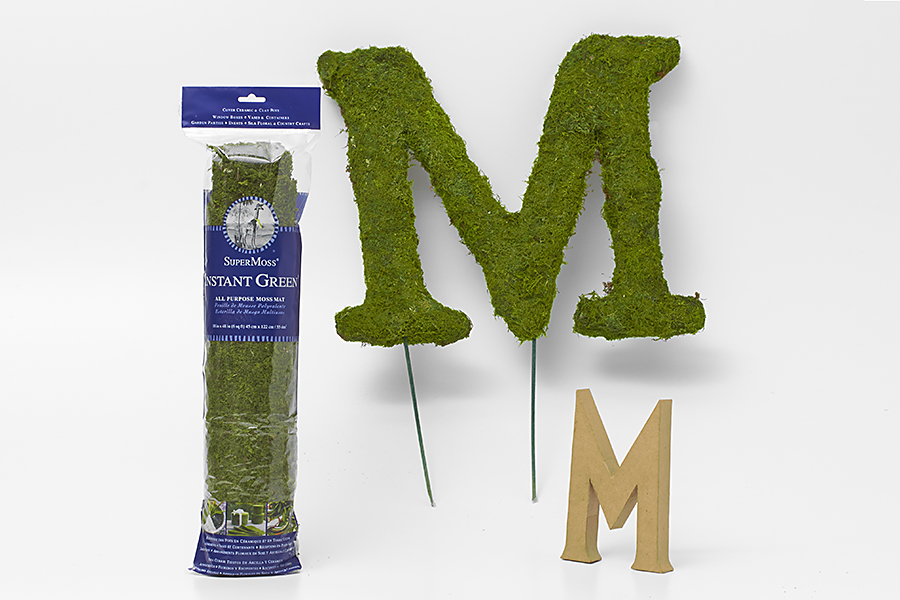 Before creating the arrangement, line the box with a large, heavy duty plastic bag or individual plastic trays/containers. Thoroughly soak bricks of floral foam and place in the plastic lined box or trays.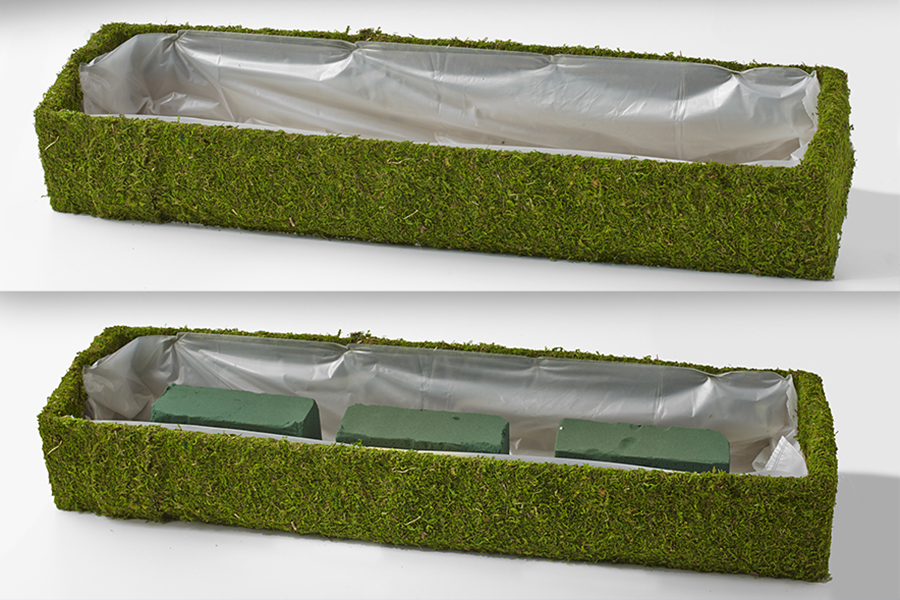 FLORAL DECOR
Think about the overall theme and the look and feel of your event when creating or buying your flower arrangements. Use various sizes, shapes and materials for the containers to add delightful and unexpected elements throughout the room. I love incorporating seasonal fruits and vegetables along with the flowers in my designs. All of the different textures and colors work so well together!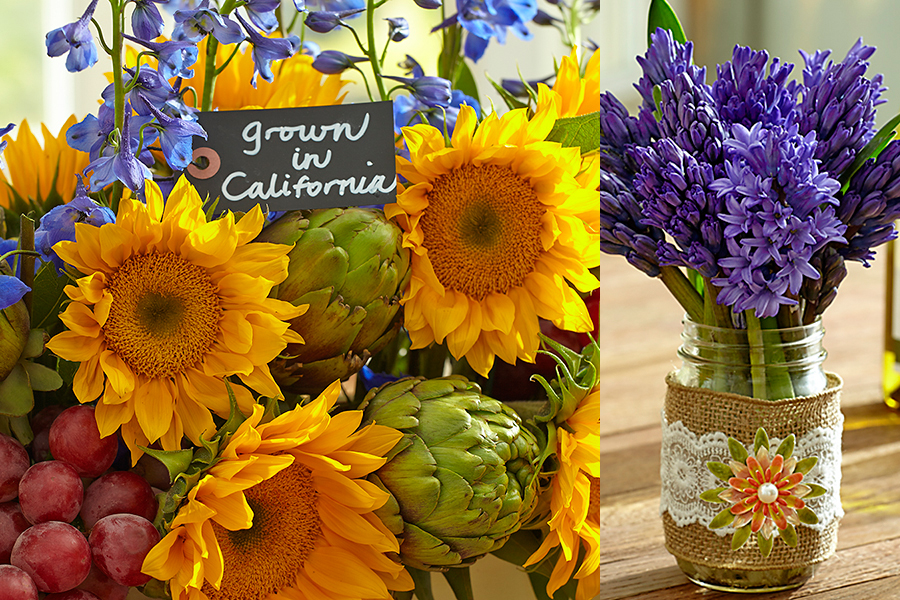 This "up cycled" glass mason jar wrapped with burlap and lace ribbon is the perfect container for a sweet gathering of fragrant spring hyacinth. Adding a vintage style enamel brooch makes it even more perfect for Mom!
PERSONAL TOUCHES
The key to making this a memorable day for Mom is all of the personal touches weaved throughout. Coming up with the ideas and getting together with your friends during the planning and preparation process is all part of the fun! Since pictures say a thousand words, consider displaying pictures of you and mom throughout the years, or pictures of her with her mom.
"Private Label" Wine
Create a wine label that is inspired by your mom! You can do it all on the computer, or you could go old school and cut and paste using actual paper, scissors, glue etc! Make the new label the same size as the label that is already on the wine bottle and just glue the new label over the old. Be creative and have fun with it.
Here are two examples that I made to get you started. My mom—the original silver fox, inspired the Silver Fox Chardonnay! I came up with A Beautiful Mess thinking about one that my daughters might create for me!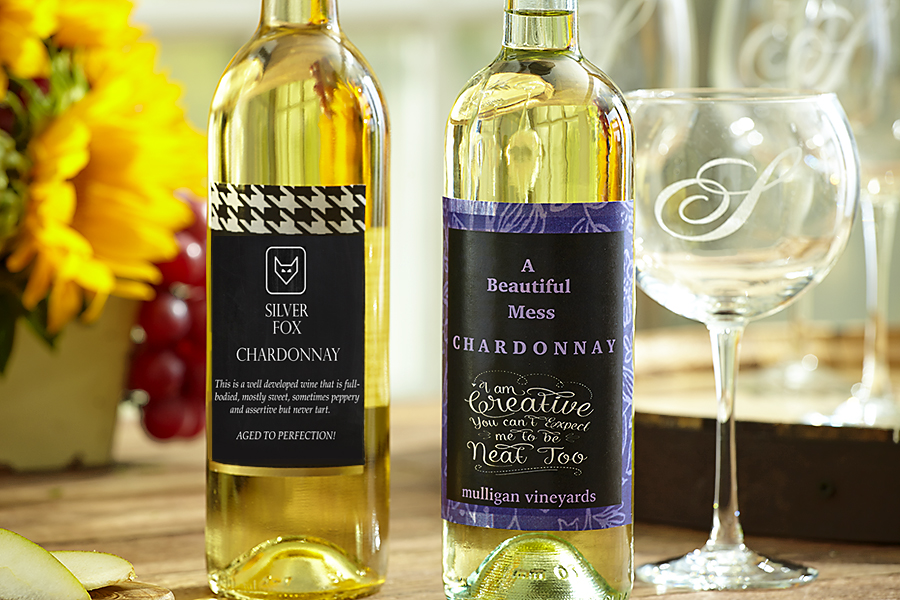 Wine Totes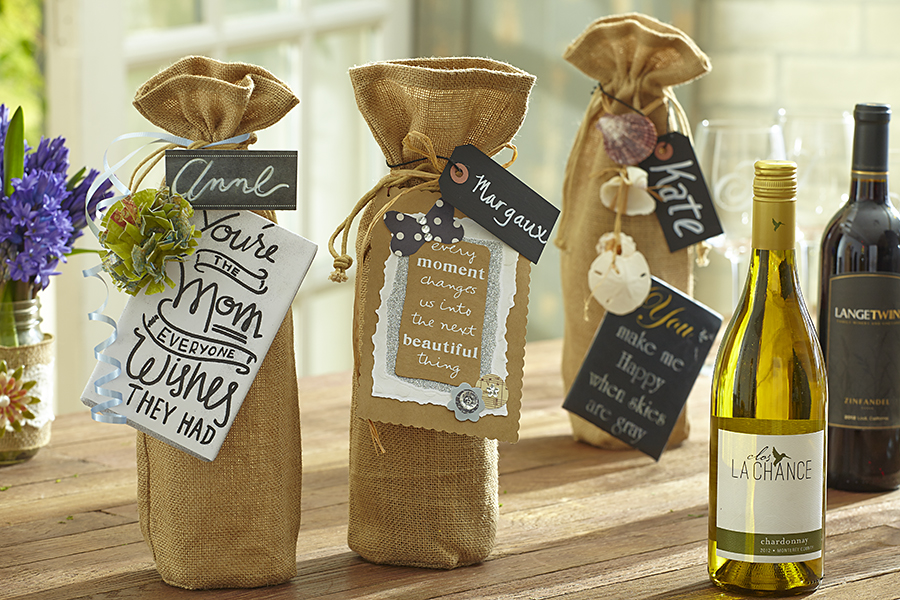 Keep the surprise hidden until it is time for each daughter to present her bottle to her mom inside a wine tote that is also personalized and decorated by you specifically for her. Again, be creative and have fun with it. There is no wrong or right here; you can use whatever materials you want. I save the front of pretty greeting cards I receive to repurpose and pay forward.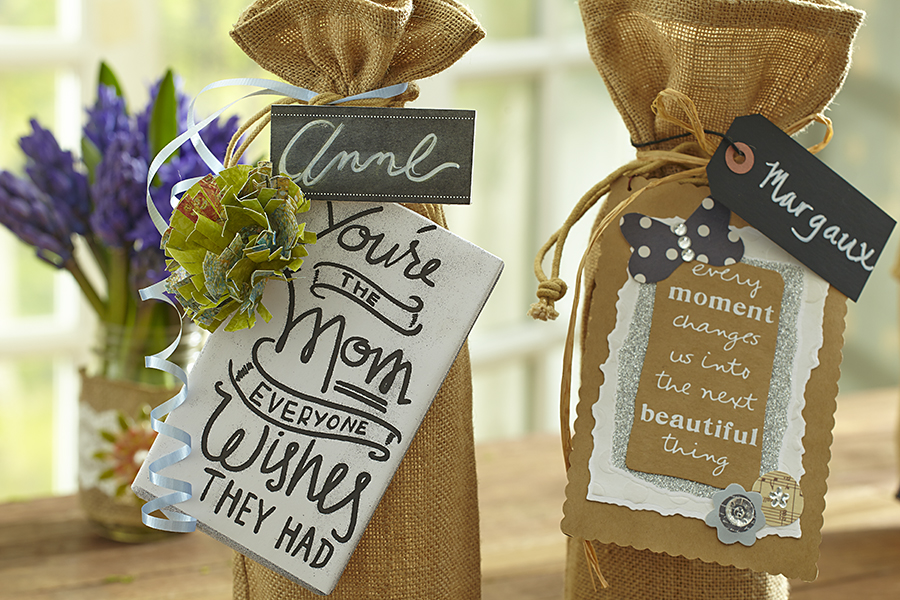 The pretty card on "Margaux's" bottle was made for me by my friend, artist Sandra Magsamen, who made it with pieces from her life. When you put your heart into the gift, it doesn't matter what the actual monetary value is – to the recipient, it will be priceless!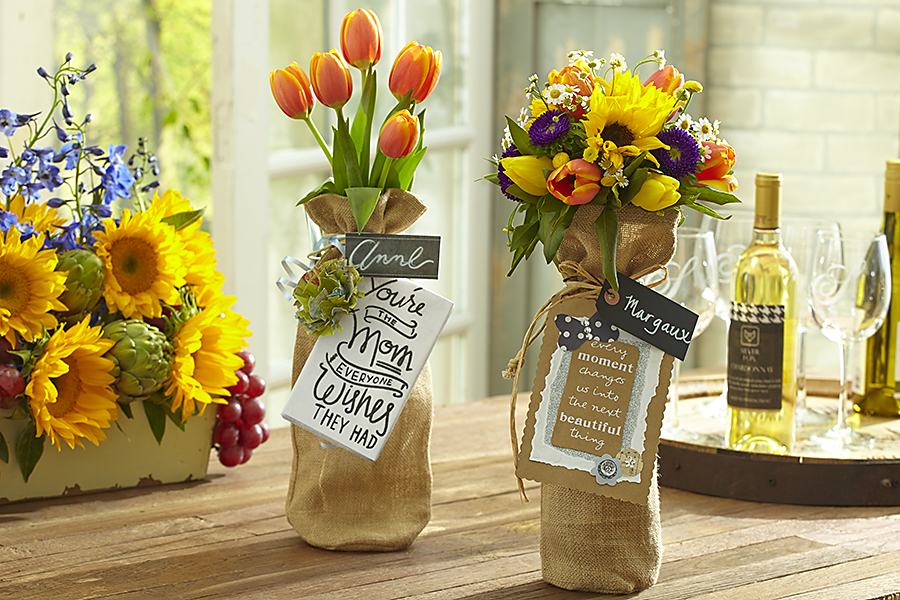 Staying on this track, the wine bottles themselves and/or the wine totes can be repurposed as vases for a single stem or a petite bouquet.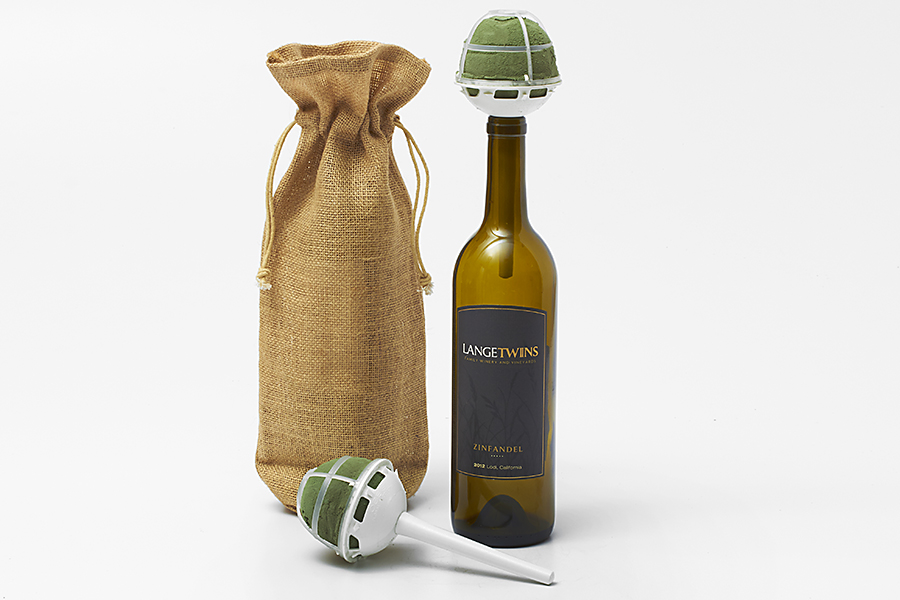 Here's a little florist tip. Use a bridal bouquet holder like the one here from Smithers Oasis to create a large bouquet in a container with a small opening like a wine bottle. Soak the bouquet holder in water first and place into the top of bottle. Put some sand or small rocks in the bottle first to give it some weight and prevent tipping. Cut your flower stems short and insert in foam to create the arrangement.
Paint Your Own Mother's Day Wine Glasses
Have you noticed how painting and drinking wine has become such a popular activity? I can certainly see why! Getting together with friends, crafting and drinking wine sure sounds like a perfect way to spend some time to me! That's why a DIY wine glass painting can make for a perfect activity to go along with your Mother's Day wine tasting, especially if mom loves crafting!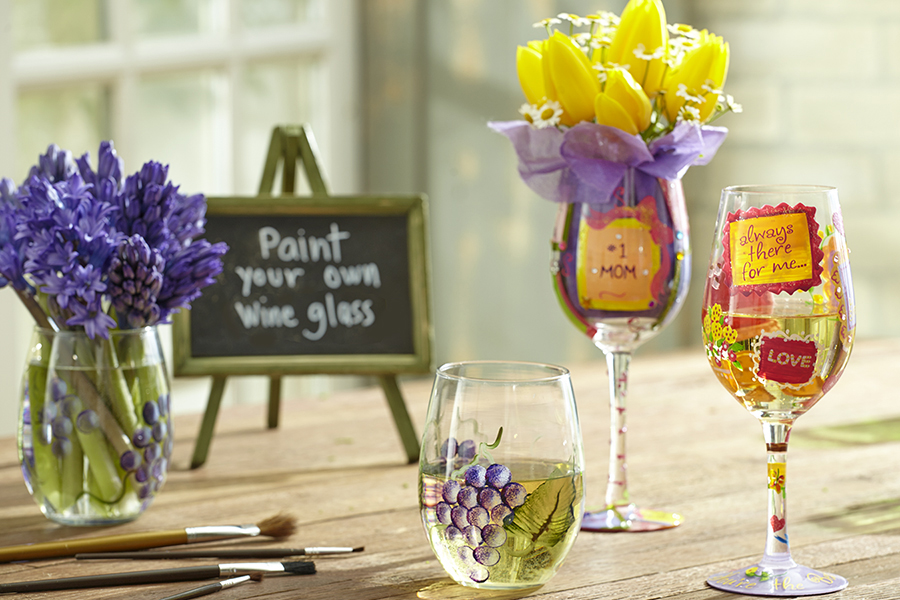 Set up a station with inexpensive clear wine glasses (you can often get them from a nearby dollar store), paints and brushes. If none of the daughters feel qualified to lead this activity you could hire someone. Or even better, ask around or use social media to fine someone who might be interested in doing a little barter deal.
And of course, the finished product could be used as a vase as well as a drinking glass. You know my motto: if it can hold water, it can hold flowers!
Painted wine glasses are such a fun gift for any occasion. We have some great ones for mom and grandma in our Mother's Day Collection! For even more fabulous gifts for the wine enthusiasts, check out our collection of Barware and Entertaining Gifts.
How to Choose the Wine
Wine tasting may seem like a daunting task but here are some tips on how to make it a little less scary. There are also sommeliers for hire if you wish to go that route.
Pick Her Favorites & Potential New Loves
Being her child, you probably already know what type of wines mom enjoys. In addition to picking her favorites, you may want to get a little "adventurous" too and pick wines that she may not even know she likes! For example, if mom typically likes reds, it is still acceptable to buy a couple of whites or sparkling wines for her to try.
Choose a Theme
Blind Wine Tasting. This can be especially fun if you provide blind folds to heighten to mystery and fun.
Pick a Region. We picked northwestern America for the wines featured in this post, but Tuscany, Napa only, or the Sancerre Valley are also great options. You can go by country, region, whatever fits in your wine tasting plans.
Pick a Type, like different types of syrahs, pinots, etc.
Classic Grape Varieties. Feature popular grape varieties that everyone knows and loves like chardonnay, pinot noir, cabernet sauvignon, sauvignon blanc, etc.
Teach Your Guests How to Taste:
First, look at your wine to see if it is full-body (often darker in color) or light-body (often lighter in color). Is the wine clear, or cloudy?
If you are still stumped on which wines to choose, the best tip is to ask the sommeliers or wine experts at the liquor store who are often very knowledgeable with many of wines in the store. They may also give you some additional tips on how to taste like a pro!
Wine Adjectives
There are many ways to describe different kinds of wines. Whether you love dry or sweet, every wine has it's own personality, just like moms. Here are some great adjectives to help you find words to describe the wines for your Mother's Day wine tasting.
Character:
Assertive
Attractive
Balanced
Complete
Complex
Delicate
Dense
Depth
Developed Elegant
Fading
Full Bodied
Graceful
Potent
Robust
Soft
Taste:
Bite
Bitter
Buttery
Fruity
Heady
Peppery
Smoky
Spicy
Sweet
Tart
Zest

Of all these trends, the one that will no doubt continue to grow is "Made in America." We carry many wonderful products throughout our family of brands that are American made, or grown. Here are a few that you have seen throughout this post:
Happy Mother's Day from our family to yours!