Here's a traditional holiday arrangement that has its roots in the south, in Colonial Williamsburg. The pineapple has long been an iconic symbol of hospitality, welcome, and friendship starting in the Carib and spreading to Europe before coming to Colonial North America. While the pineapple is a key element in a traditional Colonial Williamsburg style arrangement there are others that are just as important to create the right look. Here's a list of just a few that you might want to choose from:
Magnolia leaves
Assorted evergreens
Apples
Oranges (especially decorated with cloves)
Ribbons
Burlap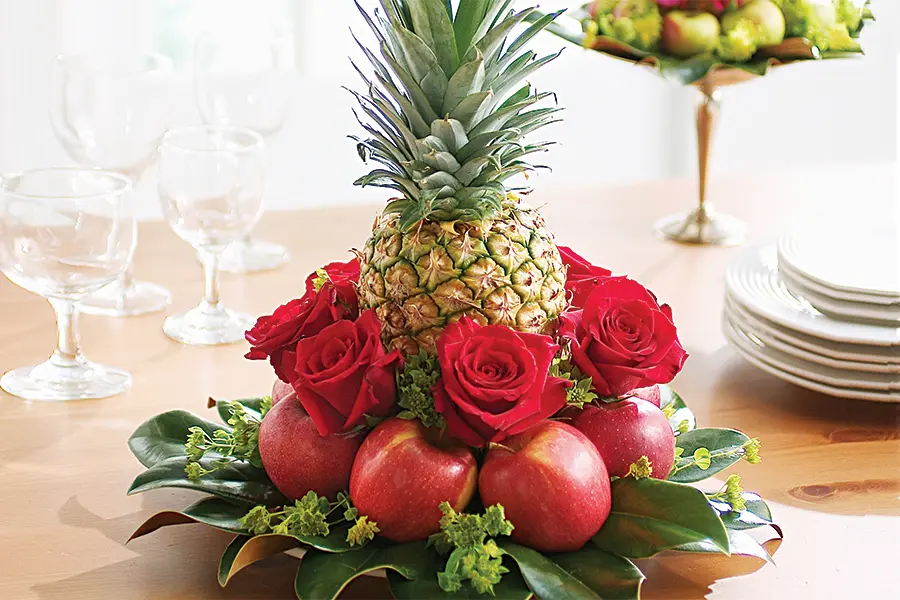 Create your arrangement to fit the space in which you plan to display it. The arrangement in the photo above was created to be viewed from all sides..
Start with a base of wet floral foam. Insert the flowers and foliage directly into the foam. Fresh fruit should be secured to a green florist stick first before inserting into the foam.
I love the two-tone color way of the magnolia leaves. They seem to add a touch of elegance and rustic charm at the same time! 1-800 Flowers has a beautiful preserved magnolia wreath that's part of a great collection of southern inspired holiday gifts from one of their newest partners – Southern Living™.