The series "Get Crafty" features handy how-to guides that will help you tap into your passion for crafting and show you how to make all kinds of stunning seasonal creations. In this article, crafting expert Julie Mulligan shows how to create whimsical snow people that are so attractive, they look store-bought.
Who better to deliver birthday wishes on a chilly winter day than a happy little snowman? Think about it: Have you ever seen a snowman who didn't have a smile on his face? Snowmen are a celebration of winter, unexpected snow days, and family fun. The best part about the snowmen (or "snowladies") is that they can stay inside, sharing birthday smiles without melting!
This happy little guy is the finishing touch to a birthday vignette of floral cakes and cupcakes. And I created him with everyday materials found around the home. At a recent Design Council held at 1800Flowers.com headquarters, one of our talented florist-franchisees, Mimi Lee from 1-800 Flowers|4GiftSeattle, showed us how to make a snowman using corn starch and hair conditioner. When I started working on this story I did some research and found many snowman recipes that call for corn starch and shaving cream. I did a little experimenting and went with the shaving cream version but both work great! It's a fabulous fun sensory activity to do with kids too.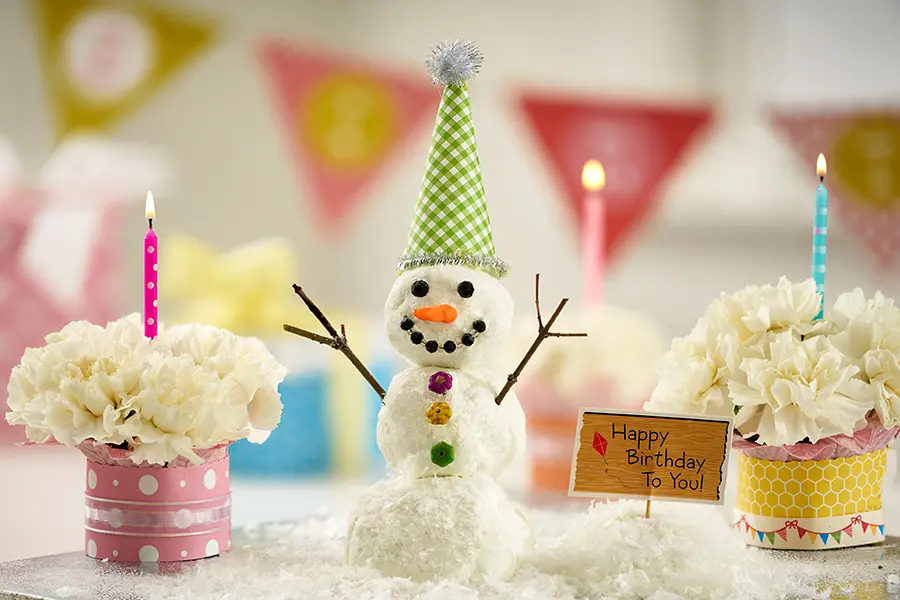 How to Make Snowman Without Snow
What you need:
Two 16 oz. containers of corn starch
One 10 oz. can of shaving cream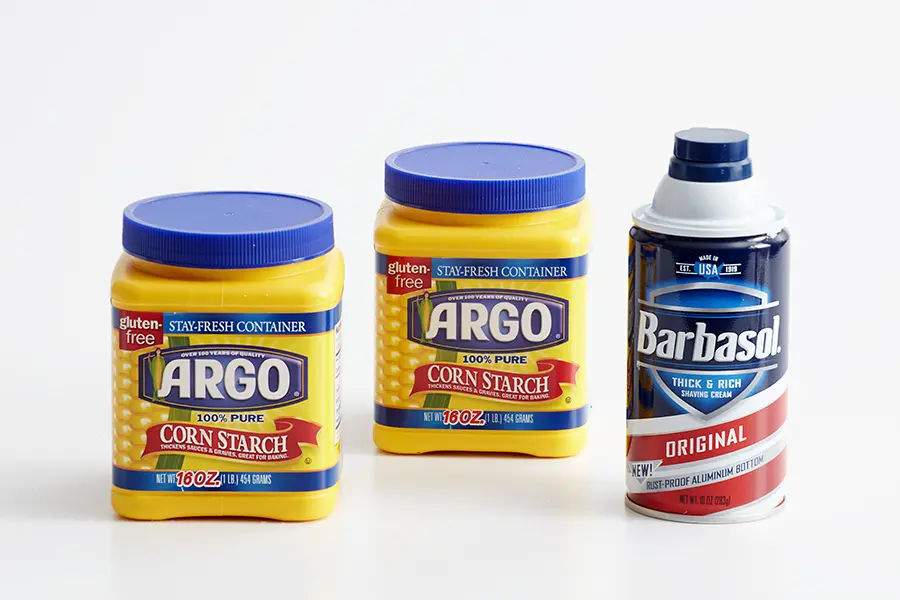 Miscellaneous items to dress your snowman and add personality such as:
Decorative Beads
Sculpting clay
Twigs
Decorative paper, pom-poms, chenille stems (for birthday hat)
Wires
Glitter and faux snow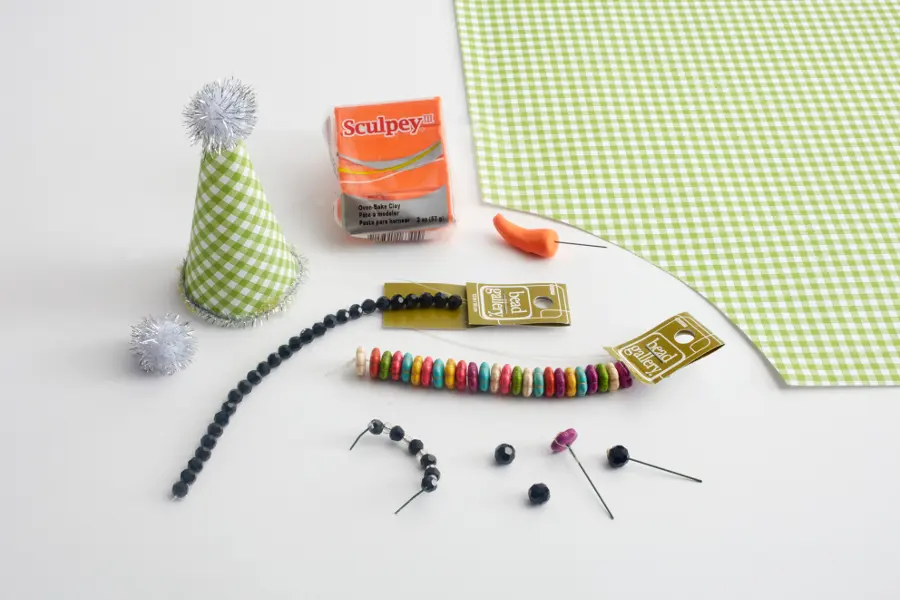 How it's done:
Pour the corn starch into a large bowl and slowly add the shaving cream – mixing it in as you go. Keep working the shaving cream into the corn starch until you can mold the mixture and it feels dry to the touch. That's really all there is to it! (You can store the faux snow mixture in a resealable bag and it will keep for a few weeks.)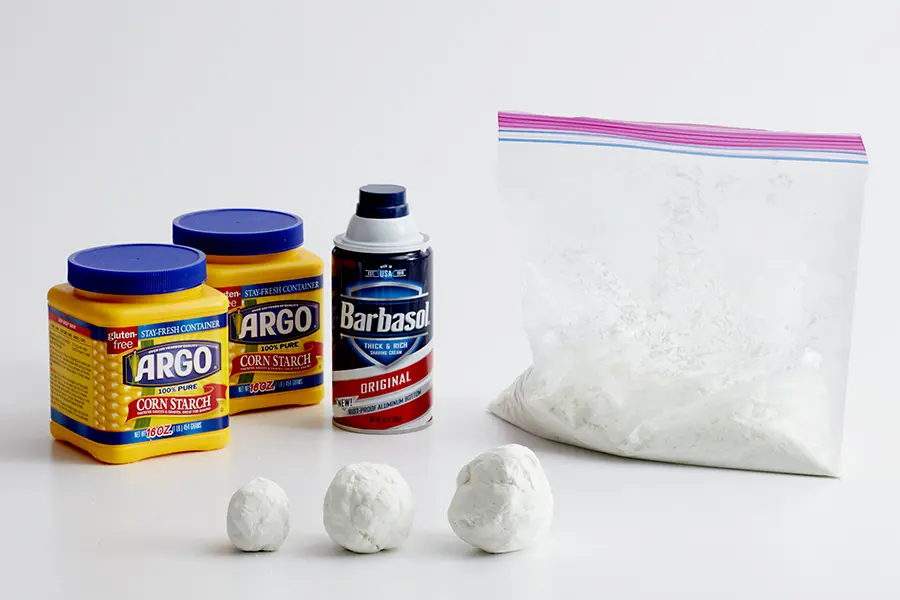 Because my goal was to make someone smile on their birthday I added a birthday hat that I made from a small piece of decorative paper and added a silver pom-pom at the top and a silver chenille stem around the base.
I also made a little "Happy birthday" sign and attached it to one of his little twig arms!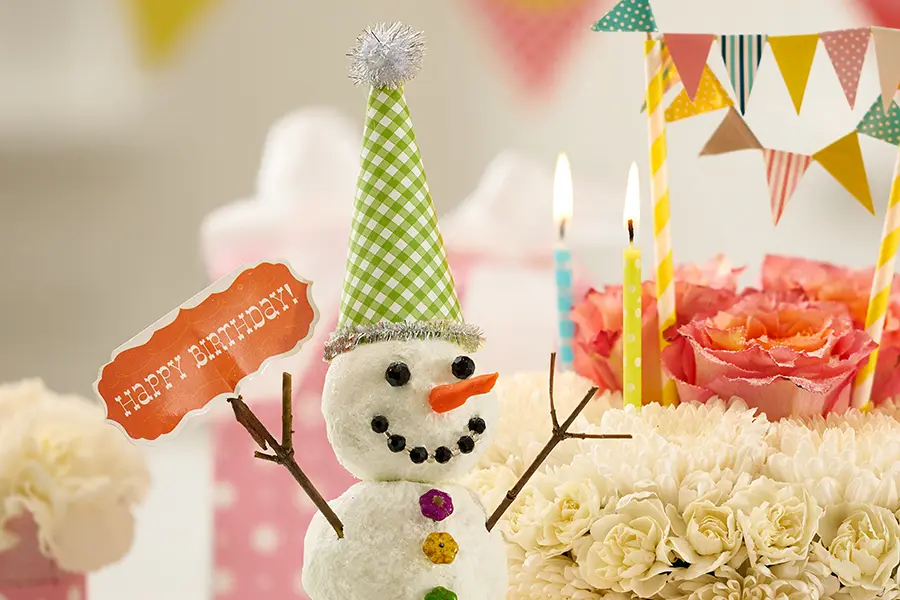 Or you can add the sign to a pile of snow made with the cornstarch mixture. As you can see I also used some faux snow around the snowman and floral cakes and cupcakes to complete the look.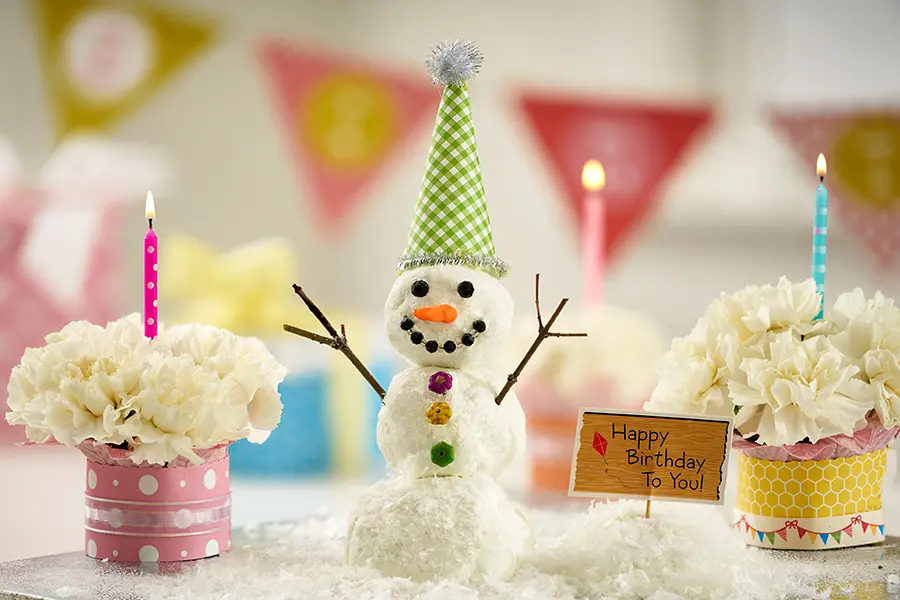 Create a Floral Snowlady
Another way to make an indoor snowperson is with flowers. This adorably sweet birthday girl is smiling because someone has given her a beautiful bouquet and crown of flowers to let her know how special she is. Don't you know someone who has a birthday and deserves to smile?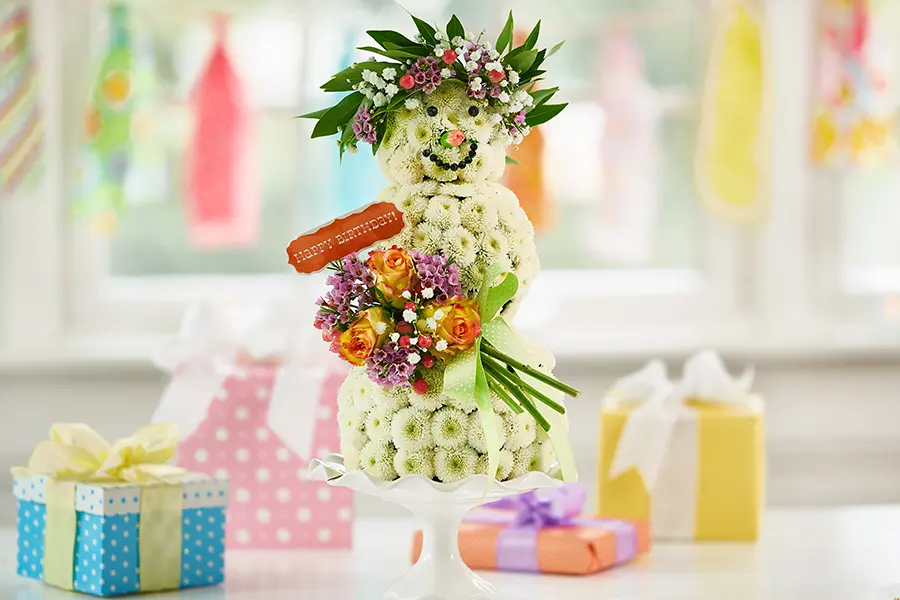 What you need for the snowlady:
2 or 3 sizes of floral foam spheres
Stick
White button poms
Decorative elements to create the face – beads, sculpting clay, etc.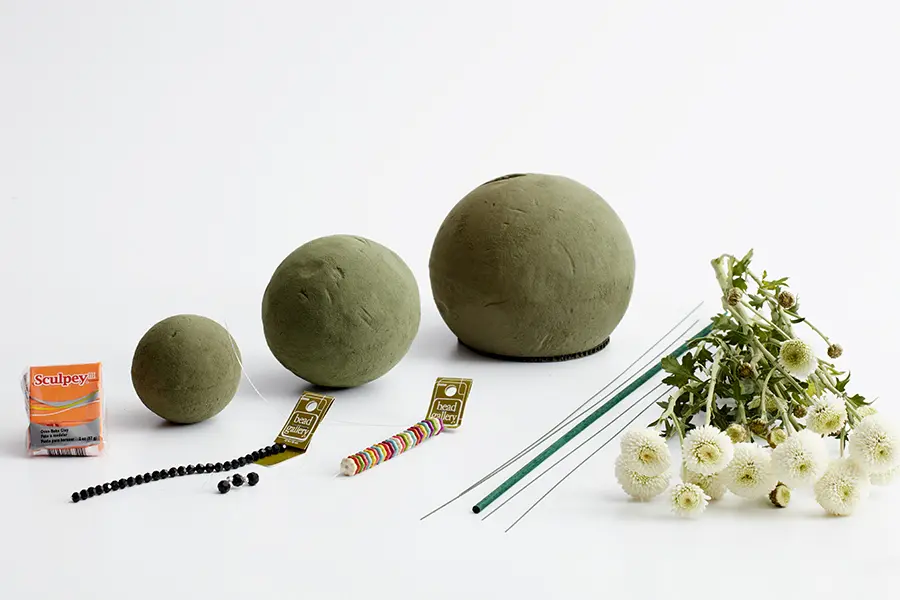 How it's done:
Thoroughly soak the foam spheres. I used 3 sizes but you can use just two.
Place the largest sphere on a flat plate and insert the stick.
Place the next largest size on top of the larger one, and then the smallest. Cut the stick at the top if it is still sticking out.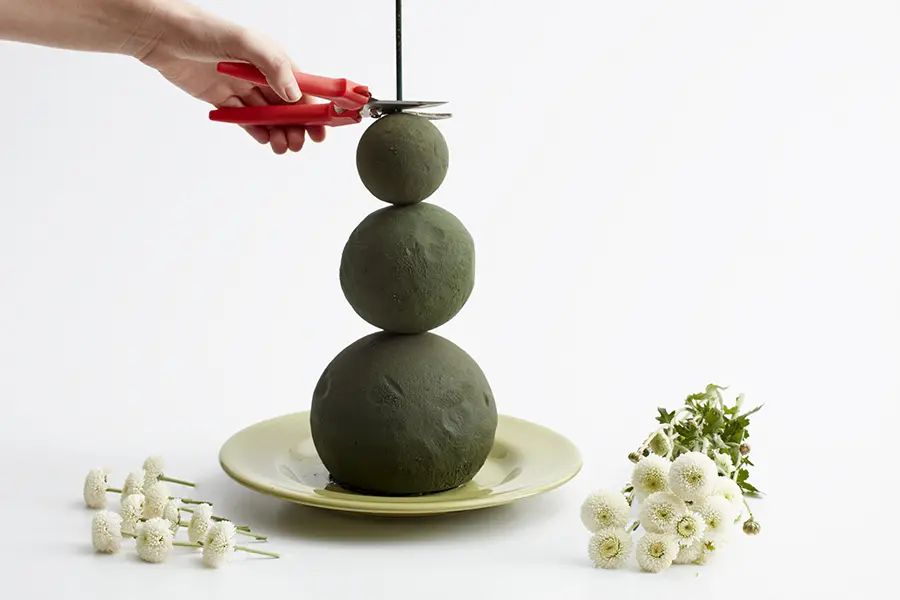 Cut all of the individual button poms from the main stem leaving about one-inch of stem on the flower to insert into the foam.
Start at the bottom and just keep inserting the button poms until you have covered all of the foam.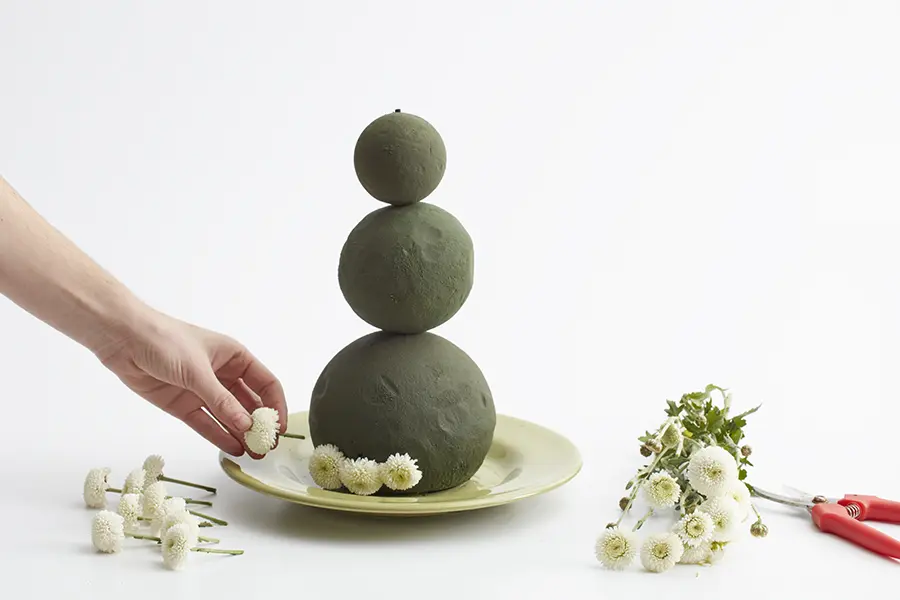 This is a large snow lady – standing a little over 12" tall– so it took a lot of button poms to create. (I used more than 15 stems.) You can create a smaller one using the same method, however.
For her birthday bouquet I gathered a few stems in my hand and cut the bottom of the stems short and inserted them right into the foam. I took the parts of the stems that I had cut off and inserted them into the foam as well and added a bow between the flowers and the stems to make it look like she was holding a bouquet of fresh-cut flowers! By the way, because I knew that I was going to be giving her this bouquet, I didn't put the button poms in the area where I intended to insert the bouquet.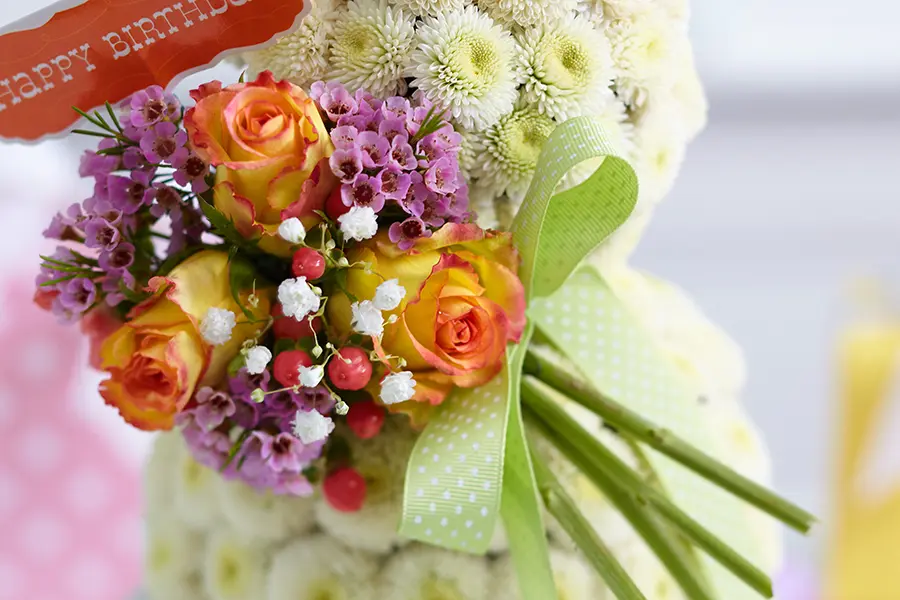 For her floral crown, I just used small sprigs of flowers and greens and wired them together!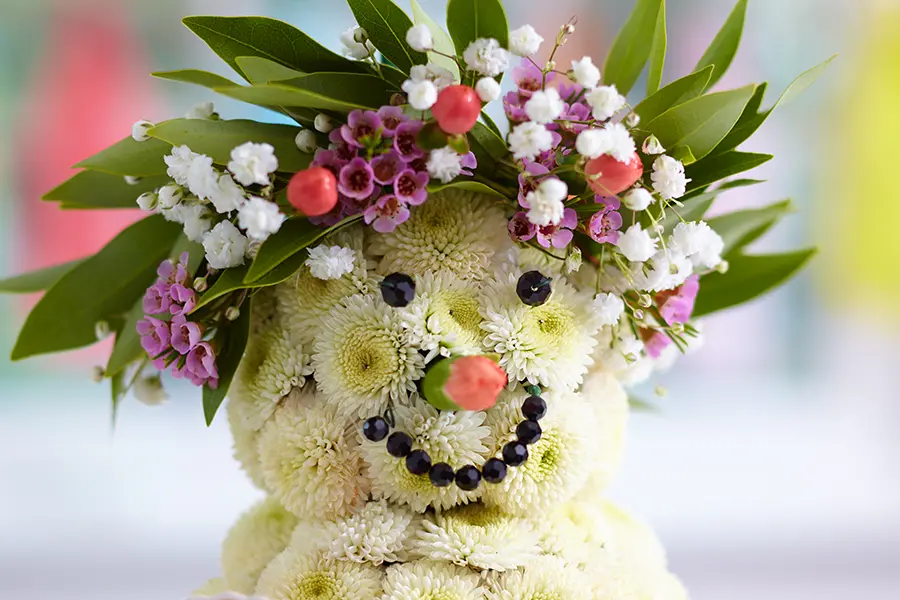 Creating any one of these vignettes is a sure way to let someone know how special they on on their birthday– and everyday! 1800Flowers.com has an adorable floral snowman arrangements that you can send today as well as a great selection of floral cakes and cupcakes.