The Traveling Grandma!
Grandma and Grandpa are always willing to help baby-sit for the grandchildren whenever they're in town. You're really happy for them. They've worked hard all of their lives and deserve it, but that doesn't mean you're not a little bit jealous! Grandparents Day is the first Sunday after Labor Day. So, surprise grandma with a new travel bag perfect for her sunscreen, sunglasses, and great book. Make it more of a "WOW!" by filling it with beautiful and exotic cymbidium orchids.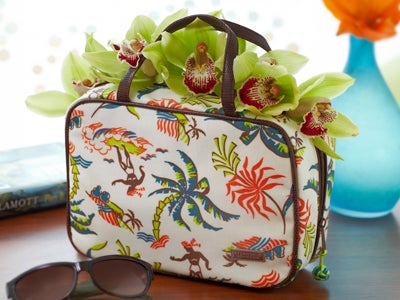 Grandpa's Deserve Flowers Too!
Grandpa never look for any recognition, but give it to him anyway! I found this silver loving cup trophy at a church thrift shop. The engraving says that it is a trophy from a Pro-Am golf tournament in 1983 at Pebble Beach. Gramps may never get to play at Pebble Beach, but to you he's the best Grandpa in the world as well as the best golfer! The "blue ribbon" is an image downloaded from the Internet and a customized message added in Photoshop.