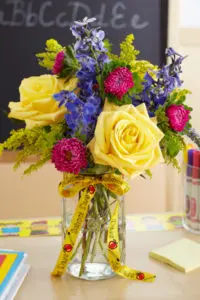 Back to school flowers can help everyone start the new school year off on the right foot! According to research conducted at Rutgers, The State University of New Jersey, the presence of flowers triggers happy emotions, heightens feelings of life satisfaction and affects social behavior in a positive manner far beyond what is normally believed. "Flowers bring about positive emotional feelings in those who enter a room," said Dr. Haviland-Jones. "They make the space more welcoming and create a sharing atmosphere."
Here are some creative ideas that you and your child can put together the day before school starts. Your child might be a little nervous about the first day of school and spending time with you; putting a floral or plant gift together for the teacher will relax them and get them excited about giving their new teacher such a beautiful gift.
How to make a pencil vase with flowers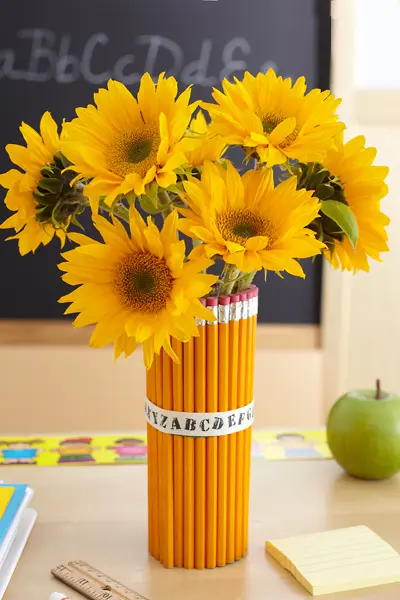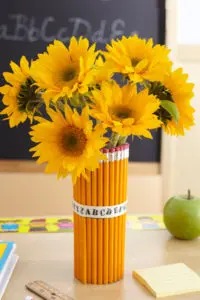 Can a teacher ever have too many #2's? This adorable vase is just a clear beverage glass covered with unsharpened #2 pencils. Place a rubber band around the glass and insert the pencils between the glass and the rubber band until the entire glass is covered. Hide the rubber band with a fun school themed or colorful ribbon. Add about 2 inches of water into the glass (easier for transporting), but make sure the teacher knows they should add more water as soon as possible to keep the flowers fresher longer. Sunflowers are perfect long lasting flowers, but you can use any flowers. Flowers picked from your garden are great too!
Garden fresh flowers for the teacher
Keep it simple and fresh by cutting a few stems of flowers from the garden and placing them in a mason jar. Bring your child into the garden with you and let him or her pick out the flowers. There's no right or wrong here — any flowers cut from a garden will look good together. I love this natural look! It reminds me of my grammar school days, when kids would bring flowers to the teacher. A few stems of garden roses wrapped with a little aluminum foil seemed to have magical powers for both the giver and the receiver!