I think the most interesting floral arrangements are the ones that are in a unique or unexpected container. You've seen the seasonal veggie and flower arrangements that I've posted recently and how great they look. So why not use old tin cans, bottles and more. Look around in your kitchen, garage, or attic – I truly believe that if it can hold water, it can hold flowers!
Even if the object can't hold water, you can always put a glass or plastic cup inside of it to fill with water. Below is one idea to get your started.
Be creative and just have fun with it!!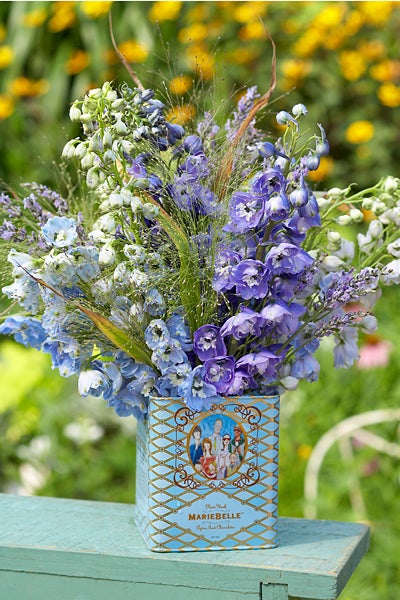 This is a container that I received as a gift from the luxury chocolatier, MarieBelle® New York. The container was filled with a delicious mix of Aztec Iced Chocolate. I loved the vintage look of the tin and the family graphic on the front. I knew that it wouldn't be long before it was on my kitchen counter filled with something from my garden. In the arrangement, I used beautiful blue hybrid delphinium to complement the blue of the container.
I'll be posting a few more ideas so check back in a couple of days!