The rose has been a symbol of love for thousands of years. And even though giving roses to someone to express your love is an age-old tradition it has never lost its power to touch the heart of the recipient. But does it always have to be given in the same age-old traditional way – a dozen red roses in a bouquet or in a vase? Do they always have to be red or a dozen? And can you or should you give roses to a guy?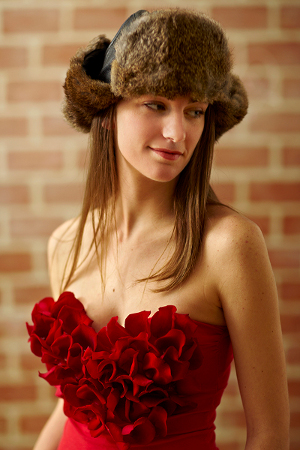 I posed these questions to some of my co-workers at 1-800-Flowers.com and found their answers both surprising and delightful! I hope sharing a few of them with you will inspire you to be creative in how you tell someone that you love them with roses this Valentine's Day. If you aren't up for a DIY, share your ideas with your local florist. Florists are talented artisans and will be more than happy to create a one of a kind expression of your love.
Carly, who is a Fine Arts major at the Fashion Institute of Technology, works part-time in our photo studio. She said that she actually has given roses to her boyfriend in the past – she left the bouquet on the hood of his car for a sweet unexpected surprise! This time she was ready to kick it up a notch!
DIY Heart Top Made of Roses
Carly's heart tube top was created with the petals of a dozen fresh red roses and glued right onto her red shirt! Of course this arrangement of roses won't last for a week but then again it doesn't have to! Another option is using fake petals should you wish to go that route.

Personalized Gift Ideas
Make sure he doesn't forget the effort and follow up with a desktop keepsake personalized with your photo and another fresh flower heart nestled inside. You can find personalized gifts like this photo box at Personalization Universe.
Valentine's Win Tip: Get Her Favorite Flowers
Maggie, one of our studio assistants, is a master gardener, garden designer, and beekeeper. Its no surprise that Maggie's rose of choice would be a garden rose. Maggie's husband would certainly hit the mark this Valentine's day if she were to wake up to the intoxicating scent of a rose garden in bloom. A few stems of these Romantic Antike garden roses simply placed in a vintage inspired Mason jar and placed on her bedside table would make Maggie a very happy girl!
Growing Pains: DIY Barb Wire Heart
I created this design for another co-worker who shall remain nameless. It was what I imagined after talking to him a little bit about how he might express his love. Unfortunately there have been a few times that he has given his heart to someone who did not return the gesture. For now he is trying to protect himself because sometimes love hurts.