In order to learn about the creative minds behind our handcrafted arrangements, we interviewed Ann Marie Pierce from Baldwin, NY who is featured in our Local Artisan Collection. From the daily life as a florist to some of the inspiration behind her arrangements, Ann Marie talks about her favorite holidays, arrangements, her family & more!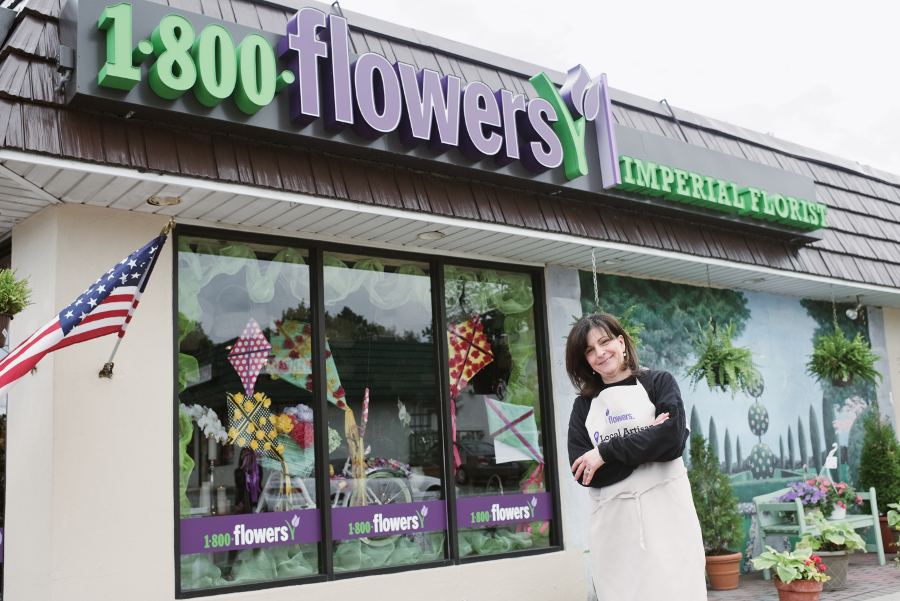 How did you get into the flower business and what do you love best about being a florist?
I always loved to be around flowers, so after realizing my initial career path in corporate America was not going to be my future, I began sweeping and cleaning flowers in a local florist on the weekends, and hence my new career evolved. Being a florist gives me the opportunity to make the flowers speak for my customers.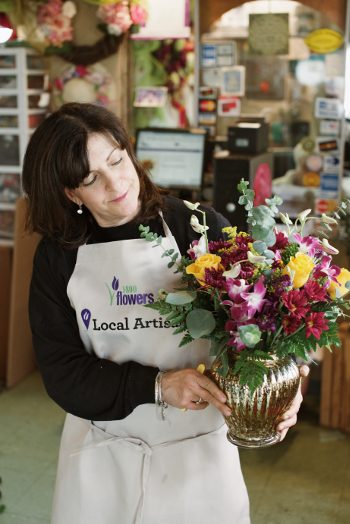 What are your favorite flowers?
I love the look and feel of a bunch of white daisies, but being around such an array of gorgeous flowers every day makes it hard to say "that's the one!"
Can you tell us a little bit about Baldwin, NY? What is your favorite thing about living there?
I moved to Baldwin 25 years ago, and living in the same town as my business motivates me to take an active role in this community. We are a diverse group of hard-working families that take pride in their neighborhood.
What has been the most rewarding experience during your florist tenure?
Having a long-lasting relationship with my customers from one generation to another has been a very rewarding part of my tenure. Having people trust you with the most important event in their lives, making their dreams become their fond memories.
What is the weirdest thing you have seen or experienced during your floral career?
I designed a Halloween wedding, complete with life sized witches and goblins. The dais was a coffin and cob webs and dust were on every table and crevice of the venue. Deep red roses were flanked with bones and spiders. The bride and groom were thrilled with the results!

What is your favorite floral occasion?
This is a tough question because each holiday has its own energy. As designers we get to change gears dramatically, using different colors, flowers, plants and containers to accomplish them.

What inspired you to design your local exclusive arrangements?
I design my Local Exclusive products based on my customers' reactions. There are certain designs I showcase in my shop and watch the responses. My customers love the decorative boxes, seasoned urns and natural materials we use in some of our pieces leaning on the farm-to-table "feel."

What is your favorite Local Exclusive design that you've made and why?
The Sunburst Bouquet. The deep colors, melded together by soft tones, brings this floral to life. Whether being delivered to a business or a residence, this arrangement fits anywhere.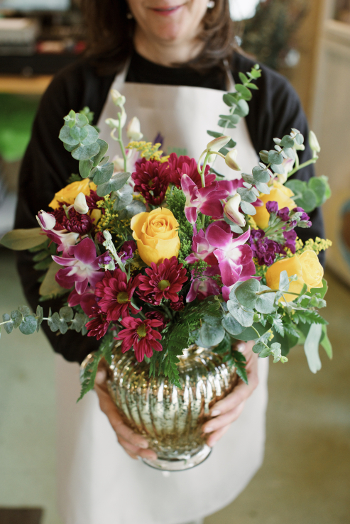 What do you love most about your local community?
Baldwin has many Civic and Religious Associations that reach out to people in need. I am happy to be a part of these organizations. It opens your mind to the needs of others. It's nice to see so many people come together to help the less fortunate.

What are some "Fun Facts" that your customers don't know about you?
I am shy…though most people don't perceive me as such! I am petrified of scary movies and my favorite color is black.

What makes you smile?
My family.