June is filled with celebrations, including graduation, Juneteenth, and Father's Day, but the entire month itself is also a celebration — that of Pride and the LGBTQIA+ community as a whole.
While Pride today is associated with parties and parades, the origins of Pride Month are anything but celebratory. The first Pride March took place June 28, 1970 in New York City, on the one-year anniversary of the Stonewall Uprising. This bloody riot occurred when New York City police raided the Stonewall Inn, a gay bar in Greenwich Village, and arrested employees and patrons. The conflict led to six days of city-wide protests and inspired gay rights movements worldwide.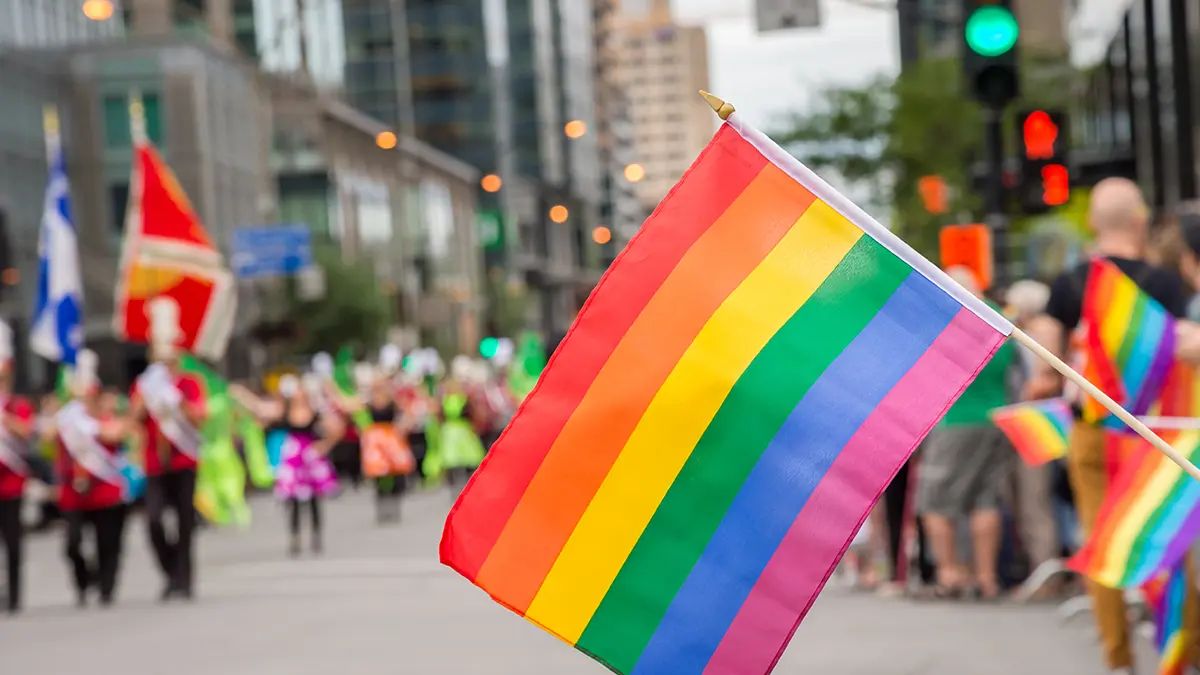 Over the past five-plus decades, participation in Pride events has swelled from those original 3,000 marchers to millions across the globe. Pride today takes place throughout June and is celebrated through parties, parades, education workshops, benefit concerts, and more.
Whether you personally identify with the LGBTQIA+ community or support it as an ally, you can show you care in many ways during the month. We spoke to Jackie Lacey, director of education and industry relations at the Floriology Institute, and the team leader for the 1-800-FLOWERS.COM, Inc. LGBTQIA+ employee resource group; and Sophie Mona Pagès, a queer BIPOC relationship expert, to share suggestions about how to celebrate Pride Month this June.
1. Educate yourself
If you want to celebrate Pride Month in the best way possible, it helps to know why it exists in the first place. "Look for education on the subject; learn why we even celebrate Pride," Lacey suggests. By gaining a historical perspective, he believes, you can give the month, and the cause, the respect it deserves. Pagès agrees. "Knowledge is power, and Pride Month is usually the perfect time to seek out information about the history of the LGBTQIA+ community," she says. "Make time to explore the information available and research all there is to find, as it helps celebrate the voices who made all this possible and those who are still trying to make it possible in their own contexts."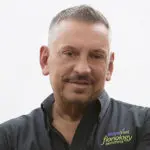 Sending others Pride-themed cookies, gift boxes, or rainbow roses is a great way to open the door for sharing education and embracing the Pride colors.
Jackie Lacey
Team leader, 1-800-FLOWERS.COM, Inc. LGBTQ+ employee resource group
2. Volunteer your time
One of the best ways to support the LGBTQIA+ community is through a gift of your time. "Whether you're a community member or an ally, there will always be places that need your help," Lacey says.
"LGBTQIA+ businesses, centers, and organizations are always in need of more support than they have, so look into where you can donate what you can. The community is maintained through our mutual support of one another, and that's one of the greatest principles to celebrate this month!"
3. Elevate LGBTQ+ voices
If you're an ally of the queer community, then use Pride Month as an opportunity to elevate the voices within it.
"Whether it's your favorite artists or that one queer-owned candle business whose TikToks you can't stop watching, take this month as an opportunity to share and celebrate members of the community," Pagès explains. "It doesn't matter what following or influence you have or whether you're going to share it with one friend or everyone in your circle — offer them the gift of being seen!"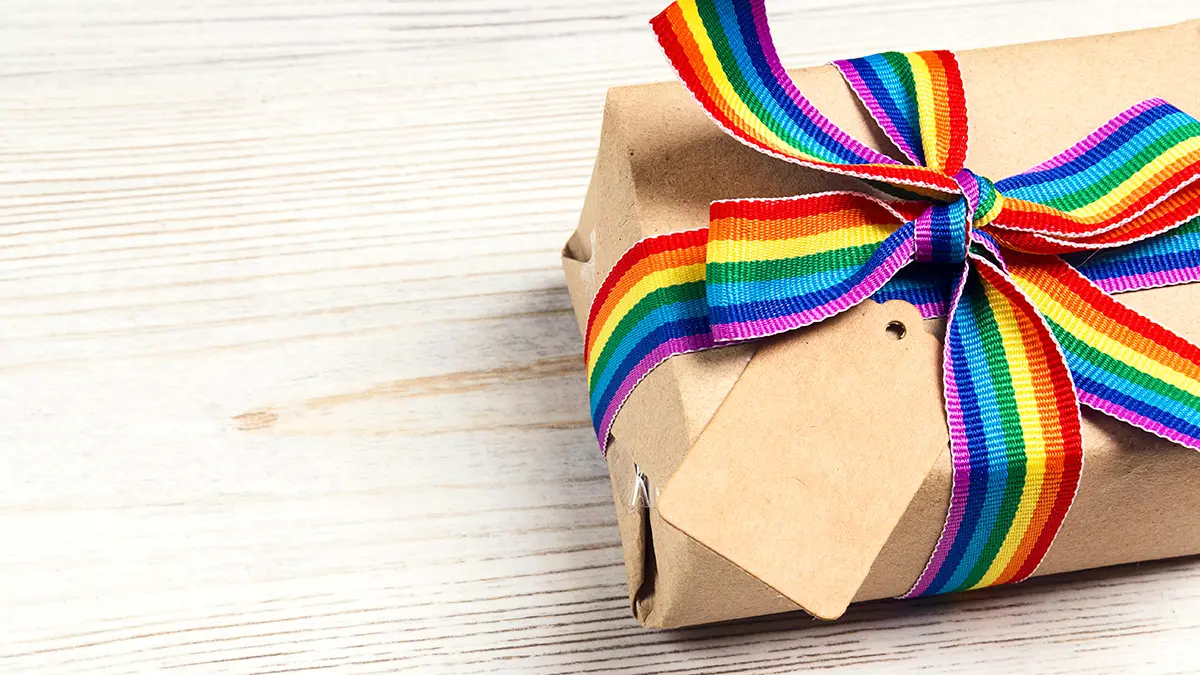 4. Send Pride-themed gifts
Don't let the distance from LGBTQIA+ loved ones prevent you from celebrating Pride. Consider mailing a gift to make someone smile. "Sending others Pride-themed cookies, gift boxes, or rainbow roses is a great way to open the door for sharing education and embracing the Pride colors," Lacey says.
This is an excellent opportunity to get creative and tailor each gift to the recipient's taste. Maybe a punny Bee-themed support box will be appreciated, or a Love Yourself personalized blanket.
5. Put on a fundraiser
Pride Month creates the perfect opportunity to support causes that matter to the community. If you want to make more than just a personal contribution, consider putting on a larger fundraiser. Lacey suggests starting an LGBTQIA+ art drive.
Creating an art drive, he explains, can directly benefit the LGBTQIA+ community, as every purchase made provides something that others can appreciate and use. "Many of those that identify as LGBTQIA+ members are very artistic and creative," Lacey says. "Art shows allow an opportunity to share stories about the artist and create awareness within the communities they are part of." Top donors could receive a Pride-themed token of appreciation, such as a rainbow-hued circle of friends soapstone statue.
Social media makes it easier than ever to connect with the larger community to find potential participants. Or, plug into an event that's already taking place in your area. "Here in Jacksonville, Florida, there is an opportunity every first Saturday during the summer months for artists and farmers to rent a booth and sell their creations," Lacey says. "You could easily coordinate a group of artists to sell their work and maybe even have some proceeds go to an LGBTQIA+ community group."
6. Host a party
Despite the historical hardships that Pride Month commemorates, June is a time for celebrating the diverse LGBTQIA+ community, Lacey says.
"I recommend you host a Pride party in your space for LGBTQIA+ youth or adults," he says. "Embrace the rainbow and join some friends for your own Pride night." You can keep things feeling festive with Pride-themed snacks, such as popcorn, cake pops, and cookies.
And if you don't all live near one another, make it a virtual party. "The internet makes it possible to see your loved ones at the click of a button," Pagès says. "Take this opportunity to organize a little event online where members of the LGBTQIA+ and their allies can get together and have some fun.
"The possibilities are literally endless! You can binge LGBTQIA+ movies, look up and sign petitions relating to LGBTQIA+ issues, share your stories, wins, and dreams, or have a dance party."
---