Choosing wedding flowers is a big decision! In addition to selecting the color and types of flowers, you have to decide how many flowers you want to use, whether you want to include flowers in your centerpieces and whether to go over the top or stick with simple floral arrangements.
When it comes to choosing wedding flowers you may want to consider: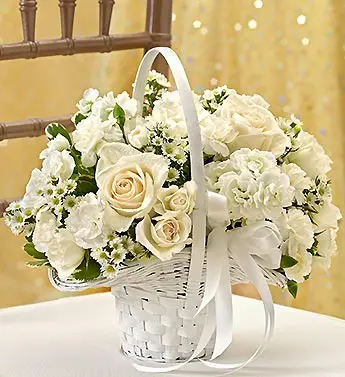 * The season you'll be married in
* The location of your wedding ceremony and reception
* Your wedding color scheme and theme
* Your wedding decorations budget

Matching Seasonal Flowers to Fit Your Wedding Season
The season you're married in may dictate the color, the type of flowers chosen and the number of flowers you use. During a fall or winter wedding, you may decide to go heavy on seasonal flowers and natural accents such as dried grasses or baby's breath, but a spring or summer wedding may call for opulent blooms and tropical splashes of color. While white is always a popular winter wedding color, adding in bold touches can be unexpected and breathtaking. Holiday wedding bouquets that include bold crimson to softer baby blue and white flowers can be a stunning choice. If your wedding is later in the winter floral arrangements in cool blue and ivory tones are understated hint that spring is near.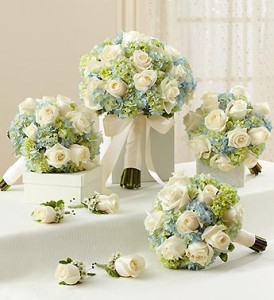 Matching Wedding Flowers to Your Wedding Venue
Whether your wedding will take place indoors or outside may affect your choice of wedding flowers. A banquet hall is often like a blank canvas that can require large, striking blooms that cascade over the wedding centerpieces and fill the space with beautiful colors and aromas. If you're getting married in a garden, perhaps you'll choose your favorite wildflower as the showstopper and add a few different blooms to the corsages, bridesmaid bouquets and boutonnieres.
Wedding Flower Color Ideas
Regardless of the season and the location, you may have your heart set on a particular color scheme for your wedding. Remember, however, that flowers grow naturally in a variety of colors. Instead of trying to match the flowers to the exact colors and tones of your bridesmaids' dresses, consider selecting complementary or contrasting colors for the flower arrangements.
Wedding Flower Budget Ideas
If your budget is preventing you from selecting the type of flower you have your heart set on, think about ordering the bridal bouquet in your favorite flower but using a variety of less expensive flowers in similar colors for the bridesmaids' bouquets and the party centerpieces.