The series "Flowerside Chats" showcases expert advice on celebrating the seasons with flowers, friends, and family. In the premiere episode, Alice Lewis of Alice's Table and Amanda Gluck of Fashionable Hostess discuss how to have the perfect autumn celebration and holiday celebration tips.
Finally! After a year-plus of FaceTime and phone calls, we can break free of our bubbles and pods and spend the holidays with actual people — you know, our friends and family. Remember them?!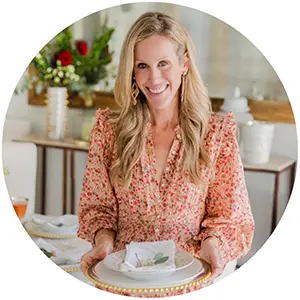 I love being able to set rich colors on the table … there's so much fun to be had during the season.
Amanda Gluck
Fashionable Hostess
COVID restrictions have been loosened, but we all want to stay safe while we gather, so we invited two of our favorite entertaining gurus to share decorating ideas and strategies to make this holiday season especially memorable. The first episode of "Flowerside Chats" featured Alice Lewis, CEO of interactive online workshop provider Alice's Table, and Amanda Gluck, creator of Fashionable Hostess. The event was hosted by 1-800-Flowers.com's social media manager, Mia Matacchiero.
It's not surprising that a conversation about this season of holidays started with family.
"Get out the cozy sweaters, start putting the comfy blankets on the couches. That moment symbolizes bringing my family back together, having those gatherings around a big bowl of chili and getting ready for the holidays," Alice explained.
Amanda agreed: "I love being able to set rich colors on the table and have really festive themes for each of the meals for all the holidays — from just fall dinners to Halloween and Thanksgiving, there's so much fun to be had during the season."
Extra-level excitement for a seasonal gatherings
This year there is even more excitement about bringing people together since we've been locked down by the pandemic for so long. (Fresh conversation! Hugging Aunt Faye and the twins!)
Matacchiero pointed out that in-person gatherings still seem a big step: "We were virtual before, and I think a lot of people may be hesitant or have anxiety around getting family and friends together again." Both Lewis and Gluck suggested ways to be sensitive to everyone's concerns about gathering.
"If you are able to, I highly recommend putting your table outside," Gluck said, mentioning that the CDC still recommends people gathering outside. "If it's not too cold, you can create a really fun fall display with cozy blankets on everyone's seats and maybe plaid pillows."
Setting the scene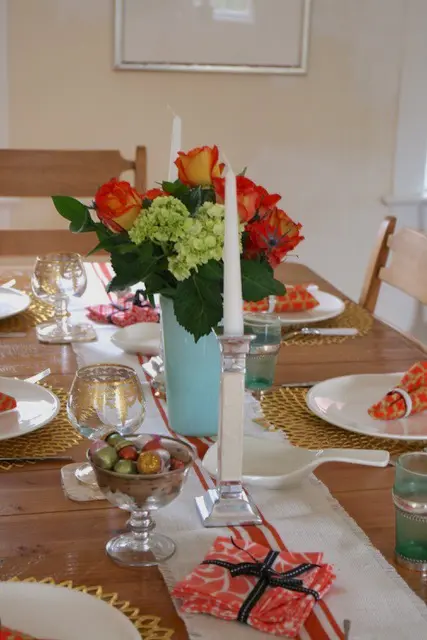 Once you have the scene set outside, Gluck said, "You can really just work off the landscape around you and use garlands and greenery and your centerpiece to tie back to that. If it's family and you are going to be inside, a really fun thing I've done is to create individual charcuterie boards."
This approach cleverly sidesteps the issue of many (possibly germy) hands sharing one platter. "Rather than creating your big cheese plate, we have little boards for each guest or family," Gluck said.
In a similar vein, she suggested creating a bar station where everything is displayed so guests can help themselves — "less room for germs to spread, and a little bit more peace of mind," she explained.
Lewis agreed and offered another idea if you have the space: "You can create different little tables for each pod sitting together." For a larger, casual get-together, she says, "We do it buffet style, some people sitting on the couch, some sitting at a table. I think we're all so happy to be together that just a little bit of distance isn't going to ruin the times."
Seasonal party ideas
The experts also shared fall decorating trends. "This season I'm really thinking about entertaining consistently," Lewis said, and that involves picking long-lasting blooms like mums. "Just bring those golden red colors into your home, but also think about the longevity of the bouquet. She loves mini sunflowers and added, "Sunflowers should last about three weeks if you buy them when their heads are faced forward."
Lewis also had tips for cutting flower stems. "With all flowers, we want to cut a 45-degree angle. We want to increase surface area, and you don't want a flat stem on the flat bottom of the vase — you don't get any water," she said. "When you receive them, cut about two inches off — the longer flowers are out of the water, the bigger a scab grows, and if you don't cut that whole scab off, they're not going to hydrate and last a long time."
Another cool tip: Use plant food — it's a sugar and a preservative, so it kills bacteria and feeds your flowers. Don't have any? Use vodka! "Seriously, a splash of vodka, and you're good to go," Lewis said, with a grin.
Be a giving guest
Matacchiero asked both experts about the best way to thank your host.
"You can send ahead an arrangement and let them know their centerpieces are covered or that some beautiful flowers will be there, so that's so convenient. I love that they have same-day delivery and so many seasonal options," Gluck said.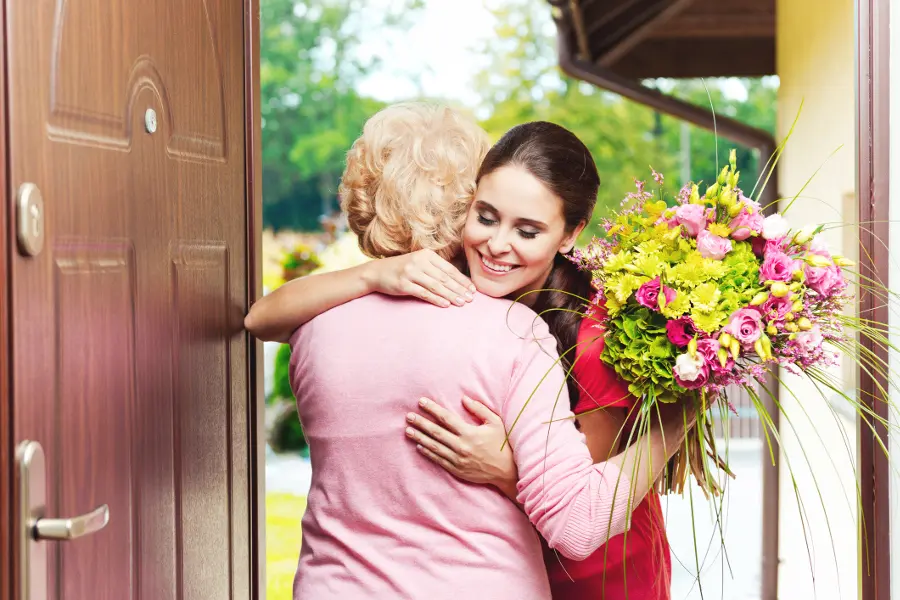 Gluck likes giving dessert. She said she loves sending seasonal chocolate-covered strawberries. "Or I ask, 'Can I bring dessert? Can I bring fruit? Can I bring the wine?'" she said. "Sometimes they're like, 'No, please just show up' — so then I'll send flowers.
"Or this time of year," Gluck suggested, "you can come up with something seasonal. I love copper mugs for making Moscow mules (my favorite cocktail!). You can do a couple of seasonal cheeses, like a pumpkin cheese, maybe with a really nice cheese knife."
Lewis said it's tough to carry gifts when you're traveling for the holidays. "That's why I love being able to send something in the mail. They maybe get it a day or two before you come in, and they're so appreciative when you get there."
And let's face it: The holiday season is all about showing people our appreciation and how much they mean to us, whether it's donating to a local foodbank or shelter, or inviting friends and family to celebrate together.
Matacchiero summed up the mood of the times perfectly:
"It's always the little things in life that we come back to. I think we all get swept away in our job and our daily life and our small worries that we make so big, but [at holiday time] we are able to get back to the people you love and the great weather and everything you really do," she said.
"Take that sip of hot coffee on a chilly morning, and you're like, Wow, I'm thankful for this moment, that I'm healthy and I'm here and I'm able to really live in it."
We'll raise a glass to that!
---