The thought of Valentine's Day may fill you with dread if you're in a long-distance relationship. No one wants to watch those around you get showered with love when you live far away from your partner.
You don't, however, have to let the distance get between you.
"Long-distance relationships can work — really! — especially when both partners are on the same page about communication and use technology as a tool to have quality time together," says Lisa Concepcion, a certified love coach and the founder of LoveQuest Coaching.
"In the era of texting and video calls, there's something so authentic and lasting about a handwritten card or letter.
Lisa Concepcion
Certified love coach and founder of LoveQuest Coaching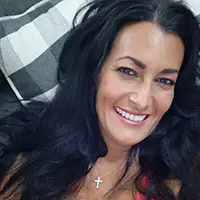 "Ideally, people who are interested in remaining in long-term relationships are on the same page about living separately," she continues. "But, ultimately, the goal of relationships is to be in one where you're together more than apart."
If you are in two different places permanently or for long stretches at a time, then you need to find regular ways to reconfirm your commitment to each other — and Valentine's Day offers a unique opportunity to do just that.
"Long-distance relationships require effort and creativity," Concepcion elaborates. "So, be a team and talk about how you want to celebrate Valentine's Day while apart. Make sure you plan ahead — that's an important way to keep the relationship going."
Need some inspiration? Here are seven ways to nurture that spark from afar this Valentine's Day.
1. Plan a virtual dinner date
Don't let distance prevent you from dining together as a couple. "If you can't be together for Valentine's Day, you can still plan a 'digital dinner date,'" Concepcion says. "In fact, many of my clients who are in long-distance relationships connect for coffee breaks via video, go walking together while on the phone, and have dinner together through video chat."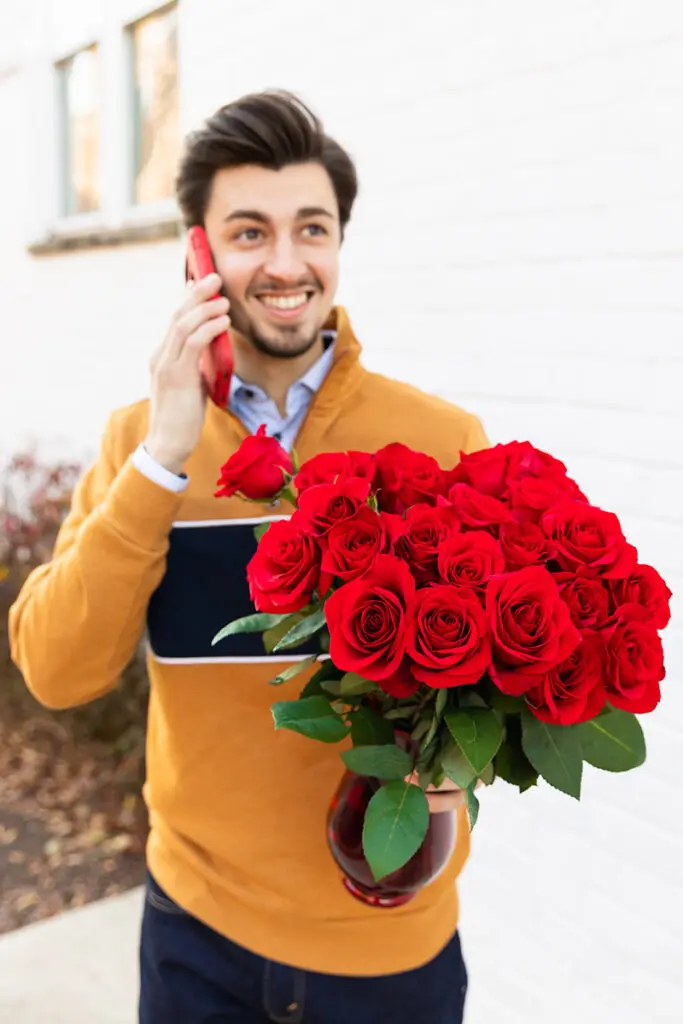 You can increase the sense of intimacy by enjoying the same meal. Make a shared favorite recipe, perhaps, or opt for a luxury experience with a delivered dinner like lobster pot pies or a hearty lasagna.
Make dinner more memorable for the holiday by exchanging gifts beforehand. You can ship a Valentine's Day bouquet directly to their door and have them wait until you're both on a video call to look at the blooms so you both can enjoy them in real time.
2. Have a long-distance spa day
It's possible to pamper each other even when you're hundreds of miles apart through an at-home spa day. This Valentine's, indulge in a long video call as you relax together with facial masks, while taking bubble baths with the same scented body wash, or even after both enjoying a "couples" massage at spas near your homes.
Enhance the cozy and connected feeling for both of you with matching spa accessories, such as personalized fleece robes and plenty of candles.
3. Celebrate for multiple days
When you're not meeting in person anyway, there's no reason to limit the long-distance Valentine's Day celebration to just one day. Concepcion has seen some couples get extra creative with daily gifts.
"I had a client hide 14 love notes around his long-distance girlfriend's condo. He lives in New York, and she lives in Miami. On Feb. 1, the day he left for a month-long work project in Spain, he told her he had special love notes hidden and to photograph them each day when she finds one. Then, on Valentine's Day, he surprised her with gifts of flowers, delivery from her favorite restaurant, and a card that included his travel itinerary to Miami, where they would spend a week together after his work project ended."
There's no need to go overboard in the present department, though. Think cute and quirky, like a mini heart puzzle, romantic photo Rubik's cube, or keepsake magnets.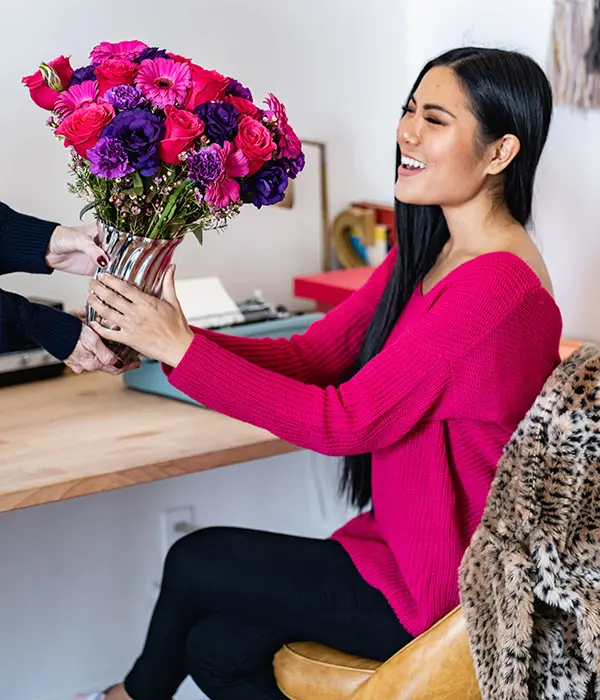 And don't underestimate the value of gifting an old-fashioned letter. Says Concepcion, "In the era of texting and video calls, there's something so authentic and lasting about a handwritten card or letter."
4. Send a surprise gift to their work
If possible, send your long-distance Valentine a gift where they will receive it publicly. That way, they'll have a moment to feel proud of your relationship even if you don't get to spend time together physically. A workplace gift is a perfect opportunity for something indulgent they can choose to share (or not!) with lucky coworkers.
Consider chocolate-covered strawberries, chocolate-dipped cheesecake bites, heart-shaped cookie "flowers," or truffles. If the apple of your eye doesn't have much of a sweet tooth, then a basket of flowers and fruit will be a welcome surprise.
5. Share fun or romantic photo gifts
Ensure your face is never far from your lover's mind with a cute or romantic photo gift.
Get creative with how you use the photos. Maybe a canvas print of your favorite photo together for their living room, or go the steamier route and select a boudoir shot to display in the bedroom. A cozy throw blanket that depicts a smiling selfie of the two of you on a date will always be appreciated, or even a set of matching mugs with goofy candids of each of you.
6. Meet halfway (literally)
Your relationship may be long distance, but you can make Valentine's Day the exception. "Make plans to see each other," Concepcion says. "Make this part of the fun! Maybe you can both meet in a city between where you live or a city with the cheapest air tickets and accommodations. You're already being adventurous — go anywhere!" The final destination is less important than getting to spend quality time in person.
7. Enjoy an online event together
Take advantage of Valentine's Day as an opportunity to learn a new skill together — even if it needs to be virtual. There are classes for everything from arranging a gourmet charcuterie board with a James Beard Award-winning chef to making a floral heart wreath. You'll get all the necessary supplies shipped to (both) homes beforehand, ensuring the session is a stress-free and stimulating experience for the two of you.