Get ready to be inspired! In our series, "Your Trusted Cupid," we feature thoughtful gestures to memorable date night ideas. In this piece, read about the marriage proposal stories of four couples that will hopefully inspire your relationship.
A marriage proposal is more than getting down on a knee and snapping open a velvet-lined box to present a ring you paid two months of your salary for. Asking your loved one to spend your life together as a married couple is an unforgettable event that should include a thoughtful mix of romantic and intimate details. Here, we share four stories of inspirational marriage proposals.
An unexpected holiday bonus
As the mastermind behind refurbishing homes by starring on HGTV's Hidden Potential and HELP! I Wrecked My House, Jasmine Roth knows about planning details that achieve spectacular results. Little did she know that the tables would be turned when her then-boyfriend, Brett Roth, created the script of their memorable marriage proposal.
This marriage proposal story begins on Christmas Eve back in 2011, and Jasmine recalls how strange Brett had been acting. When he woke her up early Christmas morning to go outside, Jasmine became extra bothered.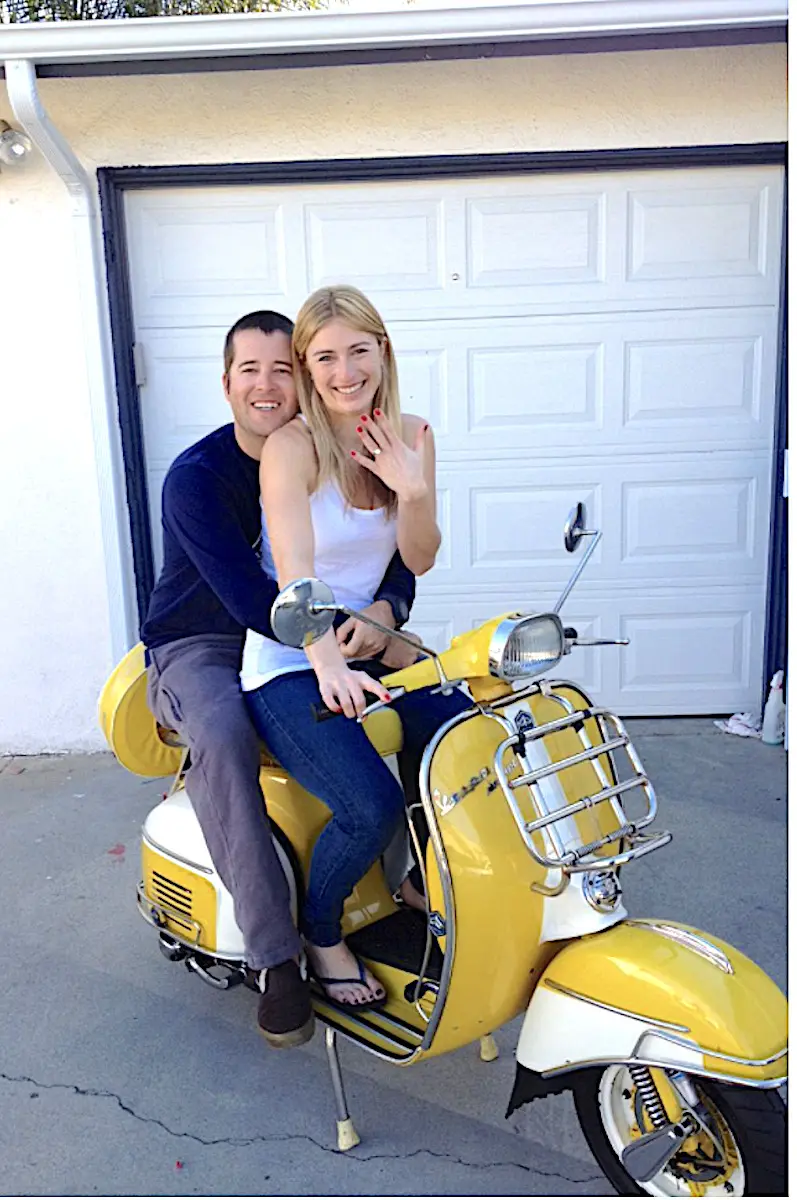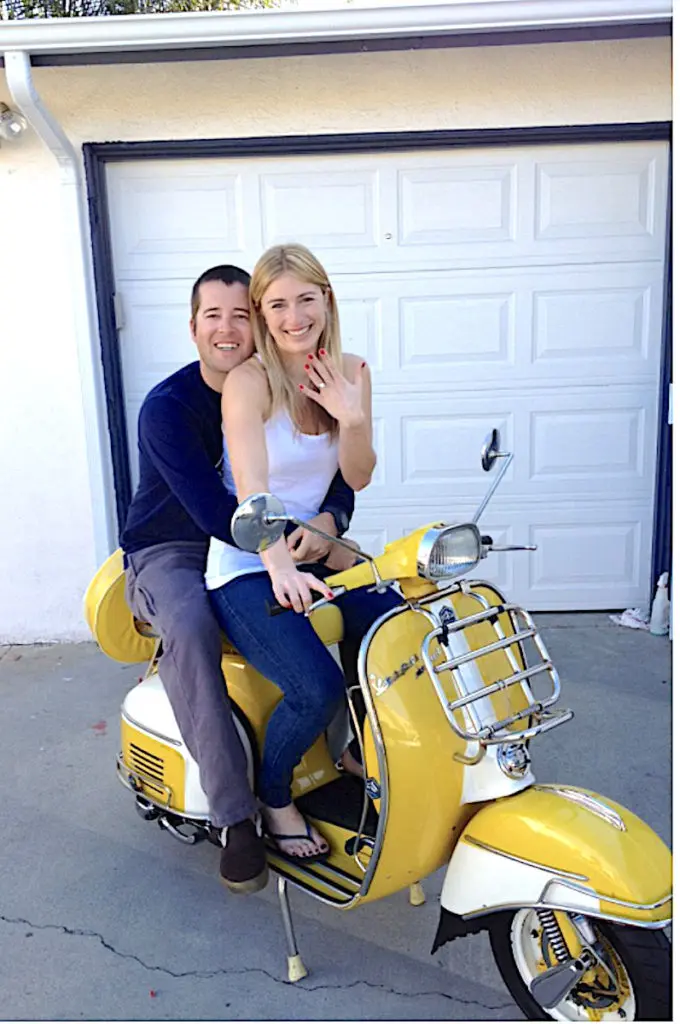 In the holiday spirit, she pulled herself out of bed and walked outside. As her eyes adjusted to the bright morning light, she had to shake herself into belief at the sight of a bright yellow vintage Vespa parked where her car should have been.
"No way, this is the coolest!" she yelled, causing their neighbors to watch over the event from their balconies. While she ogled the Vespa, her eyes narrowed to something sparkling under the seat. There, hanging from the keyring, was a diamond ring. Roth shouted, "What?!" and asked if he was serious, crying so much that her nose bled.
"That's right, leave it to me to ruin what should have been the most romantic moment of my life with a nosebleed," she says. "Brett rushed over to me, and we had to go inside and stop the bloody nose while I laughed and cried at the same time. Then we went back outside, and he got down on one knee and asked if I would marry him."
There, clad in pajamas in the driveway with the neighbors overhead as witnesses, Jasmine Roth said yes. "We went inside and called our families, but not before we snapped a photo on the Vespa with the ring on my finger," she says.
A couple's greatest hit
Jason Stahl, the editor of Harry & David's The Table, was inspired by the big screen when he created his proposal to his wife Theresa. Err, sort of.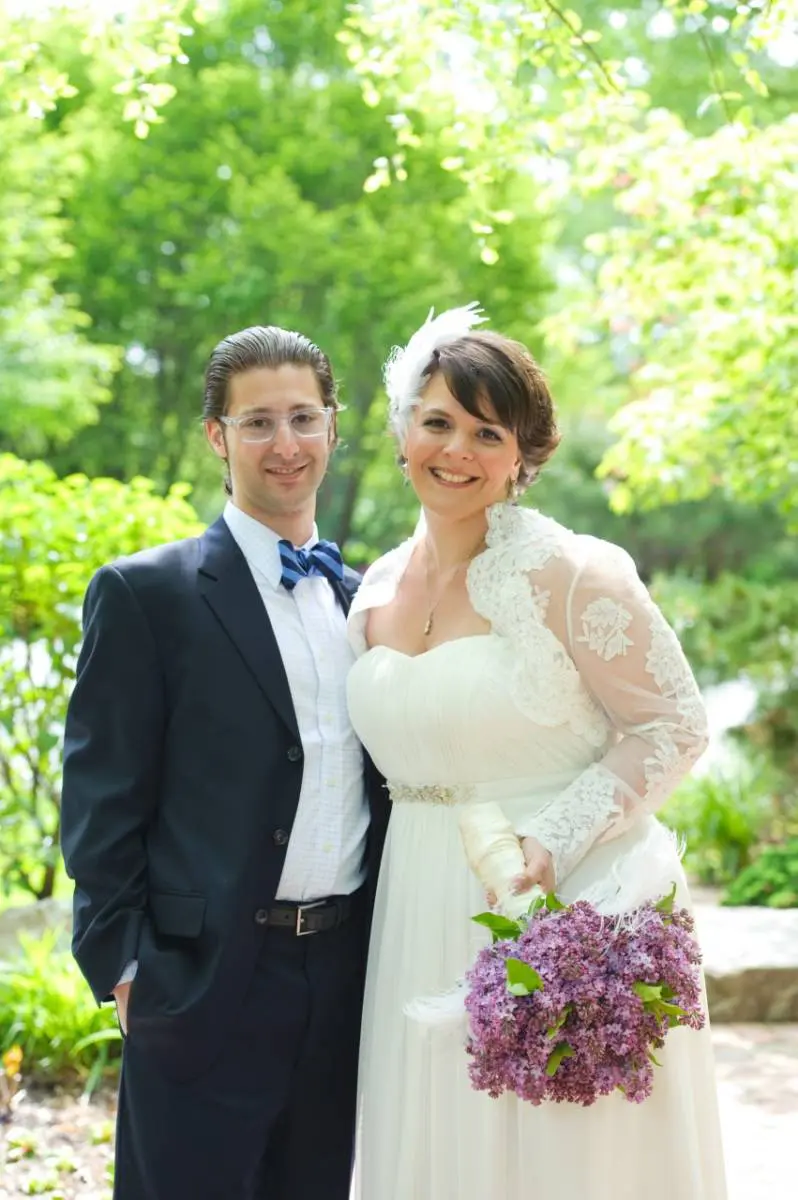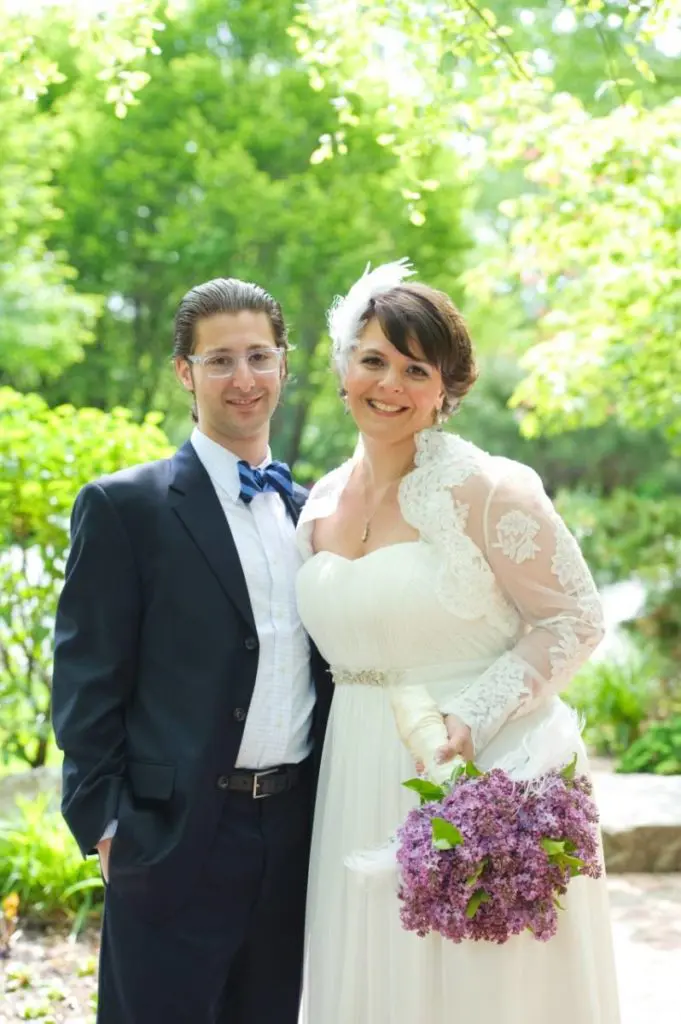 "We were going to see Super Diamond, which is a Neil Diamond cover band. I always laughed at seeing public proposals on the Jumbotron at sporting events, but thought this one would be less embarrassing," he recalls. Stahl reached out to the band's manager, who confirmed that such proposals happened quite frequently at Super Diamond concerts. Stahl gave the manager their names, Theresa's favorite Neil Diamond song, "Holly Holy," and secured the ring, which was designed by a close friend. At the dinner beforehand, Stahl struggled to eat his meal and felt uneasy carrying around such an expensive ring.
They arrived at the concert in New York City's Gramercy Theatre, and Stahl prevented Theresa from hugging him from behind for fear she'd feel the ring box in his sports coat. "I played it cool, saying I was still battling a cold from earlier in the week and didn't want to be touched," he says.
"An hour into the show, the lead singer stopped the music and started calling my name – he was supposed to call her name. Theresa heard it and wondered what was happening," he recalls. "I waved to the stage acknowledging my cue. I reached into my jacket pocket, turned to her, dropped to my knee, and said, 'I want you to be my diamond girl forever.'"
Now euphoric, his fiancée responded with an emphatic yes, which was almost enough for Stahl to forget to slide the ring on her finger. Upon the consummate kiss, they danced to "Holly Holy."
Timing isn't always everything with marriage proposals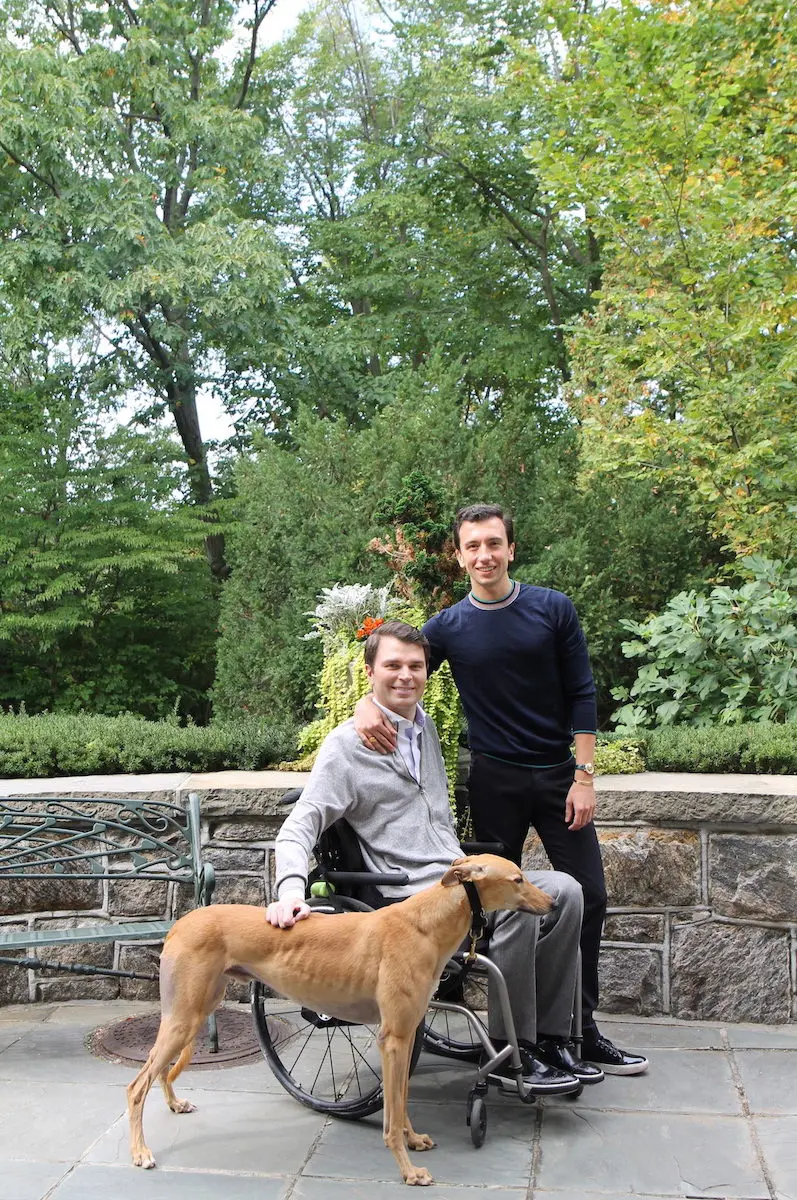 Being stranded in an airport on Jan. 30, 2020, could not be more inopportune for Alberto Mihelcic-Bazzana. It was one of the only times he was separated from his boyfriend, Francesco Clark, who is the founder of Clark's Botanicals skincare. He called Clark to say that he did not want to cancel their dinner plans for the following evening. Unbeknownst to his boyfriend, Mihelcic-Bazzana intended to propose.
The delay happened due to four consecutive canceled flights from Alberta, Canada, to New York. (Mihelcic-Bazzana works in finance and sustainable energy and was in Canada for business.) He spent his time in the airport following flight updates and watching the news with talk about this new coronavirus.
Mihelcic-Bazzana's inner turmoil mounted because the proposal needed to happen on Jan. 31, which is the birthday of Franz Schubert, his favorite composer. (Mihelcic-Bazzana is also a former professional cello player.) Adding to the tension, he awoke from a nap in the lounge and couldn't find the handmade petrified engagement rings he had designed for Clark and himself. In a frantic search, he found the rings in another seat.
The flight departed with enough time for him to return home and take a shower, go to work, and meet Clark at a restaurant the couple had never been to. During the meal, Mihelcic-Bazzana explained how that day was important to him not only because of Schubert's birthday, but because he was with the person he wanted to spend his life with. As he said this, he presented the rings. "We spent the rest of the unusually warm night laughing and talking as we strolled through Central Park. I am very lucky," Clark says.
Oh what a ride
Early in their relationship, financial adviser Daniel Fleming took his girlfriend, marketing manager Alysha Rene Fleming, to a jewelry store and asked what kind of ring she would like. For years after that reconnaissance trip, engagement rings and marriage were not discussed. "I suppose it was just kind of known it would happen one day."
All of that changed on a chilly February day. Alysha was enjoying a day of binge-watching "Top Chef." Daniel returned to their home after taking their dog for a walk. He asked if she'd be interested in going on a gondola ride. Her initial thought was that they lived in San Diego, not Venice, but soon discovered gondola rides were offered at the nearby Hotel Del Coronado. Alysha felt unmotivated until thoughts of wine and fresh air enticed her. "Since Daniel is always planning romantic outings, trips, buying flowers, and gifts, I thought nothing of this," she says.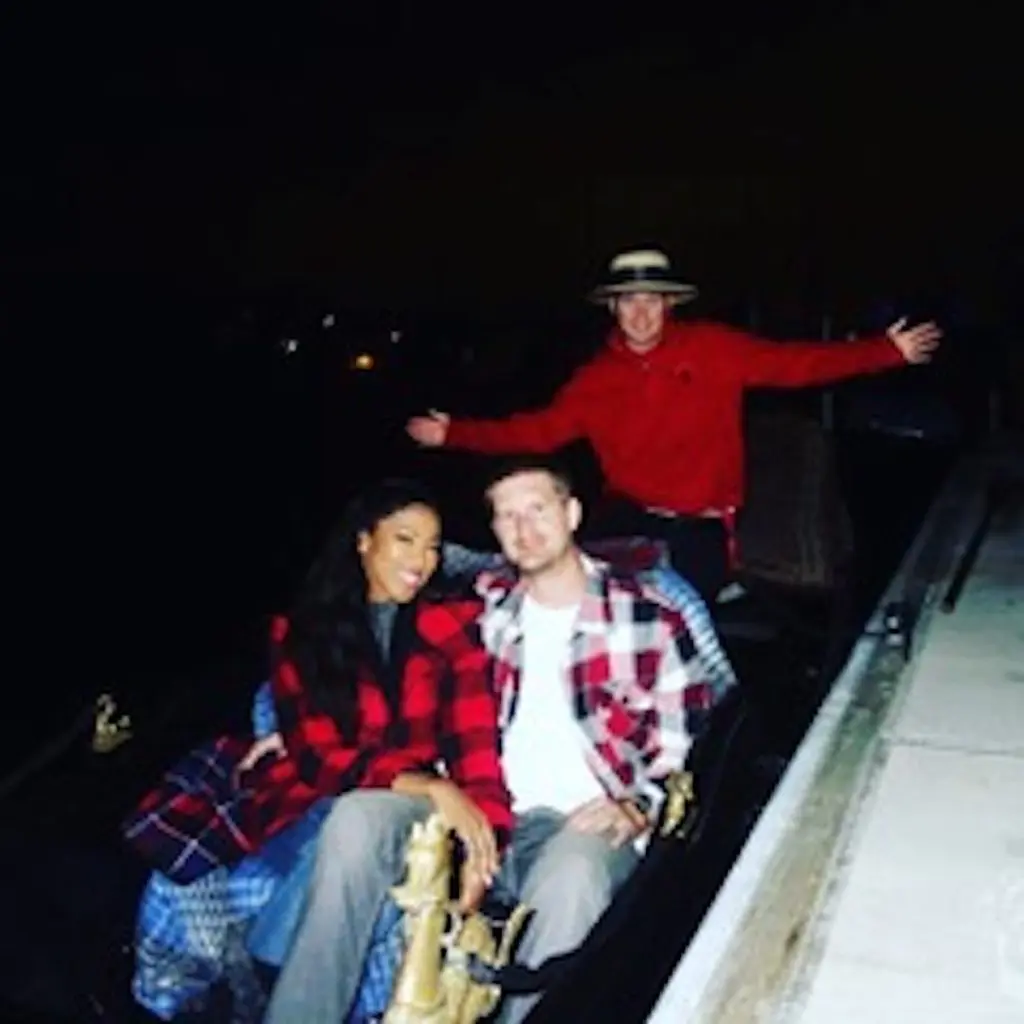 At the gondolas, she was preoccupied with taking Snapchat videos. Once they were on the boat, Alysha felt so in the moment, she shared with Daniel how romantic the evening was and they didn't need to be married. She was happy. "We just have something really special. Marriage doesn't define it for me," she says. When the ride ended, she suggested going out for a casual dinner. Daniel recommended the hotel restaurant, which she had always wanted to try.
Inside, he detoured from the restaurant and headed toward the hotel's front desk, pretending they had a room. Alysha protested. She chided him on the silliness of it all, but he ignored her. The clerk interrupted their banter to say their room was ready. In shock, she assumed it was an early Valentine's Day surprise.
"We had talked about Valentine's Day the week prior and how much I love the holiday, how we've never really done anything big for it," she says. Still unaware of any idea of a proposal, Alysha realized they had no clothes, and their dog needed to be cared for. Daniel assured her that he had it covered.
Alysha returned to Snapchat, where her friend, the same person who predicted that Daniel would be her husband messaged, said a proposal was imminent. When they reached their room, Daniel asked Alysha to open the door, which further confounded her. Upon entry, she discovered a path made of rose petals. She still thought it was part of a Valentine's Day surprise. Daniel instructed her to follow the path, which led to "Will You Marry Me?" written in rose petals on the bed.
"I drop my phone and purse on the floor and turn to Daniel, and he's on one knee and asked me to marry him. Jason Mraz is playing in the background," she says. There was champagne, chocolate-covered strawberries, and roses on the desk. The moment couldn't be more perfect.
---