1-800-Flowers.com is excited to team up with lifestyle and events brand, Alice's Table, to engage customers through fun-filled experiential and immersive floral workshops.
Perfect for connecting and celebrating with family, friends and coworkers, the 1-800- Flowers.com + Alice's Table workshop collaboration offers an exciting schedule of virtual floral arranging events, with design themes that change seasonally. During these interactive workshops, guests learn, step-by-step, how to create a beautiful bouquet with a talented Alice's Table floral host.
We were lucky enough to chat with Alice's Table Founder Alice Lewis to get more information about her awesome workshop program.

How did this collaboration come about?
Since our start, it has been my dream to secure a consistent nationwide floral supply that both supports our business owner's growth and allows us to provide our customers with a best-in-class experience. So, I reached out to 1-800-Flowers.com CEO, Chris McCann, to explore the opportunity of collaboration. Chris welcomed the conversation and has been such a pleasure to work with. Seven months later, here we are! We are so excited to be working with the 1-800-Flowers.com team on this workshop collaboration, and if you know me at all, you know that I always have the next thing up my sleeve!
Tell us all about the Floral Workshop Collaboration.
Of course! Together with 1-800-Flowers.com we are bringing fun-filled virtual and live floral workshops to customers nationwide. Each guest is provided with a floral arranging kit, which includes beautiful farm-fresh flowers and a stylish vase. You will then learn step-by-step how to create a beautiful seasonal arrangement in an interactive workshop. The majority of our workshops are taught by one of our talented Event Execs, but I am excited to be hosting public virtual masterclasses if you are looking to take your skills to the next level!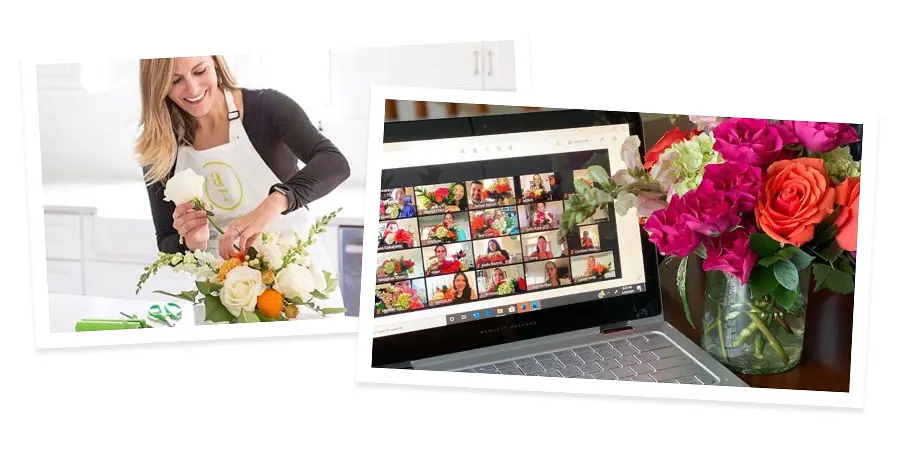 We also offer private workshops – think bridal showers, birthdays, corporate events – where guests gather (virtually or in person!) to connect, create a beautiful arrangement step-by-step with a floral expert, and enjoy all the fun of an Alice's Table workshop in an intimate and customized setting.

Can you tell us a little about your collections and what we can expect in the next few months?
Each season we release a new floral recipe collection featuring seasonally-inspired color palettes and florals. This year our collections have been inspired by some of my favorite international trips and the rich culture of each location. Our current collection, Summer In Mexico, features bright and bold florals with a tropical flair – an all-time favorite of mine!
In August, we will be launching our Fall collection. While I can't let you in on the collection theme just yet, it will feature a much richer and moodier color palette, with completely new textures and aesthetics.
Amazing! How can readers join an upcoming workshop?
You can sign up for an upcoming virtual or in-person event here! Workshops are selling out fast, so I recommend signing up soon – you can never have too many flowers or girl's nights in your life, right?