We call them milestone birthdays for a reason: They are, indeed, an occasion to recognize and honor someone for the person they are and everything they've accomplished. And when a senior is about to turn 70, 80, 90 — or anywhere above or in between — it is the perfect opportunity to celebrate.
"The memories you'll have from a birthday party are ones you'll have forever," says Liz O'Donnell, author of Working Daughter: A Guide to Caring for Your Aging Parents While Making a Living and founder of Working Daughter, a community for women balancing eldercare with their own families and careers.

To help you plan a memorable event for a parent, grandparent, or any elder who means the world to you, we've compiled a list of 10 birthday party ideas for seniors.
1. Consider what type of party the honoree would like
"I hear this all the time: 'I really want to create this memory for my mom' or 'I really want to make up for lost time,'" O'Donnell says. "But is that what you want or is that what they want?"
Getting input from the senior of honor is the best way to figure out what kind of party to have. For example, maybe they would prefer a large event with friends at a restaurant. Or perhaps their preference is for a small gathering with close family members at home. The easiest way to find out is just to ask. Which brings us to our next point…
2. Forget the surprise
Although a surprise party might sound tempting, O'Donnell warns against it. She explains that getting seniors to and from a location can take more time than you realize. Plus, "you'll want to give them as much time as they need to show up and be at their best," she adds.
3. Think about the timing
Early afternoon is often the time when many elders feel their best, and a weekend event allows guests to attend.
How long should the party last? The answer depends on the health and well-being of the honoree.
Regardless of the timeframe you choose, these personalized invitations will convey all the details of the big day to your guests, and do it warmly.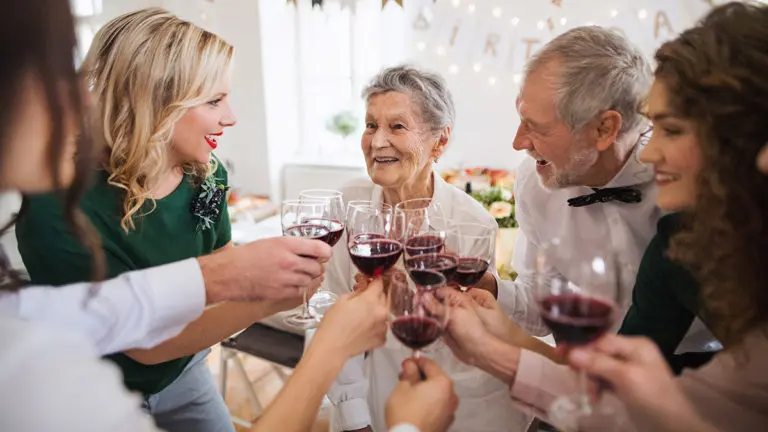 4. Select the right location
Since every senior has different physical abilities, the party location should meet their needs for safety and comfort. Some seniors will welcome the chance to celebrate at a restaurant or community party room, while others will feel more at ease in a familiar environment, such as their apartment or the home of a relative.
5. Choose a theme
A party theme gives guests a direction for gifts, and it takes some of the creative pressure off you as the planner. A theme also helps you celebrate one of the honoree's special interests. Here are a few ideas.
'50s sock hop
'60s Top 40 songs
Vintage cars
Hollywood hits
Travel (focusing on places the honoree has visited)
Historical facts or trivia
Add to the fun by getting them a personalized oversized greeting card that includes information from their birth year. You also can gift the honoree a vintage-looking coffee mug that features their age, birth year, and a personalized greeting.
After you've chosen your theme, it's time to incorporate it into the decorations. Movie posters, album covers, vintage sports equipment, photos, travel posters, and retro game boards all can be part of creating a fun atmosphere.
6. Serve light refreshments
The type and quantity of food you offer at a birthday party for seniors all depends on the time, size, and location of the event.
In some cases, cake and punch may suffice. In others, a light lunch with finger sandwiches and fruit is appropriate. (If some of the pieces just happen to be dipped in chocolate, all the better!) And what's a party without cookies and other baked treats?
7. Plan a few activities
Some seniors enjoy playing games, while others prefer one-on-one conversations. Whatever you do, try to avoid a situation where everyone is engaged in an activity while the person you're celebrating is sitting on the sidelines watching, O'Donnell stresses.
One engaging activity that everyone can participate in — even young children — is taking turns sharing stories and remembrances involving the guest of honor.
8. Keep gifts simple
Many older adults are trying to get rid of the "stuff" in their lives, but that doesn't mean you have to forego gift giving. Some ideas for heartfelt presents include:
Something connected with the theme — e.g., a 1960s playlist, a classic movie, a trivia card game, a fly-fishing tie.
A photo memory book or collection of letters to the honoree.
A non-perishable food item to donate to a local food pantry in the honoree's name.
Filling a glass jar with encouraging notes — one for each of their years — or writing a special letter that everyone signs and then placing it in a keepsake message in a bottle.
9. Tap a photographer
The best way to ensure you have plenty of photos to mark the special occasion is to ask someone to be in charge of taking pictures. Ask a friend or family member to be the de facto camera person, or hire a professional, if your budget allows.
10. Stay flexible
You know what they say about best-laid plans. That's why you should be ready, willing, and able to switch things up at a moment's notice if something doesn't go according to the script.
Have a backup plan in case you need to move an outdoor event indoors or vice versa. Be ready to turn down the music or move your loved one's chair away from the sunlight or ask someone to speak louder as the need arises.
Most of all, remember that a simple celebration can be just as meaningful and memorable as a big bash — and, sometimes, even more so. The most important thing is to celebrate a person who means so much to so many and to make even more memories with them.