For years, the saying has been, "Roses are red, violets are blue." But perhaps it's time to change that up a bit? For this month only at 1800flowers.com, violets get to stay blue but roses are going gold — that's right, gold roses! In honor of the upcoming holiday season, we're thrilled to announce Gold Airbrush Roses as the latest addition to our Now Blooming Collection!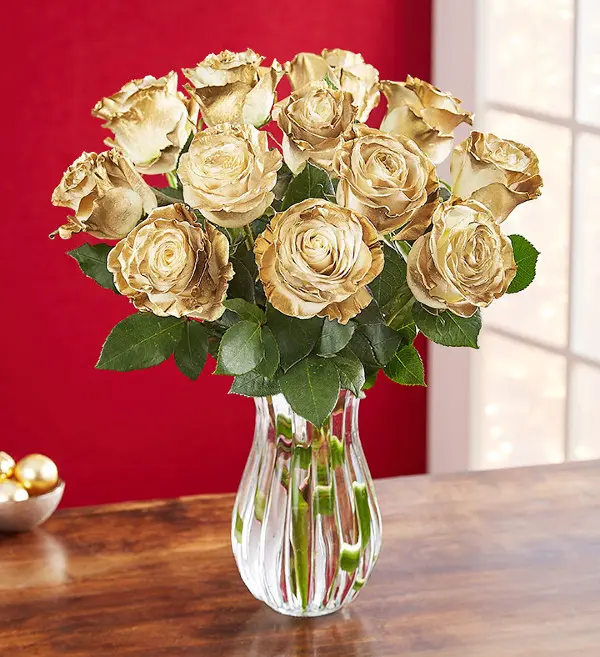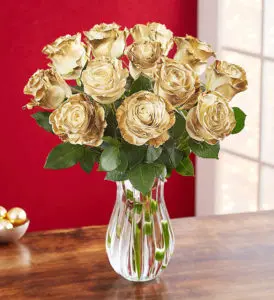 From Wistfully White to Gorgeous Gold
While red, pink, white, peach, and yellow roses can all be found naturally popping up in sprawling fields, Mother Nature hasn't yet been able to perfect the gold rose. But don't worry, that's where we stepped in to help! By very carefully brushing a golden powder to each petal of our naturally white Mondial Roses, we've transformed these already lovely blooms into something truly one-of-a-kind.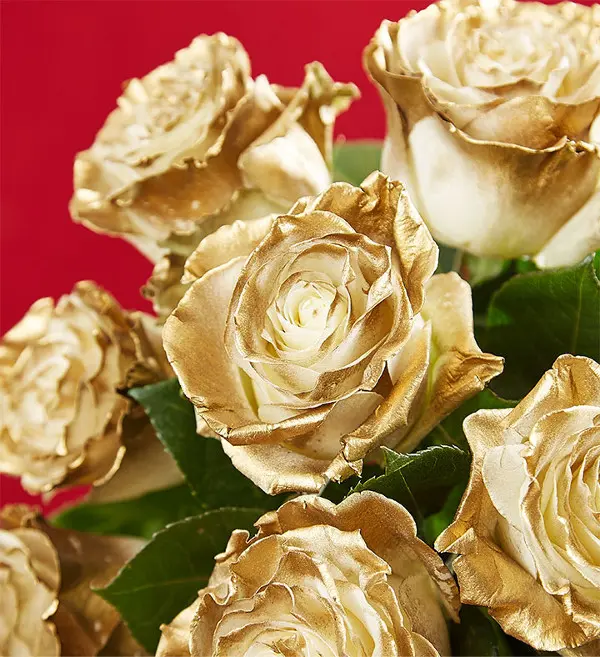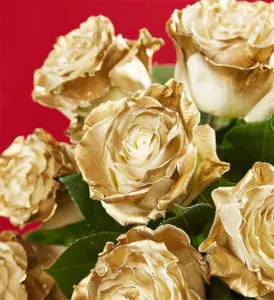 The Many Meanings of Gold Roses
Today, we think you'd be hard-pressed to find someone who wouldn't love and adore these rare roses, but that may not have always been the case. Years ago, receiving a yellow or gold rose meant that your lover was jealous or no longer interested in you. Thankfully though, the meaning of yellow and gold roses is much sunnier now! Today, yellow roses are associated with friendship, the promise of a bright future, and, of course, love. And when you sprinkle on a little gold dusting powder, each one of these is multiplied by a thousand (or so, we think!).
Mixing Gold and Colored Roses
Though it's hard to believe that any flower wouldn't look gorgeous next to Gold Airbrush Roses, pairing them is a little more difficult than pairing traditional yellow or multicolored roses. While we love to see them standing tall all on their own, you can bring out their unique coloring by pairing them with red and white roses. Not to mention, these red, white, and gold blooms atop dozens of green leafs makes for a beautiful centerpiece on Christmas morning!
Preserving Your Gold Airbrush Roses
Their coloring may be one-of-a-kind, but the care they need is anything but exceptional. Traditional rose care will keep your Mondial Roses fresh and beautiful for up to two weeks. After receiving them, simply:
Remove a few of the leaves from the middle and bottom of the stem. Not only will this keep your flowers healthier, but it will enhance the look of their bloom.
Using a pair of gardening shears or a sharp knife, cut the stem (roughly 1-inch from the bottom) diagonally.
Place your bouquet in a vase filled with fresh water.
Re-cut the stems and fill the vase with fresh water every few days to ensure your Gold Airbrush Roses enjoy a long, healthy life!
Because of the care and discretion that comes along with choosing each and every one of our roses, our selection of Gold Airbrush Roses are limited.