Awards season is in full swing! And just because you didn't receive an official invite to the big show doesn't mean that you and your friends can't be part of the celebrations. Awards Shows are the perfect easy TV entertainment to gather friends and family together for an impromptu couch party. Whether you decide to set an elegant dress code or opt for a cozy pajama party, there are some essentials that are always a "must do" when it comes to hosting. We've rounded up our top picks across our family of brands to help you get red carpet ready.
To make the party planning process easier, we're offering 20% OFF* our most popular gifts (including the ones featured below) with promo code POPULAR20. Offer valid through Sunday, March 4th, 2018.
SET THE SCENE
Start with setting the mood: A little décor goes a long way in making your guests feel like welcomed celebrities. Set out a tablecloth on your coffee table and display an elegant floral arrangement. We love this Two Dozen Red Rose bouquet by 1-800-Flowers.com.
Little personalized touches help to make the party come together in a flash, and make your guests feel wanted and welcomed. We adore these Personalized Connoisseur Wine Glass by Personalization Universe that are completely customizable for your event. Make one for each guest at the party and set them out on the table or around the room as placeholders. This will help guide guests on where to sit during the show and makes it much easier to identify whose glass is whose. Instruct the guests that the glasses are theirs to keep as a reminder of the great night you shared.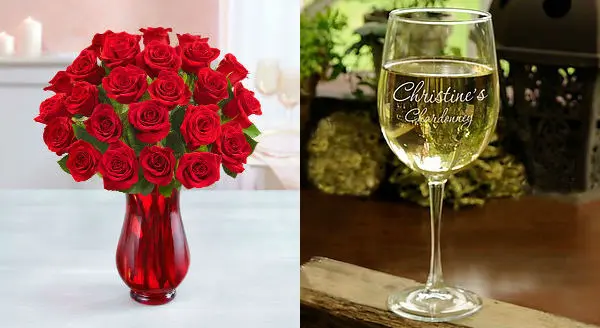 SNACKS ON SNACKS ON SNACKS
Now it's time to prep one of the main reasons you and your party has gathered – SNACKS! Nothing is more fun than chowing down on your favorite salty and sweet snacks. We can get enough of this Distinctive Tastes Gourmet Gift Basket by 1-800-Baskets.com that is filled with every delectable delight your heart may desire. From Ghirardelli® Squares® Milk & Caramel Chocolates, Portlock® Salmon, Cabernet Cheddar Cheese Spread, Everything Flatbread, and much more this basket has the perfect curation of a little of something for everyone. The diamond design embossed basket that the gift arrives in makes for a great drink bin when emptied and loaded with ice!
What's a good screening without the popcorn? Save time sitting in the kitchen popping the good stuff and go with an already prepped popcorn tin, like this TPF Retro Popcorn Tin by The Popcorn Factory. We love that you have your choice of 3 or 4 gourmet flavors to satisfy every popcorn lover's dream. The best part about these tins? They come with individual cup servings so everyone can scoop their own portion – brilliant!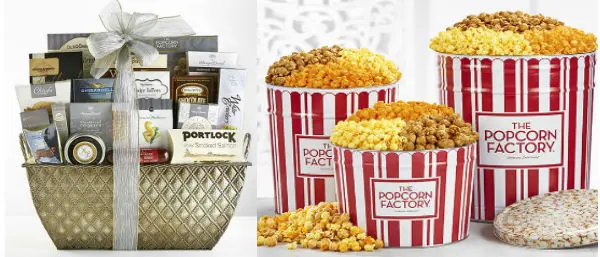 SAVE ROOM FOR DESSERT
End the evening of celebration with everyone's favorite meal, dessert! Pull out all the stops with this gorgeous boxed chocolate gift set. Unwrap the elegant purple ribbon as your guests select their favorite flavor from the round. This is a true show stopper must have!
Give your guests one more surprise ending twist with a platter of Cheryl's famous buttercream frosted sugar cookies. This Chocolate Chocolate Chocolate Assortment by Cheryl's Cookies is sure you win you "Outstanding Performance by a Host". Featuring 9 varieties of cookies all individually wrapped, these make a great take home favor for your party goers!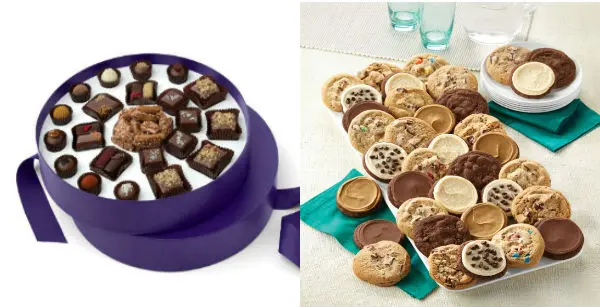 With a show-stopping décor set up, award-winning appetizers and snacks, and desserts worth giving a standing ovation, we are certain your watch party will be a box office hit!
Offer Disclaimer:
* Offer valid through 11:59 PM EST on 3/4/18. Prices and discounts are exclusive of applicable service and shipping charges and taxes. Items may vary and are subject to availability and delivery rules and times. Direct Ship items are only available for delivery within the continental United States. Offer available online and by telephone only. Offers cannot be combined, may not be available on all products and are subject to restrictions, limitations and blackout periods. Prices and charges are subject to change without notice.